Vegmasters is the industry's go-to supplier in the vegetable and herb ingredient space. Amanda Bryan visited the company, which turns 30 this year, to find out what's fuelling growth in this category.
Pick up any product at the supermarket containing veggies or herbs, and there's a good chance some of the ingredients were processed by Silverwater-based company Vegmasters.
The processor, which celebrates its 30th anniversary this year, is equipped to slice, dice, peel, or puree pretty much any vegetable or herb you can think of, to the exact dimensions, and in any combination required by its food manufacturing customers.
"The produce comes in fresh in the morning, and it goes out same day. If it was ordered for today, it will be cut today, not yesterday, which means it cannot possibly be any fresher," says the company's managing director, Betina Nissen.
She says the company has never advertised, with word-of-mouth recommendations alone helping to fuel growth.
"New customers keep coming to us and the customers we have on board keep growing," she says.
"Our line of growth has only been upwards in the last 30 years, and in the last couple of years, we've been growing in excess of 20 per cent a year."
Green and gold
This fresh factor – along with the growing locally sourced ingredients movement – is also driving the company's growth according to the company's general manager, John Methven.
"The fact that we are sourcing fresh produce from Australian growers is a huge advantage for us," he says.
"The only thing we buy from overseas is garlic and gherkins. Everything else comes direct from Australian farmers and we actually buy directly in most cases, although we also source some produce from Sydney markets."
The types of products the company sources also continues to evolve in line with changing consumer tastes, says Methven, and Vegmasters seeks to develop new products and solutions that anticipate technological and industry trends.
"We are now processing a lot of the Asian herbs, like Thai basil, Galangal, Kaffir lime leaf, and lemongrass, and more exotic vegetables like celeriac, Kohlrabi, and Chinese cabbage," he says.
The company is also seeing a rising interest in vegetable-based dishes as people move away from meat, according to Methven.
"We are seeing a huge trend in vegetable soup as it's easy to prepare, and there's lots of fresh soup in marketplace now, and we supply a lot of those manufacturers as well as ready made meal manufacturers."
Because Methven has a Bachelor of Science in Food Technology, and over 40 years' food industry experience in product development, he is able to advise customers on product formulation.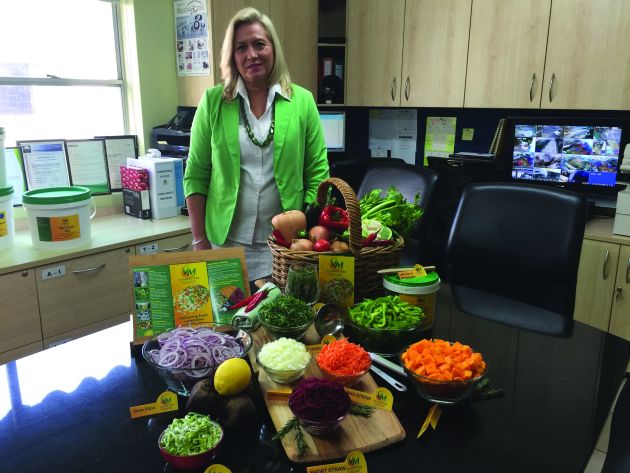 When a customer's R&D team have an idea, Methven says he is often called on to advise them on the cut and the type of vegetables that would go well together for the particular product involved.
Time and place
The company also attributes its success to its flexibility.
"We are absolutely reactive. We can quickly change according to what a manufacturer needs, say if they get a last minute order from a retailer, or have a machine breakdown and have to change their run," says Nissen.
"We can produce volume, ordered today and delivered by this afternoon. We prefer not to do it that way, but we can.
''We are only able to be so reactive because we've got a really good working team, really good systems in place and a really good grower base," she says.
Cool gear
Vegmasters began 30 years ago armed only with a parsley chopper designed by its co-founder, Nissen's husband Birger Nissen (see below).
These days, however, it has an array of high tech equipment that can peel potatoes, carrots, onions, pumpkin, and slice and dice any vegetable to very specific sizes, as well as pureeing machines, and a mushroom profiling machine.
Vegmasters can also vacuum cool produce when it comes 'hot from farm', says Nissen.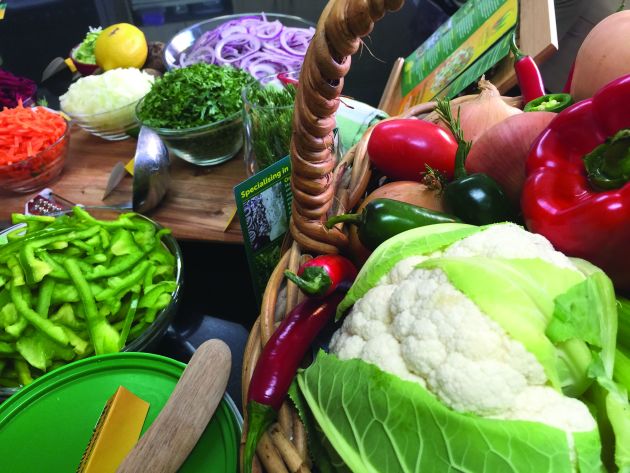 "That sucks heat out of the products and brings the temperature down to the required five degrees or below, before or after we process them, in order to meet our HACCP specifications," she says.
The company is fully HACCP accredited with a continuous A rating from NSW Food Authority.
30 years of growth
Vegmasters was co-founded by Danish entrepreneur Birger Nissen in 1986.
The company was initially named The Parsley People, as Nissen had developed a machine that could process parsley, although he soon realised his machine could chop other vegetables.
The range of products the home-based business could process quickly grew to include a wider variety of fresh processed veggies and herbs.
Onions were next on the list, which the company peeled, diced and sliced, and when this market took off, Vegmasters moved into its own factory in Homebush, Sydney.
It also imported an onion line from Holland plus various cutting machines from the US that could slice of dice any veg.
In 1992, the company outgrew its Homebush premises and moved to its current facility in Silverwater, Sydney, where it continues to process vegetables and herbs for the food industry.
Birger Nissen is now semi-retired and his wife, Betina Nissen, runs the company.