Family-owned fresh produce company Perfection Fresh Australia is putting a fresh face foward with its latest rebranding strategy.
In the fresh produce aisle, establishing product provenance is increasingly important to consumers, so making it easier for shoppers to identify the local source and traditional origin of their favourite fresh fruit and vegetables is key to driving sales.
And it's this notion that's behind the extensive rebranding strategy recently unveiled by fast-growing fresh produce company Perfection Fresh Australia.
Perfection Fresh's pursuit of new products for its expanding portfolio has been relentless in recent years, and while this has proven good for growth, one of the consequences has been an eclectic assortment of brands, resulting in cluttered and confusing packaging and labelling.
"We needed to harmonise our presentation and bring all the products into alignment with a unified branding strategy," CEO of Perfection Fresh Australia, Michael Simonetta, says.
"We wanted to make it easier for retailers and consumers to recognise our products and identify with the Perfection Fresh brand and the quality its stands for," he adds, noting that the company engaged design agency Interbrand to develop and execute the rebranding.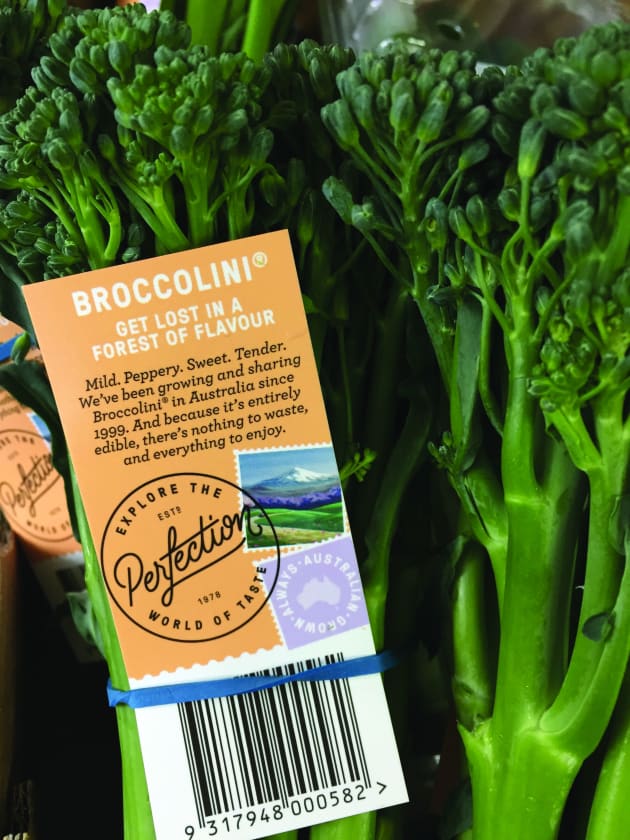 The new design has a "vintage postcard look" with graphic elements including a bold Australian Grown stamp and illustrations to identify the fruit or vegetable's original source. It also carries tasting notes and the Perfection Fresh Australia story.
The tagline 'explore the world of taste' is meant to reflect the company's commitment to "finding the tastiest produce both from Australia and around the world, bringing it home to grow, share and enjoy here in Australia".
"The new branding will link our fresh produce together, helping to create confidence and loyalty among consumers," Simonetta says.
He believes the Australian Grown stamp will also make it easy for people to choose to support local growers.
The rebrand rollout, which will be supported by a multifaceted marketing campaign, started in December with the new website and signage across all sites. The new packaging will be introduced in stages as old supplies run out, and Simonetta says he expects the rebranding exercise to be fully completed in three months.
Following global trends
The new branding and packaging will play an important role in expanding the company's footprint in export markets.
Perfection Fresh has plans to double its export volumes in mangoes, for instance.
Simonetta says that at the recent Produce Marketing Association's Fresh Summit Convention, it was highlighted that branded produce sales in the United States have experienced 12 per cent compounded annual growth over the last five years.
"Our new look and feel is taking advantage of this global trend towards branded fresh produce and ongoing interest from consumers to know more about the source and origin of their fruit and vegetables. We see that this trend will resonate here in Australia, and in our export markets."
While Simonetta doesn't put a number on the amount spent on the rebranding, he says it's "significant" and believes it will deliver "an extraordinary ROI" and lay the foundations for the next 10 years of growth.
"We already have big plans for 2017 including the launch of new products and further investment in production across all categories," he says.
The company has finalised the purchase of a new property on the Sunshine Coast for raspberry production and has replaced the cooling systems in one part of its Sydney facility.
Simonetta concludes: "In fresh produce processing, if you're not investing every day, you're going out of business."