With demand for its product skyrocketing and backorders to fill, Fiji Water was faced with a dilemma. The world was going into lockdown and it had minimal staff on site. It needed automation, and fast. An end-of-line packing and palletising system from Australian OEM Foodmach was part installed, but lockdown meant engineers could not travel to the site to complete the commissioning. The task seemed impossible.
Here's how the story unfolded: It was March 2020, and a team of Foodmach commissioning engineers were in Fiji installing Fiji Water's new end-of-line packaging system, comprising a high-speed Foodmach Robomatrix palletiser and a Robopac stretch wrapping system. The system would be able to operate at speeeds of more than 80 cases per minute of 500ml and 700ml PET bottles.
Much of the mechanical and electrical work to install the high-speed palletiser was complete and basic IO (power in/out) testing had commenced.
At the time the Foodmach engineers were told to evacuate – with less than 24 hours notice – infeed and outfeed conveyors were yet to be connected, robot grippers hadn't been fitted, the system was yet to be interfaced with a stretch wrapper and everything programmed and comprehensively tested.
Meanwhile, for Fiji Water, the pressure was on. Demand for its bottled water was escalating rapidly, it had back orders to fulfill and minimum staff on site. Automation was needed fast, but Covid-19 stood in the way.
Fiji Water's plant electricians were knowledgeable but had never seen an articulated robot before, let alone worked on one. And there was no knowing when Foodmach engineers would be able to travel back again to complete commissioning.
But Fiji Water was desperate for help. Foodmach had to devise a plan.
"Commissioning a system this complex by remote is unheard of in our industry," Foodmach CEO Earle Roberts told Food & Drink Business stablemate PKN.
"Why would you attempt it when it's so much easier to jump on a plane?"
"At first, I didn't think it was possible. This was a custom build for a complex set-up in a very remote location. If there was ever an installation to test remote-commissioning, this wasn't it," Roberts said.
Foodmach control systems engineer, Jordan Leo, was due to depart for Fiji when the evacuation order came through. He said: "At that point, I didn't think remote commissioning was possible either. But we had nothing to lose and I assured everyone I'd give it my best shot."
The installation was mechanically and electrically 90 per cent complete. Fiji Water electricians Samuela Rokocakau and Tom Elder were keen to give it a go.
Leo says: "The first step was to set up Microsoft Teams so we had multi-modal communication."
Connecting the conveyors
The Foodmach commissioning engineers had barely been given time to grab their tools and leave. But mechanically everything was in place, so the first step was to power up and connect the conveyors. A VPN connection was established so that Leo could log in remotely to the system from his home office in Australia.
Four case infeed conveyors had to be calibrated, speed checked and direction tested. A task that would normally take Foodmach's controls engineers 15 minutes on site took five hours. At the high speeds Robomatrix palletisers run at, the set-up of the case infeed is critical for delivering the cases in precise positions for the robot grippers.
Leo relates: "At that point, I didn't think this was ever going to work. But we persevered."
Next came the pallet conveyors, which were only slightly faster.
Critical point – the robots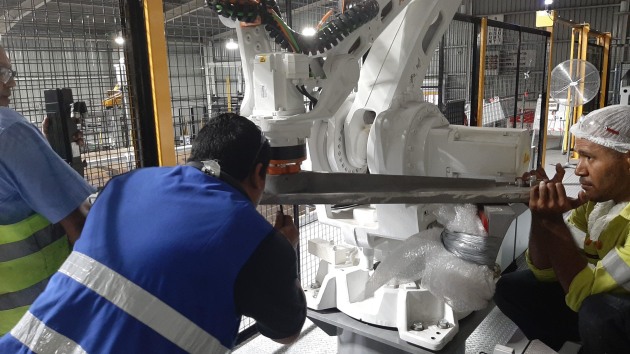 Programming the robots' xyz position is critical for timing, to ensure they grab packs and place them in the right spot. The process required Rokocakau and Elder to use a joystick to get the robot heads into position, attach the grippers and set their positions. Problem was, they'd never used or controlled a robot before.
Leo explained: "There were also translation issues we needed to overcome. This was new stuff they'd never seen, and the terminology was slightly different in their language. If Sam and Tom weren't doing as asked, it was inevitably just a translation problem.
"We soon realised the only way to manage it by remote successfully was the old-fashioned way – with a tape measure. I had them drive the robot head to home, use the tape measure to check it was absolutely centred on the conveyor and the right distance back, and then change the xyz values in the robot software."
"The first robot took six attempts and two hours get right. The second robot took 30 minutes and they could do it themselves."
Finishing loose ends
The slip sheet bin for the palletiser was yet to be installed. The mechanical layout was emailed to the Fiji electricians. The bin was positioned and bolted down. With their help, Leo managed to centre the pickup for the slip sheets, which is a servo drive with a vacuum pick up head, and set the xyz position.
Interfacing with the stretch wrapper presented multiple challenges. Hardwiring the signals into the wrapper, which would normally take two to three hours, took a full day.
Ready for cartons
The first pallet of cartons was hand-loaded for testing. Using video streams over Microsoft Teams via mobile phones, the first pallet layer was run using pallet patterns that had been set during the factory acceptance testing (FAT).
With all working well, the second layer was completed to everyone's satisfaction and Fiji Water asked Leo if he was comfortable with running full production over Easter.
"Most of the hard stuff had been done during the FAT in Australia. The risk points were at the carton infeed and the outfeed to the wrapper. There were a few minor issues over Easter that needed resolving," Leo said.
Microsoft Teams Viewer was installed on the Robomatrix HMI, which gave Leo access to the Robowizard pallet pattern software. He was able to both correct the layer former and show the Fiji Water team what he was doing, step by step. Effectively, it was a remote training session.
"From that point on, the line has basically been running at full steam. Using my remote access to the HMI, I log on occasionally to check on things. They contact me if any issues pop up, but they've been minor, just layer positioning. We had a mechanical failure on one part, which they fixed themselves."
Success factors
Looking at the factors determining the project's success, elegant programming definitely came into play.
Programming robots can take hundreds of hours, especially when dealing with multiple pallet sizes. Using Foodmach's pallet pattern forming software, Robowizard, it takes just a few hours.
The Fiji Water remote commissioning would not have been possible without the user-friendly, drag and drop programming system – or the controls systems used at Foodmach – under the leadership of Gavin Alder.
The software team's focus is to write to code that anyone can understand and deliver a programming system that anyone can use.
Leo said: "It's very easy to fix something when you know exactly where to go to fix it. Anyone on our team could have taken over the project at any point, because we all write the same code the same way.
"We're a service provider and we need to be able to chop and change people out of jobs. If we had a team full of rock stars writing code their own way, it would be unusable to anyone else," Alder said.
The extra effort applied to factory acceptance testing also paid off.
Foodmach project manager Justin Kyne said: "We don't just build 'em and send 'em. Even though we've made countless Robomatrix systems, this one wasn't standard. It was heavily customised, so we did a lot of testing before it left."
The palletiser was the first unitiser version of a Robomatrix that Foodmach had built. It can run with pallets or with only a base slip sheet, but that requires the pallet hoist to have a full-width belt conveyor, adding weight and complexity to a hoist running at over 10 layers per minute.
"The success of the effort is a big credit to the installation team," Leo said. "It couldn't have been done without their precise work. We didn't have to change anything mechanically or electrically. And the Fiji Water team just never gave up. Sam and Tom are first class."