Food processors are feeling the pressure from all sides to adopt and expand their sustainability credentials. Confoil has partnered with BASF to develop a compostable solution.
There are numerous forces at play in the ready-made and take-away food industry that are demanding change.
With the pandemic, the growth of meal delivery services, and significant changes and innovations in the ready-made meal market – not to mention an increased expectation around sustainability – food packaging looks set for a shake-up.
The National Packaging Targets include the target of 100per cent reusable, recyclable or compostable packaging by 2025. This is less than two and a half years away, so action is needed now.
Packaging producer Confoil is on the front foot and has embarked on a partnership and new product development journey with BASF to produce certified compostable DualPakECO trays.
The trays are made in Australia using compostable ecovio biopolymer coating byBASF.
The coating is food contact safe and has barrier qualities against liquids and oils to protect the paperboard tray from losing its shape or rigidity.
The trays can be frozen or refrigerated, are ovenable for 40minutes at up to 180 degrees, and are also microwave safe.
DualPakECO trays are certified compostable to Australian Standard AS4736-2006. This means they can be commercially composted in organic waste bins, where allowed, together with contained food scraps.
The trays carry the 'looped seedling' compostable logo to educate consumers of their compostable quality.
As more communities introduce source separation systems for diverting food waste from landfill, having certified compostable products will give consumers and organics recyclers (commercial composting facilities) the assurance that the products will completely compost.
Confoil CEO Alison Buxton says, "We wanted to create a paper-based food tray that meets all the food industries' requirements but with the added benefit that it is certified compostable.
"Our joint development with BASF represents a shift to paper-based and certified compostable material in order to support the Australian 2025 National Plastics Plan, which aims to reduce the impact of packaging on the environment."
While food producers are sourcing local, in-season ingredients and lessening their impact on the environment, Confoil is looking to close the gap in the circular economy.
Ingredients go from the paddock to the plate and DualPakECO trays go from thetable to the composting facility, then back to the farm to help provide nutrients for the next crop.
Finding a market for any recycled material, thereby ensuring resources retain value, is critical to the success of a circular economy.
Composting is the ultimate in recycling because the result can be highly beneficial to agriculture and viticulture, as well as the environment.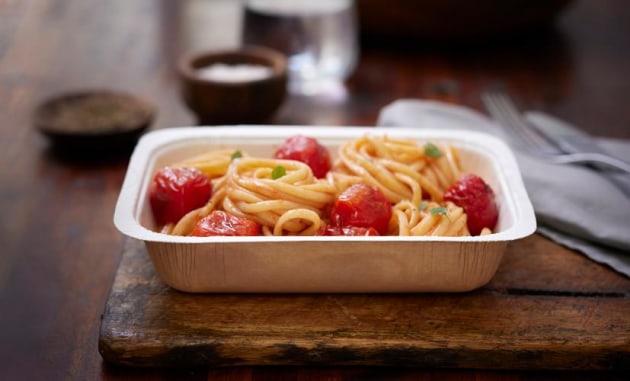 According to the Australian Organics Recycling Association (AORA), the Australian composting industry's environmental contribution is significant.
Greenhouse gas savings from organics recycling tops 3.8million tonnes of CO2 annually, the equivalent to planting 5.7 million trees or taking 876,663 cars off the road.
Compost and mulch can improve soil quality and assist with water retention and drought mitigation. All organic materials contain both carbon and nitrogen with green materials like garden waste and food scraps richer in nitrogen, and brown materials such as straw, sawdust and paperboard are richer in carbon.
The perfect recipe for optimum biological activity and efficient compost production, requires a balance of carbon and nitrogen in the material being composted.
Packaging like DualPakECO trays can become an essential part of the composting process, reducing waste to landfill, creating a valuable resource, balancing production and helping to nourish the plants that put food on your table.
This article first appeared in the October edition of Food & Drink Business magazine.