Beverage makers were in the flow and the innovations were on show at Darling Harbour earlier this week.
A number of beverage start-ups took the opportunity to promote, and in some cases, launch their products at this week's revamped Drinks Industry Show.
This year's show was the result of a detailed research phase to deliver the right event for the Australian beverage trade by organiser Exhibitions and Trade Fairs.
Changes included an enhanced category tasting program, a new stand model, a food pairing station, and a seminar program, according to Exhibitions and Trade Fairs portfolio director David Paterson.
"It was fantastic to see the trade come out in force and we are delighted to have had such positive feedback across the board from exhibitors, visitors and media," Paterson said.
"The show proved that there is still no replacement for face to face meetings and we would like to extend a huge thank you to everybody involved."
White spirits were a strong trend at the show, along with the use of unusual and premium ingredients. Food & Drink Business spoke to some of exhibitors about their latest innovations.
Hemp meets kombucha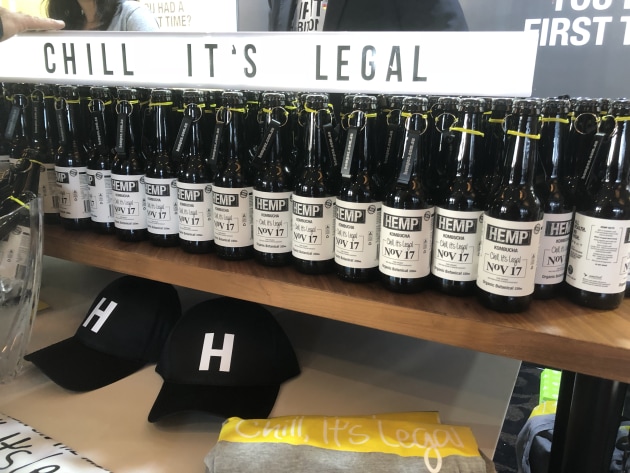 Aussie owned and operated company Hemp Oz debuted its new product called Hemp Kombucha at the show.
The product is the first to combine hemp with kombucha in a single beverage and is expected to be officially launched in August.
The Sydney company is currently looking for distributors and stockists for the beverage, which contains a small amount of the newly legalised hemp oil. It also contains Australian botanicals and all of the ingredients are organic.
Hemp Oz also makes a hemp infused water product and is preparing to launch hemp milk, botanical soda and a new kombucha flavour.
True blue vodka
Founder Jesse Rugolo attended the show to boost exposure for his Australian-made vodka product, Bondi Blue Vodka.
He founded the company in October 2015, and the product, which is not actually made in Bondi, was designed to appeal to an overseas market - and already exports to eight countries.
Bondi Blue Vodka is made from Australian ingredients, and is distilled five times and is run through a series of charcoal filters, according to Rugolo.
Chai to concentrate
Chai Addict is the name of a company founded a year and a half ago by Chloe Janson to sell her chai concentrate creation of the same name that offers a faster and more convenient way to consume the aromatic beverage.
Chai Addict, and its spicier sister product Chai Harder, is a masala chai concentrate that's hand made in Melbourne from fresh ingredients.
The product contains organic spices including cinnamon, cardamom, ginger, cloves and black tea. It is made in small batch brews, and the ingredients from every batch are composted at local community gardens.
According to Janson, her process locks in the taste, consistency and punch of chai, and can be used in hot beverages, desserts, cakes, and cocktails.
Chai Addict supplies retailers, cafes and sells the product at markets.
Bring on the ginger
Welders Dog Brewing founders were on the stand to spruik their new Farmhouse Ginger Beer.
Armidale entrepreneur Tom Croft and his business partner Dan Emery, who started a craft beer business in 2014, spotted a gap in the market. 
To fill this gap, they created their Farmhouse Ginger Beer, an alcoholic beverage that revives traditional farmhouse ginger beer methods, and is naturally fermented and soured with their own house culture.
The product is lightly hopped for aroma, and includes fresh Australian ginger.
The pair were also exhibiting their Pink Lemonade, a naturally fermented alcoholic lemonade that has been soured with a house cutlture and the flavour of lemon and lime, and steeped with pea blossom flowers to provider its bright pink hue.
For the love of liqueur
Wine maker Ash Tosh of Australian Liquor Company has turned his passion for spirits into a range of handmade liqueur products, including the new Fable Cream Liqueur.
The product is made from a blend of rum, cream and whisky, plus caramel, honey, and natural sweetener made from monk fruit.
Fable is the world's first alcoholic beverage to use monk fruit in its recipe, according to Tosh, who was inspired by age-old recipes from India and China.
Fable is barrel aged, preservative free, and uses no artificial flavours and can be consumed neat, on ice or mixed with tea or coffee.