New laws are being introduced, a new $1 million relief package has been announced, and equipment suppliers are scrambling to source inspection equipment in response to the contamination crisis.
In recent days, Prime Minister Scott Morrison has introduced laws that increase the jail time for people contaminating strawberries from 10 to 15 years, along with a new offence of recklessly contaminating fruit that carries similar jail time.
Federal Minister for Regional Services Bridget McKenzie, meanwhile, has announced $1 million to assist strawberry farmers boost their food safety processes.
"We are wanting to see more food safety officials on the ground to work with our state and territory counterparts to make sure when they request a recall, that we fast-track that and that we're absolutely investing in increased methods of detection."
Suppliers of inspection systems are in turn stepping up to the plate. Heat & Control, for instance, says it has been "flat out supplying strawberry producers", according to a PKN Packaging News report, and is now air freighting in additional metal detectors from Ceia in Italy.
"The Ceia system suplied by Heat & Control looks tray by tray and can detect an object as little as 0.4mm x 5mm. They are based on military metal detectors, in fact you have to walk through one before you meet the US president," head of packaging Robert Marguccio says.
Prior to the contamination crisis, few if any strawberry packing lines had metal detectors, or any kind of system for seeing foreign objects in the punnets. However, the effectiveness of metal detectors is limited to the start of the supply chain. Longer terms solutions could include a covering barrier, a tamper evident seal, and hardened plastic to make it more difficult to discretely insert foreign objects into the strawberries, PKN reports.
At the Foodtech Packtech show in New Zealand this week, Thermo Fisher Scientific was demonstrating its X-ray tech credentials on a punnet of strawberries. Marie Edlingon (pictured) told Food & Drink Business that the need to boost brand and consumer protection, as demonstrated by the latest contamination crisis, was driving take-up of the technology.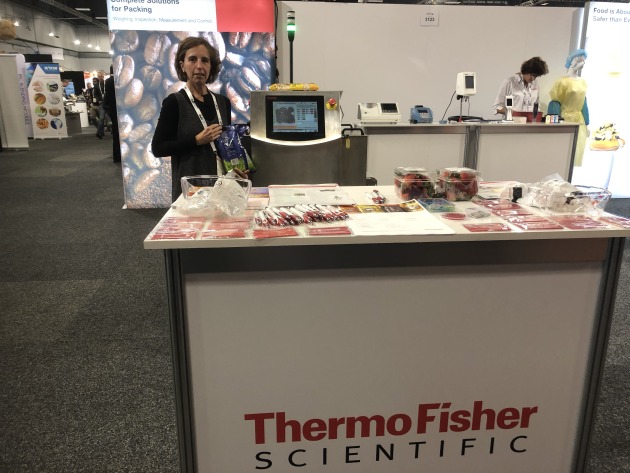 Thermo Fisher Scientific's marketing manager for food, beverage and dairy Alison Digney, said the company's X-ray technology could also detect other objects like rocks, plastic, wire and glass fragments as small as 1mm in size.
Auke De Ruyter De Wildt, the general manager of product inspection systems provider AccuPak, noted that while these systems can't protect the industry from contamination beyond the point of production, they do enable producers to provide insurance that the contamination didn't originate in their production processes.
"This can consequently protect their brand and protect them against expensive product recalls," he says.
Business advisory firm Pitcher Partners says fruit growers and horticulturists across sectors should look at the needle-in-strawberry crisis as a wake-up call to check their risk profiles.
Pitcher Partners business advisory partner Mark Harrison said Australia's $500 million strawberry sector was experiencing the kind of crisis many businesses would not think to plan for, with an overnight collapse in their markets.
"Fresh foods might end up being scanned or X-rayed and there will be a significant cost involved. It may also not be particularly practical given you think about how bunches come off a tree for bananas or the volume of fruit that is picked," he said.
"That level of scrutiny is already increasing with manufacturers and it might end up being required for fresh produce as well. This just shows that while it looks on the surface to be a malicious once-off event, a local industry is also susceptible to issues with food security."
Everyone should be making sure they actually have cover for this kind of event, Harrison said. "Sit down and have the conversation with your insurer now, look at your risk profile and have a disaster plan for how you respond to this issue. Whether you have a spare finance facility and develop plans for alternate use of product - think through all of it."
This would include looking at whether new investment is needed to improve security for produce, he said.