At the recent International Wine & Spirit Competition (IWSC), Australian distillers and wine makers did the country proud. One of the stars of the show was cocktail innovator, Curatif, winning RTD Producer of the Year for the second year in a row.
The IWSC awarded Curatif the trophy, saying it was "the world's leading producer of ready-to-serve cocktails, having been recognised around the globe as endlessly striving to create incredible cocktail experiences by combining class leading spirits, liqueurs, fresh ingredients and sophisticated manufacturing techniques".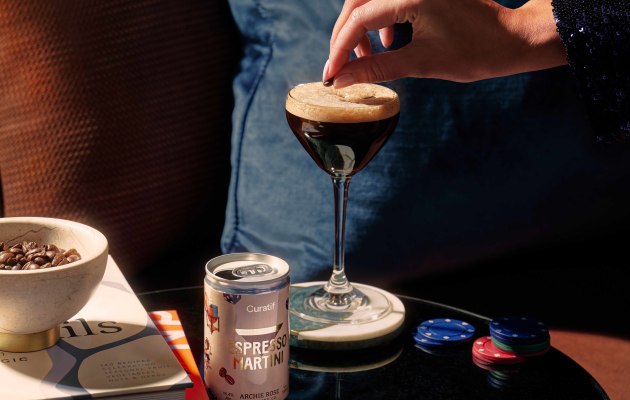 Curatif took home the top Trophy, with its Curatif Archie Rose Espresso Martini winning gold with 95 points, eight others in its range awarded silver, and five bronze.
Of the espresso martini, the judges said, "Gorgeously fragrant on the nose with big notes of roasted coffee beans, chocolate, and vanilla. Sumptuously indulgent on the palate with rich flavours of smooth cacao and toasted tonka beans. An elegantly creamy mouthfeel with an equally sweet, luxurious finish."
The IWSC added the RTD trophy – and one for the Low & No category – due to their increasing popularity. In 2022, entries into the RTD and pre-mixed category grew by almost 200 per cent from the previous year, making the IWSC RTD awards the largest in the world.
Curatif's founder and managing director, Matt Sanger, told Food & Drink Business the award was wonderful recognition, but they flew back in from the awards in London on a Sunday night and were back in the lab on Monday morning, working on a new range for summer.
Sanger started developing the idea behind Curatif in 2016. while completing his MBA.
"I penned the original business plans for Curatif as research reports during the course. Although my specialisation was finance, like most MBA students I tended to gravitate towards what I knew in constructing my research," Sanger said.
"Coming from a literal lifetime in on-premise, commencing as a freshly minted bartender in the early 2000s when the global cocktail renaissance took place, I have spent an enormous amount of time thinking about cocktails, and more importantly convenience.
"It seemed then, as it does now, innately logical that an impeccably curated and crafted cocktail should be available to grab from the fridge at a moment's notice, so that's what we set out to do."
Sanger took the concept to Dan Murphy's in 2018, whose response was and unequivocal "yes", adding that it was "exactly where the category is going".
"All of a sudden, we had national ranging scheduled for June 2019, which was when we launched. Through the end of that calendar year, we were going from strength to strength. Then, in 2020 when Covid hit, there was a rapid acceleration as the world view around RTD/RTS cocktails changed dramatically (for the better!)," he said.
Last year, Roy Morgan research labelled RTDs as the "standout alcoholic beverage" of 2021.
Sanger said, "The broader RTD category is an animal that is capable of staggering growth – look at what happened with seltzer. More importantly, RTD is a pillar of the broader alcobev segment.
Roy Morgan CEO Michele Levine said, "A deeper look into the RTD market shows the increasing popularity of seltzers over the last few years is continuing to drive the increasing consumption of RTDs generally.
"Hard seltzers began to hit the Australian market in significant numbers in 2019, just before the pandemic struck, and these newer alcoholic products are still attracting an increasing array of customers."
In a report earlier this year, IWSC said that while younger drinker preferences are nuanced by where they live, Gen Z drinkers were following in the Millenials footsteps of reducing consumption, but preferring cocktails and premium drinks when they do.
"There will always be a place for the fundamental RTD proposition where traditional glass spirit brands create high convenience versions of their own perfect serves, then, as per seltzer or the recent rise of hard kombucha/coffee/tea there are great opportunities for highly innovative market entrants who, by nature of their newness and innovation bring excitement and interest to the segment," Sanger said.
"Beyond that, cocktails are a forever category – like beer or wine. There are pubs for beer, and wine bars (or restaurants) for wine, and there are bars for cocktails. Take home beer isn't new, being able to take your very favourite beer anywhere is something that's been perfected for decades. Wine for even longer, centuries. And now, with Curatif at the forefront of quality and innovation, the most incredible cocktails of the world's best bars are as far away as opening the fridge door and as portable as the cans we send them out in," he added.
At Curatif, every aspect of production is done inhouse, from R&D to NPD, blending, canning, packing, design, and packaging. Sanger said it was critical for the company to have total control to ensure consistent quality.
"For example, we use fresh citrus juice, which due to seasonality, or even singular weather events, can be totally different from batch to batch. That means we need to account for mouthfeel, sugars, and acidity from batch to batch, while ensuring that any variation in formulation fits all of our quality markers. I taste almost every tank we produce before it goes into can – it sounds like a perk, and it is! 
With the RTD market showing no signs of slowing, and global recognition, Curatif has much to celebrate.  
"We've got some outrageously great cocktails launching in the coming months, we're very excited about Margarita Month in February, and have some super cool partnerships to announce. Oh, and a couple of new export markets – both of them start with a 'U', so it's going to be a big year," Sanders said.