Bree Gaudette met her future business partner Matthew Ronalds when he picked her up as an Uber passenger in Melbourne. Now, the pair are running a commercial kitchen for their handmade cheese business, Hello Friend Foods.
In 2015, Gaudette was searching for a vegan option that tasted like dairy cheeses, but found there were few options available in supermarkets that she enjoyed She decided to experiment herself, and moved from a front-of-house café management role to a back-of-house prep cook, learning the ways of a commercial kitchen.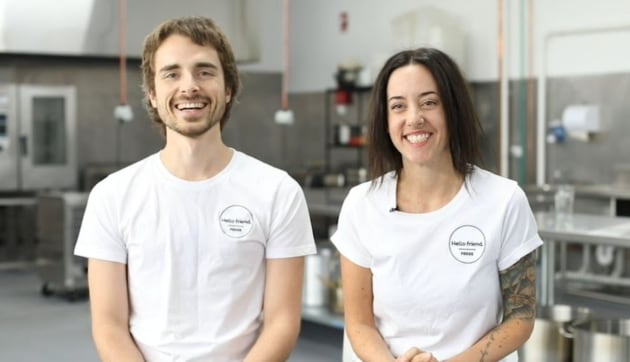 "I had no formal chef training but heaps of persistence, so I worked in a cafe kitchen during the day and experimented in my own kitchen at night. After trialling and failing many times over, I was able to create the product that I couldn't find on supermarket shelves," said Gaudette.
When Gaudette met Ronalds, the two quickly learned they made a great team.
"Matthew picked me up as a passenger while he was driving for Uber. Little did I know that I had just met the future co-founder of a business that would turn both of our lives upside down. We became fast friends, and when I asked him if he wanted to start a vegan cheese business with me, he enthusiastically agreed."
In 2017, Hello Friends Foods launched, with the co-founders testing their mozzarella with Melbourne's vegan community. Following an overwhelming response, as "people were placing orders before we'd even launched," Gaudette recalls, the team went back to the kitchen to make a vegan Haloumi.
All the cheeses are free from lactose and palm oil, and are made for vegans and non-vegans, and are sold to retailers, cafes and caters, as well as direct to customers through Hello Friend Foods' online store.
"We also don't use any gluten or nuts in our products, which sets us apart from other vegan nut based cheeses," said Ronalds.
"Plastic free and animal free is the future of food, and we're here to make sure that it still tastes great. We want our customers to experience the benefits of eating well, and without compromise. That's a win for us all."
In January 2019, production of Hello Friend Foods moved into its own commercial kitchen, where "we were able to hire a piece of equipment which allowed us to increase our production ten-fold," said Gaudette.
Hello Friend Foods now ships interstate, and also has a distributor in Sydney, to "get onto more plates than ever before".
The busines is now looking to expand into international markets, working on an equity crowdfunding campaign through Birchal.
"Companies like this are on the cusp of a food revolution and with demand increasing every year, this presents an exciting opportunity for retail and wholesale investors across Australia," said Birchal's Robin Holt.
"The dairy-free products industry is booming, and showing no signs of slowing down. Hello Friend Foods' products fit perfectly in this market and so we're very excited to offer this opportunity to Australian investors."