The impact of COVID-19 on consumers' dietary habits can be seen in changes to purchases and spent, research company IBISWorld says. Its data shows increased consumption of preserved foods and alcohol boosting the supermarket and grocery segment by 4.6 per cent in 2019-20. 
While most Australians are causing a shift to home cooking, falling incomes have also prompted people to prepare cheaper meals due to stretched budgets, rather than opting for fast food or takeaway options.
The supermarkets and grocery stores segment grew to $113.3 billion and is expected to grow by a further 0.5 per cent in 2020-21. In contrast, revenue for the restaurants industry declined by 25.1 per cent in 2019-20.
IBISWorld found Australians are consuming over 3000mg of sodium and 36 grams of saturated fat per day, more than 50 per cent over the daily recommended intake, while a CSIRO study conducted in June found 31.7 per cent of Australians have increased junk food consumption, and 34.2 per cent have increased snacking.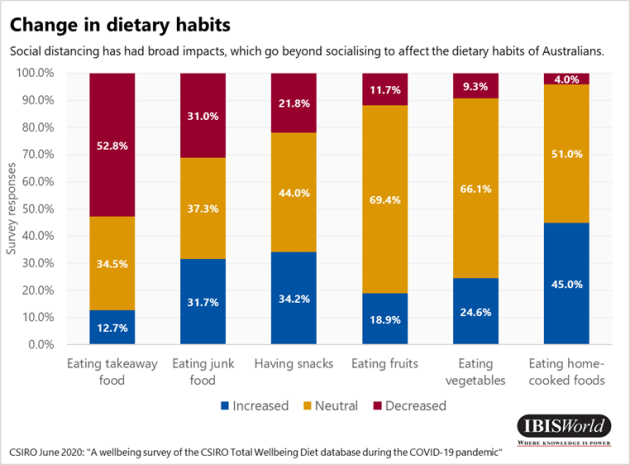 "The stress of the COVID-19 pandemic has resulted in a rise in demand for snacks and preserved foods. Health consciousness has taken a back seat for some consumers with regards to regular diet and exercise, as lockdown restrictions have thrown their regular schedule into disarray," said IBISWorld senior industry analyst Liam Harrison.
Soft drink has also seen a decline amid the pandemic, with the Soft Drink and Pre-Packaged Food Wholesaling industry contracting by 11 per cent in 2019-20. Beverage producers such as Coca-Cola Amatil have experienced a total fall in sales of around nine per cent.
Meanwhile, alcohol consumption had fallen by 3.1 per cent over the past five years, but since the start of the pandemic, consumption has increased again. 
"The research indicates that women have increased their alcohol consumption compared with men, particularly those with child caring responsibilities. For males, the greatest contributor to increased alcohol consumption has been the loss of employment or reduced work hours," said Harrison.
"While wine production is anticipated to fall over the two years through 2020-21, this trend is largely due to the 2019-20 bushfire season reducing wine grape supply."
IBISWorld is the data partner for the annual Food & Drink Business Top 100 Food and Drink Companies report.