The Italian giant behind Nutella has admitted to a secret change of recipe.
The revelation emerged in a Facebook post by German consumer group the Hamburg Consumer Protection Centre this week, when it reported the product would be "lighter in complexion".
The new recipe has an increase in powdered skimmed milk, from 7.5 to 8.7 per cent, and more sugar - from 55.9 to 56.3 per cent.
Manufacturer Ferrero Rocher confirmed the change in a statement, but said such minor alterations are often made to brands.
"All other aspects of Nutella will remain the same," it stated.
However, Nutella fans took to social media to vent their grief about the controversial change to their beloved recipe.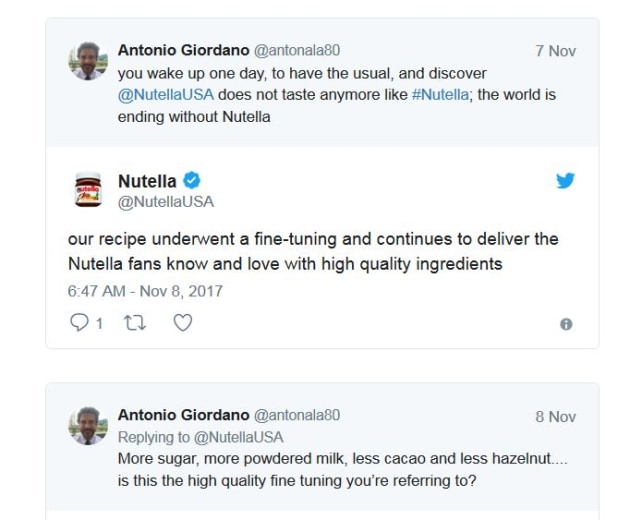 Some fans even urged a boycott of the favourite nutty spread
Others chose the moment to spread their dislike of the product: "As if #Nutella wasn't bad enough yet, there's more milk in it now, more fat, less cacao. & Still palm oil. Choose a different brand people!"
Ferrero said the amount of added sugar has not increased, and the quality and sourcing of other Nutella ingredients remained the same.
"We aim for 100 per cent Nutella quality and that has not changed. This is reinforced by permanent quality controls and numerous permanent taste tests with our consumers," it stated.