Nescafé Blend 43 has committed to delivering 220,000 custom tins of coffee – around 12.5 million cups! – to Foodback for people in need.
Manufactured in Gympie, Queensland, the dedicated 100g tins of Nescafé Blend 43 will help ensure a sustainable supply of coffee to Foodbank across Australia from September 2021.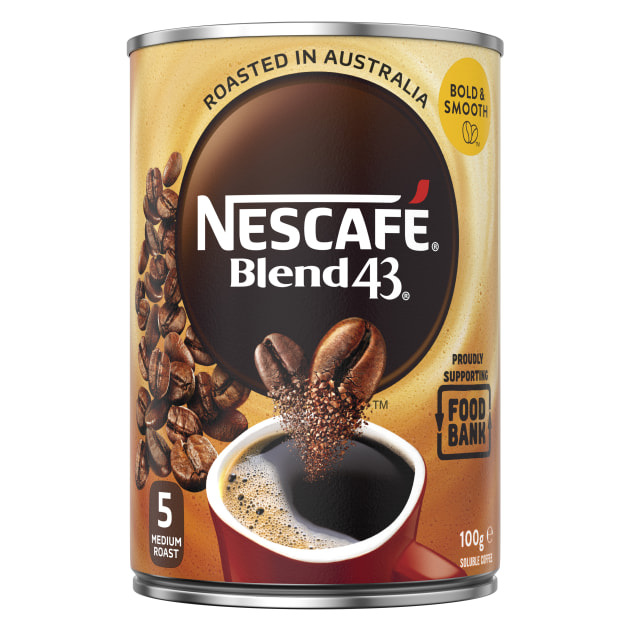 Foodbank Australia CEO, Brianna Casey, said that for many Australians faced with food insecurity, coffee can be one of the first items they forego.
"Coffee is consistently one of the most in-demand items for our network of food relief charities across the country, as a humble cup of coffee can have far more benefits than a morning caffeine hit," Casey said
Nestlé general manager of Beverages Andrew McIver said, "We're really proud to be able to work with Foodbank and manufacture a bespoke Nescafé Blend 43 product for Foodbank.]
"We understand the simple pleasure that a cup of coffee can bring – one that many of us often take for granted – and we believe it's something everyone should be able to enjoy.
"Nescafé has long been committed to helping bring people together. While that may not be possible for all Aussies to do right now, a hot cuppa can often be just the ticket to also take an important break – which is something many of us need now, more than ever."
Casey added: "We find that many of the people we support often become socially isolated. Having coffee in the cupboard can play a significant role in helping to keep people connected – and this collaboration will mean we can ensure a reliable supply."