The Australian Food Pact is the latest addition to the arsenal of projects and R&D working to halve the country's food waste by 2030. Simplot Australia, Woolworths Group, Goodman Fielder and Coles Group are four of the founding signatories, joined by Mars Australia, Mondelēz Australia, ARECO Pacific, and McCain Foods.
The Australian Food Pact follows proven successful voluntary agreements that tackle food waste following the food waste hierarchy – preventing food waste in the first place, donating good food, and supporting food chain transformation and innovation.
Stop Food Waste Australia (SFWA) has been the driving force behind the Australian Food Pact, with SFWA COO Mark Barthel having worldwide experience rolling out similar, highly successful voluntary pacts around the world. He has worked with 16 countries on tackling food waste at scale.
The Australian Food Pact will operate from "farm to fork" across the Australian food industry. It will encompass primary production, processing, manufacturing as well as wholesale, retail, hospitality, institutions, and households.
Barthel said signatories to the pact would "improve profitability, respond to supply risks and opportunities, provide innovative solutions, be more competitive, and create quality products with lower environmental impacts."
SFWA said it brings together a broad range of Australian organisations in a new pre-competitive collaboration to make our food system more sustainable, resilient and circular.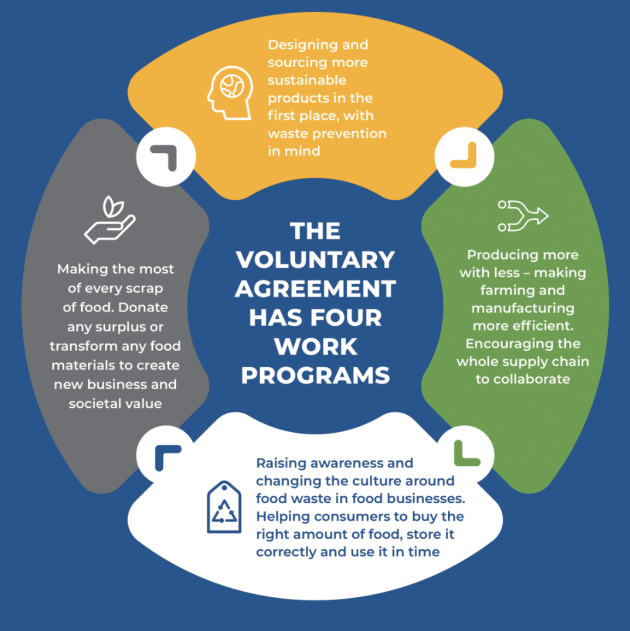 Launching the pact, Federal Minister for the Environment Sussan Ley said: "With food waste costing the economy roughly $36 billion a year, we need collaboration between business and government without the threat of regulation.
"Australian Food Pact creates that space for businesses to come together, to work through their food waste issues and to collaborate up and down the supply chain."
SFWA will work with signatories on initiatives including sustainable product design and sourcing, supply chain optimisation, projects to influence business and consumer behaviours and increasing opportunities for food rescue and donation.
SFWA CEO Dr Steven Lapidge said the pact was one of the biggest and most tangible projects in working towards the federal government's goal of halving food waste by 2030.
"The Australian Food Pact represents a major step forward in our bid to reduce food waste. It is a local, national, and global challenge. Australians waste 7.6 million tonnes of food each year, equivalent to more than 300kg of wasted food per person per year," Lapidge said.
Simplot Australia was the first organisation to sign up to the Australian Food Pact. Managing director Graham Dugdale says the company strongly aligns and identifies with the Australian Food Pact's goal and mission.
"We were inspired to be the first signatory, because it will give organisations like ours the opportunity to reduce food waste while collaborating with industry experts and like-minded organisations to improve Australian agricultural and food manufacturing productivity and practices," Dugdale said.
Barthel likened the current food waste crisis as worsening in the middle of a perfect storm, in which demand for food and energy is expected to increase by 50 per cent and water by 30 per cent by 2030.
"If you imagine the amount of food wasted globally, it is a one and a quarter Australia, or China. That is how much land we're using to produce food that is wasted," he said.
The Australian Food and Grocery Council (AFGC) is a supporting partner in SFWA and welcomed the launch. AFGC CEO Tanya Barden said: "The Australian Food Pact represents a whole-of-supply-chain determination to reduce food waste and in the process make the nation's food production and retail systems even more innovative and sustainable."
Voluntary food pact agreements have been highly effective overseas. The UK's Courtauld Commitment, spearheaded by Barthel, was rolled out in three stages spanning 10 years. It achieved a 28 per cent reduction in avoidable food waste, saved $12 billion for businesses and consumers, and removed 11 million tonnes CO2 equivalent emissions."
UK environmental charity Waste and Resources Action Programme (WRAP) is also a founding partner. Its international director Dr Richard Swannell said the pact was also a crucial step in fighting climate change.
"Food loss and waste is responsible for eight to 10 per cent of global greenhouse gas emissions, and if it was a country would be the third largest emitter in the world.
"What Australia has started today will not only benefit its citizens and businesses, but the environment as a whole. I am delighted that WRAP was able to work with partners in Australia to develop this exciting initiative and we look forward to helping deliver its ambitious goals," Swannell said.