A company which supplies fruit, milk, bread and perishable goods to corporate customers is about to invest $400,000 in a pilot program aimed at helping disadvantaged families.
Martin Halphen (pictured above) is the CEO and founder of the Fruit Box Group, which started as a fresh fruit home delivery service and has grown to become a successful workplace food delivery company with close to 30,000 customers.
Halphen felt there was more the company could do to help struggling families across the country, and saw an opportunity to use its profits to give back.
"Truly giving back is not just about money but a shift in consciousness and a decision to give of your time," he told Food & Drink Business.
"We had to ask – what is our corporate social responsibility (CSR) platform? What do we believe in?"
Apart from already donating three tonnes of fruit a week to food rescue programs such as OzHarvest and Fareshare, Halphen wanted to see Fruit Box Group do more – so he came up with the One Box concept.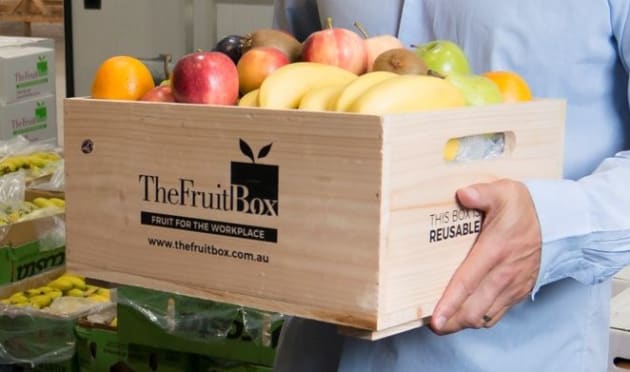 Starting next month, one thousand disadvantaged Aussie families will receive a box of food basics every week until the end of the year, which will amount to 25,000 boxes of fruit, vegetables, milk, and bread.
Around five per cent of Australians experience food insecurity, and healthy food habits are especially financially challenging for low-income families, according to findings from the Australian Institute of Family Studies.
The group is investing up to $400,000 of its own profits in the pilot program in Melbourne, and will assess its impact as it is rolled out through such things as interviews with the families receiving the boxes.
The long-term hope is to launch a national program and a public charity.
"It's shocking that in 'the lucky country' so many families are going without," Halphen says.
"We believe one box of fresh produce each week can make a real difference to families in need."
The Fruit Box Group has worked closely with local community agencies to identify the initial 1000 families for the pilot.
Fareshare will help with distribution of the boxes and La Trobe Business School will collect and analyse impact data over the program's first 25 weeks.
The One Box will be launched officially on 18 May at The Fruit Box Group's Melbourne headquarters.