Family-owned Manildra Group is doing "everything we can" to help meet the demands of both flour and ethanol production during the current COVID-19 pandemic. Doris Prodanovic reports. This article was first published in Food & Drink Business July/August 2020.
Adapting to a COVID-19 world has seen many businesses shift production capabilities and find ways to contribute in the fight against the virus.
For family-owned agribusiness Manildra Group, the pandemic has meant expansion. Its ethanol production alone has grown by 90 million litres for the pharmaceutical and beverage industries. But first and foremost, as one of Australia's largest flour millers, Manildra's flour production has ramped up an additional 50 million kilograms of flour.
"Manildra Group has been in the flour milling industry since 1952 and we've never experienced such an unprecedented level of demand," says managing director John Honan.
"We've been operating our flour mills around the clock to meet the substantial demand and since the coronavirus pandemic, we have increased our retail flour production by more than fifty per cent."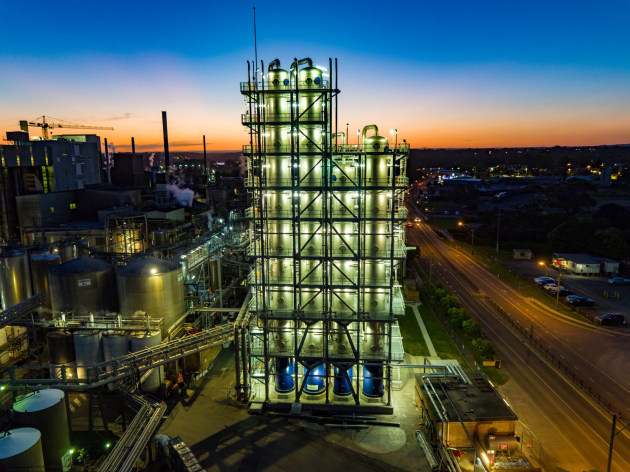 The group was established by the Honan family, which has successfully diversified its agribusiness over recent decades, as well as ranking #20 in the Food & Drink Business Top 100 Food and Drink Companies 2019 report.
The company's flagship, Manildra Flour Mills, is located in central west New South Wales, which is expected to expand its flour production capacity. As one of Manildra's four NSW-based flour mills, it will supply 100 per cent Australian flours and bakery premixes for major retailers, restaurants, bakeries and food manufacturers.
Honan says the expansion is to "do everything we can" to ensure flour is available throughout the supply chain and at local supermarkets.
"We're proud to be able to assist the nation during this crisis – working with retailers and wholesalers to restock the supermarket shelves," says Honan.
"Not only are we providing plentiful flour for Australia as we have done every year, we're now raising the bar – providing an additional fifty million kilograms of locally-made flour. We've seen Australians take up baking and consequently, flour and other bakery supplies have been in high demand."
Going the extra 90 million
Earlier in the year, Manildra announced it would expand its seven-column, grain-neutral ethanol distillery – the largest in the country – to produce an additional 90 million litres of ethyl alcohol.
Since commencing ethanol production at its distillery in 1992, Manildra has experienced some of its highest level of demand during the COVID-19 pandemic. It uses premium, GMO-free wheat as feedstock in its fermentation process and the ethanol is distilled into a range of grades for food, spirits, pharmaceuticals, personal care products, industrial applications and transport fuel.
Honan says the investment in the distillery has created employment opportunities during and after the expansion, providing more than 100 jobs during construction, as well as additional ongoing employment opportunities at Manildra Group's ethanol plant.
"This further investment will provide a much-needed boost to the community of Nowra and the New South Wales economy," he says. "We've been operating our world-class distillery round-the-clock to increase production of pharmaceutical-grade ethanol, the active ingredient in hand sanitisers and surface disinfectants. The use of these products has skyrocketed as a result of coronavirus."
Manildra has further launched its own Stay Safe sanitisers, sprays and disinfections, containing at least 70 per cent alcohol as the active ingredient, as recommended by the World Health Organisation.
Working with NSW's Rural and Remote Medical Services, Manildra Group has provided thousands of litres of Stay Safe hand sanitiser for delivery to rural, remote and indigenous general practices, pharmacies, aged care homes, ambulance, police and other essential services who need it the most during the pandemic.
"Our family-owned Australian business continues to locally produce ethanol needed to supply our nation's hand sanitiser and cleaning product manufacturers, and strengthen our close working relationships with our retailers and wholesalers to produce one hundred per cent Australian flour, sugar and oil ranges," says Honan.