More than 150 brands will be featured on an Amazon platform designed to give SMEs access to the company's retail expertise and infrastructure. The amazon.com.au Launchpad store feature custom product pages, marketing support and access to Amazon's local fulfilment network, including Amazon Prime.
Amazon Australia country manager, Rocco Braeuniger said research commissioned by the company found 68 per cent of SMEs with high-growth aspirations planned to grow their business through online sales channels, but 21 per cent weren't confident using digital tools. More than a third said they lacked the capability to understand and implement digital tools. A similar number said the costs of developing and e-commerce channel was a key barrier to growth. 
Braeuniger said "Australian inventors and entrepreneurs are responsible for some of the most innovative consumer products in the world.
"We know that product creation is only one part of the equation in launching a product and that marketing, logistics and finding an audience can be just as challenging. With Amazon Launchpad, we have a program that will help ease some of these challenges for startups and entrepreneurs alike, allowing them to focus on growing their businesses and freeing up time for future innovation."
Australian Made Campaign's CEO, Ben Lazzaro said, "We are excited by the introduction of Amazon Australia's Launchpad program. It has the potential to provide enormous opportunity for Australian manufacturers looking to leverage Amazon Australia's growing ecommerce offering and expand their reach, while making genuine Aussie products more accessible to consumers." 
Launchpad aims to help SMEs with: 
Brand Development: Custom product pages help bring products to life through photos and videos. Founders can tell their story and connect with customers in a more personal way, with a Q&A about the startup. 
Customer Reach: Amazon's most powerful tools for engaging with customers – including merchandised placements, and personalised recommendations.
World-class Fulfilment: Startups also enjoy access to Amazon's local fulfilment network and fast, unlimited shipping with Amazon Prime, along with exceptional customer service.
Lyres non-alcoholic class spirits part of Launchpad store
Food & Drink Business asked co-founders Mark Living and Carl Hartmann about Lyres involvement with Launchpad. 
What will it mean for your brand?
CARL: The opportunity to work with Amazon Launchpad really solves one of the key challenges of being a new brand; capturing a captive and engaged audience, looking for new and innovative consumer brands.  
Giving consumers new ways in which they can discover brands like ours is invaluable.  We currently don't have our own e-commerce website, so selling on Amazon Launchpad takes us to where the customers already are and gives us that day one ability to offer customers a great online experience.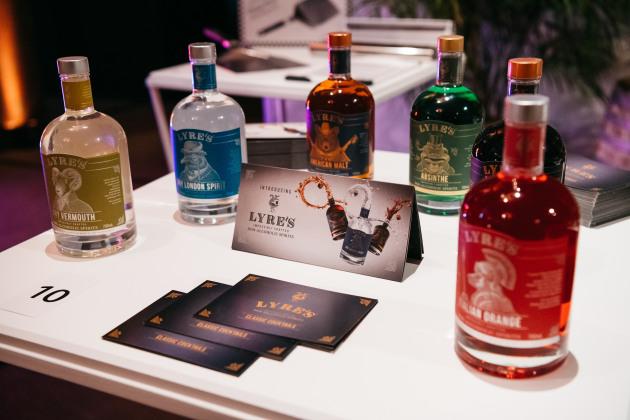 What are your goals from being involved? 
MARK: We're a new brand with very low awareness but when people are looking for our product or products in our category they are turning to Amazon Australia and we are seeing immediate conversion of people looking for non-alcoholic spirits – that's making us very happy!
How did Lyre's come about?
MARK: Lyre's products are a homage to some of the most loved, time-tested and delicious spirits on the planet, but recreated using innovative beverage technology and some old-school mixology from primarily naturally-derived ingredients. You can use them just like you use the original version to make your favourite cocktails or mixers.
The idea came from us looking at consumer trends and we saw this incredible, tectonic macro-shift in people leaving the alcohol category. Additionally, we observed that those of an age that would typically be entering the alcohol category were instead sitting out, so we saw an opportunity to build a brand that had all the wonder, taste and magic of the originals, but in a non-alcoholic format.It was our ambition that people could enjoy them just as much as the original - Mark Livings, Lyre's CEO and co-founder.
CARL: Today most of the non-alcoholic spirits on the market have been a craft, which means each drink is slightly different from the original. Lyre's is different as it's inspired by the original spirit, and what this means is bartenders can make classics like Martinis, Negronis and Old Fashions, as well as popular contemporary cocktails like the Espresso Martini or Spritzes.

When did you launch, what has the response been?
MARK: We launched in March 2019 and I think it's safe to say the products have been universally accepted and loved wherever we take it around the world, and we are really looking forward to continuing to see it grow.  Like any new category of products, there's always an education piece required as part of the initial communications strategy, and we're being very careful to explain to the on-trade and the off-trade exactly how the products are to be used, or sold.
Some of the response from major, global retailers has been exceptionally positive.  I'm really looking forward to an upcoming string of announcements with regards to who will be stocking our products across some very important and geographies for us.
What have been some of the biggest challenges?
MARK: Getting the liquid right was the biggest challenge. It took us over two and a half years to crack. We knew that if we couldn't get the product right, we wouldn't launch it. It was a frustrating time for a while we were learning what worked and didn't, and I have to admit we wondered more than once if we could get it market. 
I also wondered if our ambition was too broad trying to replicate 13 variants rather than a gin-style spirit that seemed to dominate the balance of the category at the time. Slowly but surely however, we got them right. 
Things really accelerated when I recruited David Murphy, a respected Australian sommelier to help us finalise the products and get them as close to perfect as possible. 
Additionally, planning the brand to be international from day one has been an extraordinary burden on the founders. We're estimating that we're travelling close to 200 days a year at the moment.  This will decrease as we build our international teams in each market, but it's a huge effort out of the gates to deliver on the ambition for the brand that we held.
What about triumphs?
MARK: There's been a few!  The top three so far to my mind are acceptance into the Amazon Launchpad program, seeing our products served at one of Australia's most iconic venues, The Opera Bar.  Commercially, securing ranging with Southern Glazers Wine & Spirits in the USA was a great moment also. Having the largest distributor in the world for beverages as a route to market in the important US geography is really going to accelerate our brand's success.
What are your thoughts on the non-alcoholic spirits trend?
MARK: It's an undeniable fact that across the developed world, we're all electing to drink less.  We're seeing declines year on year, of alcohol consumption decreasing by volume. Across the English-speaking world, it's been hovering around a full percentile decline each year. Additionally, this decline is accelerating. I suspect the decline trend will eventually slow down, but for now, it's an incredible, observable and accelerating macro-trend.
There are a lot of parallels here with animal-free meat products. People are looking for consumption experiences that they're familiar with, such as eating a burger, but wanting to make a more ethical, or healthful choice.  
As such, alcohol free spirits are giving people the option to enjoy beautiful, adult-flavoured beverages in the same environments, such as bars, pubs or entertaining at home but without alcohol - whatever their reason for electing not to drink an alcoholic beverage at the time. 
Tell us about your packaging.
MARK: We were determined to evoke the golden era of cocktail making, the prohibition period of the 1920's. This is why our we draw influence heavily from the art deco era and the labels look stylistically like the bottles of the time, and why we've used stencil-style art.  
Additionally, the concept of a non-alcoholic spirit is, we think, for most people a little quirky. Instead of fighting this, we've leaned into it with our strange menagerie of anthropomorphic animal characters. All the animals evoke the providence of the original spirits that the Lyre's range is based on. For example, our American Malt, which is our interpretation of Bourbon, features a North America Black Bear, and our Dry London, which is our interpretation of Gin, features a London Pigeon. We plan to give these animals voices and enrich the brand with their antics in the future.  It's all a bit strange really, but that's what we were going for.
Who is the artist/who designed it?
It was designed by the team at The Kinetic Agency in Sydney, under the creative direction of Nate Martin.
What was the design process? 
It's very much the usual branding and design process that The Kinetic Agency follows when working with any client's brand that's been refined over the last ten years.
It's important that in order to evoke the art deco period we were influenced by, that we constrained ourselves to the production techniques of the time. This meant sticking with very simple, line artwork and a palette of only a single colour per bottle. These constraints force you to creative within the design process, and we often find that by setting some boundaries we get great results.
What's interesting about our brand is that as it's an agency created brand there's been no 'brand manager' or 'client' in the mix.  We're finding that the creative ideas are getting to market, unsullied by multiple opinions and diluted to something that's a shade of the original ideal. I believe these give the brand potency and a very clear, distinct and individual voice.
What material is it produced on?
It's an uncoated matte stock with a polyester backing (for wet-strength in case they're placed in the fridge) with a relatively new production process for the addition of metallics, called in-line foil. The print was sourced to Labelmakers in Perth.