Latin Americans and Asians have been swigging coconut drinks for years, but marketers are cleverly capitalising on the Western health craze of consuming coconut-everything.
Coconut water is clearly one of the year's rising stars, with research from Innova Market Insights revealing it's reached the status of "a mainstream drink".
Coconut water is made with juice of young, green coconuts and is already a popular drink in many Asian and Latin American countries. It can be promoted on an 'all-natural' platform, while offering many of the isotonic benefits of mainstream sports drinks, and it was first introduced in Australia in 2010 by local juice manufacturer, Nudie.
Lu Ann Williams, director of innovation at Innova Market Insights, said sales of traditional carbonates and still drinks was relatively static in many markets – so the industry appeared to be turning to coconut water.
"It's well-placed for the task of driving growth with its exotic image, unusual flavour, and natural hydration properties," she said.
"These features, along with the fact that leading multinational soft drinks companies are already taking an active role, suggest that the sector is on-course for significant further development."
The success of this category comes in contrast to flavoured carbonated soft drinks, which, according to Roy Morgan Research, have been on the decline since 2003, with just 52 per cent of the population drinking at least one soft drink every month last year – down from 71 per cent.
However, beverage manufacturers are also looking to coconut to boost their soft drink sales, with coconut flavours and ingredients featuring in over four per cent of global soft drink launches recorded by Innova Market Insights in the 12 months ending June 2014, rising to nearly 10 per cent in the US.
Not to be left out, coconut also featured in over six per cent of global juice drink launches in 2014, up from 4.5 per cent in the previous 12-month period.
Coca-Cola or Coco-Cola?
Soft drink manufacturers like the global beverage giant Coca-Cola, are also increasingly diversifying into healthier beverage categories. Coca-Cola South Pacific launched ZICO, a not-from-concentrate coconut water product into Australia late last year. The October announcement came one day after its parent company reported falling profits on the back of declining soft drink volumes.
ZICO has already seen strong results in international markets according to brand manager Ramona Spiteri.
The new beverage was developed with health-conscious consumers in mind and contains electrolytes that support hydration. It is currently sold in Coles, with expansion to other retailers on the cards shortly.
In February, local beverage bottler Coca-Cola Amatil also admitted it had failed to respond to a consumer shift away from sugary soft drinks after its underlying net profit fell for the second consecutive year – dropping 25.3 per cent to $375.5 million in the 12 months ending December.
As soft drink volumes continue to decline in Australia, CCA has said it is also looking to products like ZICO that offer greater growth potential to help lift sales.
In February, CCA said ZICO had achieved more than 15 per cent rise in volume share in the quarter to January 2015.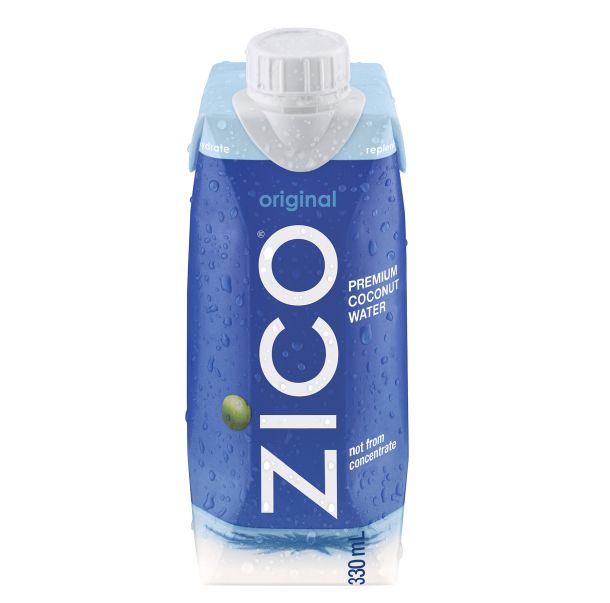 H2Coco gets some airtime
Another brand making waves in the coconut water space is H2Coco. It entered the Australian market in 2012 and is this month rolling out a coffee-flavoured version of its product.
Called Cocoespresso, it will combine both a coffee shot and the hydration of coconut water. The lactose – and dairy-free drink is also claimed to be a strong source of potassium.
CEO David Freeman was named Young Entrepreneur of the Year at the 2014 Australian Small Business Champion Awards, having gained national ranging in key pharmacy franchises.
The business, which also specialises in coconut oil, has experienced growth of 245 per cent from 2013 to 2014, and plans to release more products in 2015.
CocoJoy's milk alternative
Claiming to have launched "Australia's first flavoured coconut milk range" in February this year, FAL Food & Beverages is offering its Coco Joy drink in chocolate, banana and coffee flavours in a fresh twist on the coconut theme.
Available in 500ml and 250ml sizes, the 'milk' joins Coco Joy's existing range of coconut water, flour, oil, skin care, ice desserts, and an array of healthy kids' beverages.
FAL wants to provide a healthy alternative to the 239 million litres of flavoured milk that were sold in Australia during 2013 and 2014.
Its CEO Tim Xenos said Coco Joy coconut milk had up to 20 per cent less sugar than some competing brands of flavoured milk, and all the goodness of fresh coconut.
The product is free of dairy, soy, lactose, preservatives and artificial flavours. Made using coconuts from Southeast Asia, the fruit is husked, halved and pressed to release its cream, then blended with pure filtered water and natural flavours.


NUDIE LED THE WAY
It's easy to forget in the current flurry of launches that juice brand Nudie was one of the first to jump on the coconut water bandwagon back in 2010.
It held a marketing stunt at a nudist beach in Mosman, Sydney, whereby around 750 young, green coconuts were laid out on the sand to spell the word 'thirsty'.
Nudie launched its coconut water with four flavour variants, but since then has pared back its range to include only one Straight Up coconut water product, in one-litre and 330ml varieties.
"Coconut water first became available in Australia in May 2010 when we launched the category here. We recognised the development of the category overseas on the back of a drive towards healthier alternatives to sports hydration drinks and thought that the Australian consumer deserved the same opportunity," Richard Glenn, general manager sales, Nudie, says.
"The coconut water category was once a niche market but has definitely evolved and become more mainstream over the last few years.
"There are now a huge number of coconut water brands available and it's becoming more important to have a 'clean label.' People are becoming accustomed to reading labels and want to consume quality ingredients. We are so proud to be able to offer a coconut water that is completely unadulterated with absolutely no added nasties."