As cultivated meat advances and makes headlines around the world, Cellular Agriculture Australia CEO Dr Sam Perkins provides a state of the industry update.
Cellular agriculture and specifically cultivated meat have recently made headlines following the US approval of Upside Foods and Good Meat's cultivated chicken products.
You might be wondering if we could be seeing cultivated meat on supermarket shelves in the near future here in Australia. Short answer – yes! The nascent cellular agriculture sector in Australia is growing, and is now at an exciting point. At Cellular Agriculture Australia (CAA), we are working to support the development of this industry.
Currently, nine per cent of the global population is severely food insecure. Worryingly, the global demand for food is expected to increase by up to 70 per cent by 2050; we simply cannot meet this demand sustainably or ethically with current production methods alone.
Current agricultural production systems are major contributors to climate change, excessive deforestation, biodiversity loss and pollution. Animal agriculture uses 35 per cent of the earth's habitable land and producing food through livestock accounts for 14 per cent of global greenhouse gas emissions.
Cellular agriculture could play a critical role in diversifying food production, strengthening food security and helping to meet growing global demand for protein and other products in a sustainable way.
It is one of many solutions required to ensure an equitable, accessible and sustainable food system into the future.
What is cellular ag?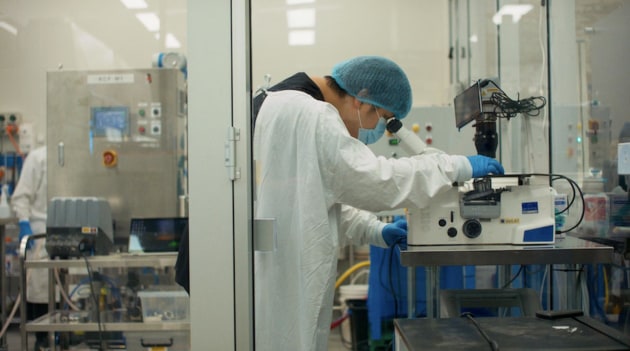 Cellular ag uses cells and innovative technologies such as precision fermentation, cell-cultivation, gas fermentation and molecular farming to produce safe, accessible, ethical and sustainable agricultural products. The technology is most commonly used to make animal-derived foods that provide an alternative to farming animals for food.
The sector in Australia currently focuses on the use of cell cultivation and precision fermentation. Cell cultivation involves isolating and cultivating stem cells to make products such as meat, fat, seafood, leather and foie gras. Precision fermentation uses microbes as "cell factories" to produce specific functional ingredients such as egg and dairy proteins, fats, gelatin, and various other compounds.
Both of these technologies have been used in medical, pharmaceutical and food industries for decades.
Current state of play
Australia's cellular ag sector is led by emerging companies, private investors and universities. The sector has seen impressive growth, with more than $180 million invested in Australian companies in 2022, which is a 400 per cent increase from 2021. Since 2018, 11 publicly visible companies have been created: All G Foods, Cauldron Ferm, Change Foods, Eden Brew, Heuros, Eclipse, Magic Valley, Me& Food Tech, Nourish Ingredients, Smart MCs, and Vow, with more underway.
Scaling issues
While commercially available products in Singapore and the US show these technologies work and can produce delicious products, cell ag companies still face significant challenges in scaling to volumes required to deliver economies of scale and competitive price points.
Achieving this will be critical in creating products that are attractive to consumers, and ensuring that the sector can positively impact our food system.
In Australia specifically, a number of companies are facing major bottlenecks because of a severe lack of manufacturing infrastructure.
Regulating framework
Several Australian and international companies are working towards submitting their products for regulatory approval in Australia, with the aim of bringing them to market.
The sector is fortunate to have a regulatory framework equipped to deal with the regulation of its products as well as a highly engaged federal regulator in FSANZ.
Earlier this year, Vow was the first to apply for the approval of its cultivated quail product, with regulatory approval expected in mid 2024.
CAA has recently launched one of its most ambitious projects yet; leading an industry working group on cellular ag product regulation in Australia, and developing a set of resources to help companies navigate the regulation system.
Future consumers
At Australia's recent inaugural CellAg Summit, a key topic was the severe deficit of information about Australian consumers' attitudes towards cellular ag.
A recent FSANZ  study shed some light, finding 65 per cent of respondents had heard about cultivated meat, but 50 per cent of those said they would definitely not purchase it.
Building trust, being transparent, and using accessible language will be key in attracting consumers. It is also critical that companies work with consumers early in the R&D process to understand consumer trends and preferences, and collaborate with existing food manufacturing companies.
What next?
The next year will be incredibly exciting and testing for the cell ag sector, and pivotal in understanding how its role will sit within the Australian food industry and for consumers. If you'd like to learn more, check out our website: www.cellularagricultureaustralia.org. 
This story first appeared in the August-September edition of Food & Drink Business magazine.