Coca-Cola Amatil has opened a high-tech bottling line in Indonesia which will cut its plastics use by 1000 tonnes a year.
The US$24 million "Affordable Single Serve Pack" line produces lightweight plastic bottles that are coated with a thin layer of glass. It uses 1000 tonnes less of plastic a year and has the capacity for 42,000 bottles an hour.
Group managing director Alison Watkins says the line is only the second of its kind for the company.
Watkins said: "The new line produces high-quality lightweight containers with improved durability compared with regular bottles but with a lower plastic content."
The new line will enable Coca-Cola Amatil Indonesia to supply 260 million of the new lighter plastic bottles to East Java and East Indonesia. Total production at Amatil's Pasuruan plant will increase to 130,000 preforms/hour, with storage capacity for more than 40 million beverages and 7,100 pallets of preform containers.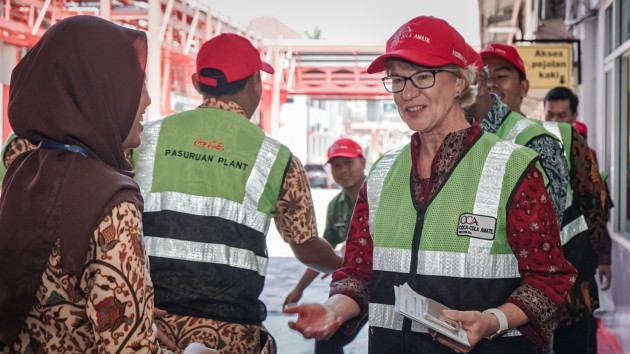 East Java currently contributes 30 per cent of Amatil Indonesia's total production volume. Since 2014 Amatil Indonesia has invested more than US$379 million in Indonesia, including 15 production lines across operations in South Sumatra, North Sumatra, and the first ASSP line in Cikedokan plant, West Java.
It is has been a big year for Amatil on the recycling front. The Coca-Cola Company has a global goal of reducing waste and collecting and recycling as many cans and bottles as it sells each year by 2030.
In July it announced all bottles smaller than one litre made in New Zealand would be made entirely from recycled plastic by the end of the year (Food & Drink Business 31/07/2019).
In June Amatil produced Australia's first carbonated soft drink bottles from 100 per cent recycled plastic (F&DB 26/06/2019). 
This followed the company's move to renewable energy, replacing single-use plastic straws and moving to 100 per cent recycled plastics for Mount Franklin water bottles (F&DB 07/05/2019, 15/01/2019, 08/03/2019).