Refresh:Food, a new digital marketplace designed to connect growers with excess fruit and vegetables to potential buyers has launched with a B2B marketplace app accessible via smartphone. 
The Refresh:Food smartphone app has been designed to make the exchange of produce 'simple and transparent'. The app allows farmers to list excess produce on a digital marketplace.
The digital marketplace
Produce buyers such as fruit and vegetable processors, packaged food manufacturers, small grocers, meal kit and produce box companies, hospitality and food service providers can use the app to find savings on produce that may have minor imperfections, take advantage of seasonal abundance and access new supply streams when their regular supply is disrupted.
Growers set the price, upload a photo of the produce and document key details including harvest date, best before date, whether it is washed or any stickers have been applied, quality notes like damage and defects, and relevant certifications.
When a buyer is ready to make a purchase, the payment is securely managed through the app, with statements and invoices automatically generated. Buyers have the option to organise their own transport to collect and deliver their produce, request a quote for Refresh:Food to handle logistics or have the produce delivered to a central 'hub' location for their collection.
Refresh:Food MD Chris Cramond said the motivation for starting Refresh:Food stemmed from wanting to reduce on-farm food waste by giving growers another avenue to sell excess produce.
"It's sustainability with commercial purpose. We want to help broaden growers' network of potential buyers to tap into demand that they wouldn't otherwise have visibility of.
"Farmers obviously never want to see the food they grow ploughed back into the ground, and Refresh:Food is about creating another channel that they can turn to at a moment's notice to find the right buyers for different grades of produce.
"We've had great feedback from our test users. It's only early days, and we're expecting to see more buyers and sellers come onboard in the next few months which will help fuel our marketplace supply and demand," said Cramond.
Promising test transactions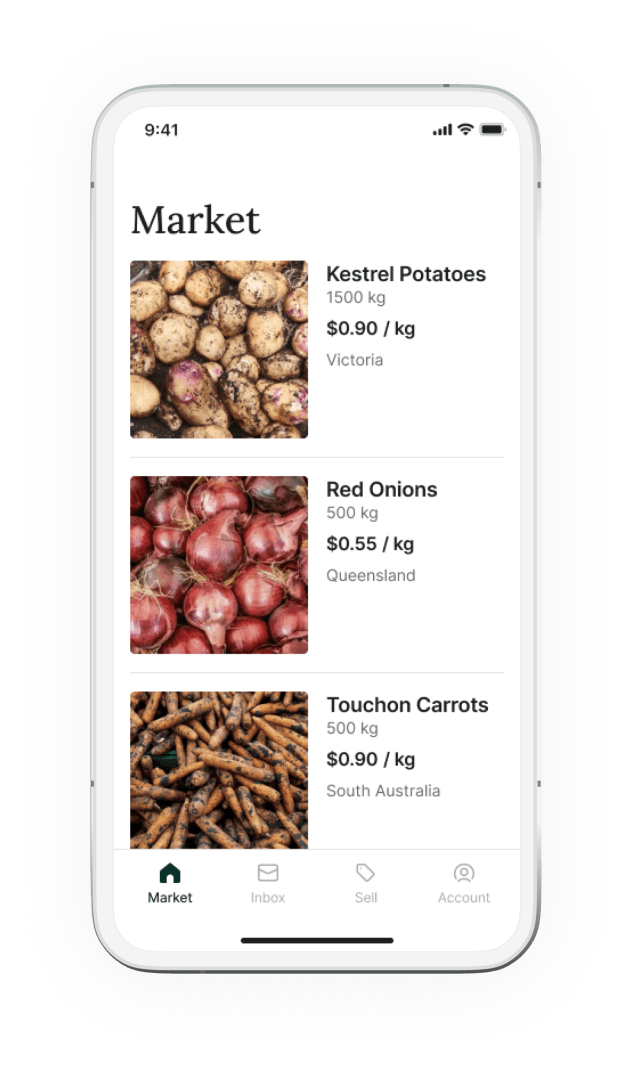 Flavorite is a family-run Victorian fruit and vegetable producer which has been part of the initial test group for Refresh:Food. It grows tomatoes, cucumbers, capsicums, eggplants and blueberries almost exclusively in glasshouses across four regional locations - Warragul, Mansfield, Tatura and Katunga. Less than two per cent of Flavorite's produce goes to waste, however it is wants to work towards zero food waste.
Flavorite has conducted 11 transactions on the app, selling truss tomatoes, saucing tomatoes, cherry tomatoes and eggplant. For Flavorite, not only has the marketplace helped them move more surplus volume and generate revenue from it, it has also given them greater control over the volumes flowing through traditional market channels to avoid oversupply that could be detrimental to their return.
Flavorite CMO Sam Kisvarda, said Refresh:Food had helped the company diversify its markets for lower-grade produce.
The app is very user-friendly and the team has welcomed feedback to continue improving it and help form a closer connection between buyers and sellers.
"It's given us the ability to connect with buyers we mightn't have considered previously and improved the value of what would have otherwise been unsought produce," said Kisvarda.
VegPro4, a fresh-cut vegetable supplier based in Boonah servicing food manufacturers and food service businesses and has used Refresh:Food to purchase sweet potatoes.
VegPro4 GM Sally Brent said the company had been seeking seasonal specials to offer its customers extra value and variety.
"The Refresh:Food app gave us access to one-off excess produce opportunities and has the potential to be a really handy resource when our regular supply is interrupted.
"You can see the quality of produce from the listing details, and we're always happy to take veggies with minor imperfections because we'll be processing them anyway - the freshness and taste is what matters most," said Brent.
Refresh:Food works on a profit-for-purpose model, supporting Foodbank, OzHarvest and Fareshare. The start-up is backed by Woolworths Group and Boston Consulting Group – whose BCG X division worked with Woolworths Group to co-develop the strategy and build the technology behind the platform.