A new combination and hops and enriched malt flavours are the key characteristics of the 2017 Coopers Extra Strong Vintage Ale, released last night.
The release of Vintage Ale has become an annual event in the liquor trade and wider beer industry, with special evening launches in Sydney, Melbourne, and Adelaide.
While hops remain the cornerstone of the 2017 Coopers Vintage Ale, this year brewers have revised the grist recipe. It's the first change in a decade, according to the company.
MD and chief brewer Dr Tim Cooper (below) said the new grist recipe included a special blend of caramalt to provide a crimson red colour and a full-bodied taste rich in malty, honey, and dry nutty characters.
"The caramalt contributes well to the balance of bold malt flavours and the softness of a fine and creamy head," he said.
"Vintage Ale is known for its bold and robust selection of hops and this year we have chosen the new bittering and aromatic varieties Denali and Calypso, which deliver a delicate spectrum of fruity aromas, with pineapple and pear characteristics alongside pine and citrus notes.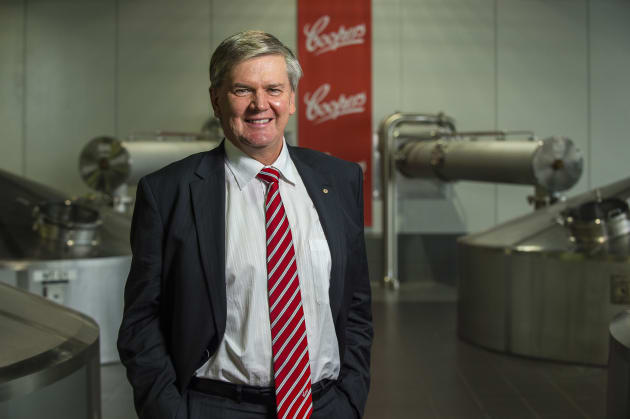 "Last year's Vintage used a combination of Astra, Melba, Northern Brewer, Styrian Goldings and Cascade."
Cooper said the 2017 Vintage had a bitterness of 50 IBU that was expected to carry well as the beer matures.
The beer retains an alcohol level of 7.5% ABV, which will also help with the maturation process.
Coopers national sales and marketing director Cam Pearce said only a limited number of kegs and cartons would be made available, and Vintage Ale lovers were encouraged to plan their purchases early.
"This is one of the few beers on the market that is designed to age and is unique in Australia," he said.
The 2017 Extra Strong Vintage Ale is the 17th in the series that goes back to its launch in 1998. It will be available in key venues in August.
Six packs are expected to retail for a RRP of $27 at selected liquor outlets.