Launched from scratch in 2005 by three schoolmates Luke Marget, Matt Dennis and Brad Wilson, beverage company Made has grown to include a multi-brand portfolio with around 20,000 retail customers, a top-of-the-line manufacturing and packaging facility, 85 full-time staff, and a substantial in-house distribution network.
However, as marketing director Luke Marget shared with the crowd at the Food & Drink Business + PKN Breaking Boundaries LIVE forum last week, the journey has included loads of uphill battles.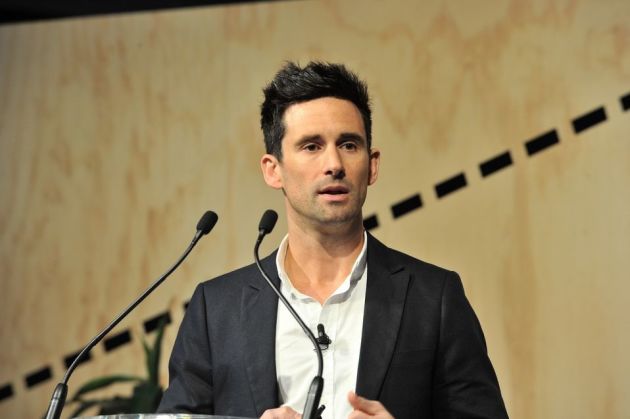 "We migrated from just targeting growth in the beginning, to targeting sustainable growth," he said.
"In the early days we launched quickly and our sales grew rapidly."
Back then Made had just one brand – NutrientWater – and it launched through third-party distributors which enabled it to grow the brand very quickly.
"After a few years we had 10,000 retailers around the country and the category was growing, but sugar content started to become a concern for consumers and we were left wondering how we'd continue with our growth strategy as some of the growth had started to plateau," Marget said.
"We had a team of 25 people five years in, and we had to look at our business and ask what was next.
"We had very limited control over our distribution network and we didn't have direct relationships with our customers.
"We certainly didn't have a sophisticated sales team in terms of the information we were gathering from the field."
Onwards and upwards
Marget said he and the team realised there was definitely room for growth in innovation.
"For a business to be truly innovative it needs to embrace change, create change... manage change," he said.
"So we set out getting more control over more elements of our business, making it scaleable, and diversifying our revenues so we could work towards sustainable growth.

"We embarked on a vertical integration strategy which started with broadening our product offering and introducing some sophistication to our sales force.
"We employed some programmers and started developing our own sales automation software.
"We've been working on that since we started it five years ago and it catches very solid data relating to what's happening in the field."
Home-grown manufacturing
The last piece of the puzzle was Made's investment in a state-of-the-art manufacturing facility which enabled the launch of its Cocobella coconut water brand in 2010.
"We were one of the first brands to launch in this space back in 2010, in a category with very little consumer understanding of what it was," Marget said.
"Our focus is sourcing the best quality coconut water from Thailand and Indonesia, and tapping into aspirational marketing and opportunities with sampling, digital and social.
"The result is that we have a 53 per cent category share."
Local investment in manufacturing was a key part of the company's vertical integration strategy.
Previously, the Tetra Paks used for the coconut water were made in plantations in Thailand and Indonesia, where the coconuts are grown, but in 2010 the team opened a plant in Melbourne which could give products such as Cocobella Chilled a resealable option which opened it up to the impulse channel.
"Our brand is broad, with many fruit blends, this has been achieved through the use of PET."
Better machinery
While the Gippsland-based plant is running smoothly now, Marget can remember a time when they had to hand-label their products because they couldn't afford the labelling machinery.
Today they have a state-of-the-art Krones machine which can label 12,000 products bottles per hour.
"We wanted a production facility that was highly automated, and a line with great flexibility to make different types of products such as nutrient waters, iced teas, sports drinks, juices and dairy-based products," he said.
"We also wanted a packaging line for PET bottles that was cross-functional over different retail channels and had the flexibility to do different sizes, and bear in mind our shelf-life needs."
Made's beverages are heat pasteurised and packaged under ultra-sterile conditions, which increases shelf life without the use of preservatives.
"The equipment we use is different to a hot-fill process or UHT process.
"It allows us to produce fresh beverages and ensure the quality of the product is maintained. Yet it offers extended shelf life (ESL).
"We are able to customise the shape of our bottles to almost anything, and it's a heat pasteurising cold fill – which also reduces the plastic that's in the bottle.
"We can process in a way that's fresh but achieve a 100 day shelf life, so we've been able to distribute through Coles and Woolworths and have started to consider sending this product off-shore."
Impressive juices
Rokeby Farms Whole Protein Breakfast Smoothies were launched in 2014, then in 2015 Made launched its own cold-press juice range called Impressed.
This required a further investment of $20 million into two lines which could handle the demands of heat-sensitive fruit, vegetables and herbs.
"The juice you get from the cold-pressed juice is richer in flavour, more vibrant in colour, strong in aroma, and the nutrients are maintained," Marget said.
"There are some wonderful cold pressed juices which sell for $10 a bottle, but our challenge was to make ours more accessible and affordable.
"High-pressure processing has helped make our project a reality.
"We take raw juice, and instead of heat pasteurising it we bottle the cold-pressed juice and hand-load it into this machine.
"Having ownership over our manufacturing will help us compete in overseas markets and we'll be taking our brands into Malaysia, Taiwan, China, Singapore, and Hong Kong over the next few months."