Self-confessed serial entrepreneur and CEO of meal delivery company FivePointFour, Tamara Tentrain says the key to growing your brand and establishing yourself in the market is listening to consumers, and in the case of FivePointFour, millennials.
Speaking at the Food & Drink Business and PKN L!VE event in Sydney, Trentain encouraged brands to be more aware of millennials; a demographic who are comfortable vocalising their opinions about products, and likely to only support brands which align with their personal views.
"Millennials are transparent, they believe they build or break your brand, they decide if you're going to be successful," Trentain says.
Trentain also added that unlike previous generations, millennials are savvy and understand how to read labels and nutritional information.
Tapping into social media can also be a huge pay-off for brands, with Trentain acknowledging the platform as a contributor to FivePointFour's success, as the company boasts an impression rate of two million Facebook hits daily.
However, the brand's efforts to converse with and listen to consumers goes well beyond the realms of social media.
FivePointFour can be contacted 24 hours a day, seven days a week thanks to a call centre in Manila, and as Trentain points out, most sign-ups happen between 7-9pm, with Sunday the most popular day of the week.
"We're converting before our competitors are waking up," Trentain says.
A marketer by trade, Trentain's involvement in FivePointFour began when she offered her skillset to the then CEO of FivePointFour Beni Doolan in a transaction commonly known as 'sweat equity'.
Early on in the business, Trentain took an equity stake in return for her marketing services, a move that has paid off.
The company has now evolved into a national business targeting consumers who understand the importance of a macronutrient-controlled diet to maximise their health and fitness.
Manufacturing is outsourced to Beak & Johnson, but the meals are portioned in house and customers choose from a set menu. Meals are delivered frozen and each meal has a 12-month shelf life.
The basis of FivePointFour's continual growth can also be pinned down to the company's clear model.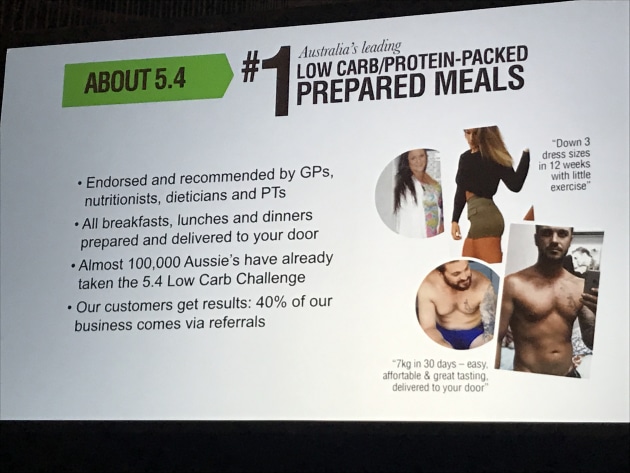 Trentain says the success of FivePointFour is due to the company defining itself as a "wellness company" as opposed to simply a "food business".
"We've carved out who we are, we never wanted to be convenient, we wanted to make clear we are specialists in the ready-meal market," Trentain says.
And it's working.