This is a sponsored post supplied by Vaisala. 
Global leader in industrial measurement Vaisala's eBook details how food ingredient producers can ensure food safety and high product quality while reducing waste and energy.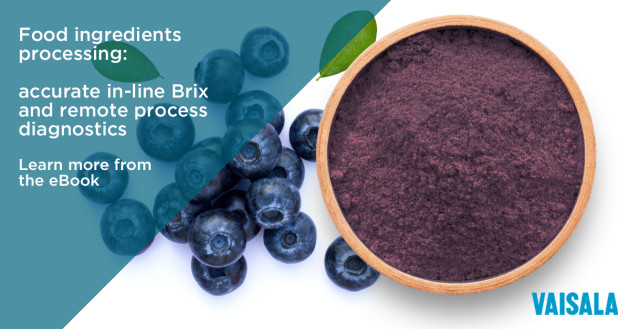 This eBook is a guide to smart and efficient food ingredients production practices. Vaisala reviews the traditional processes by which food ingredients are produced and, using real customer cases, demonstrates how to optimise production efficiency and sustainability.
By utilising inline Brix and dry solids measurement with an accuracy of up to 0.05 Brix, it is possible to optimise all processing steps from the raw material intake all the way to the finished product quality control. 
In this eBook we have gathered the best practices for the processing of functional and nutritional ingredients such as pectin powder, yeast extract, whey, herbal extracts, monosodium glutamate (MSG), carob powder, trehalose, xylitol, lactulose, sodium caseinate, lactoferrin, and potassium lactate.
Download the eBook to learn the details of the optimised production of the food ingredients by: 
spray drying;
fermentation;
solvent extraction;
distillation;
crystallisation; and
ultra and nanofiltration. 
In these applications, product quality and process control are performed using a digital in-line Vaisala K-patents sanitary refractometer that provides unique remote process diagnostics based on advanced optical image detection, raw measurement data, and diagnostic values.
This eBook will be a useful guide for food ingredient and additive manufacturing professionals.
What our customers say about the measurement: 
"Accurate Brix measurement that is not affected by colour, air bubbles, particles, fruit pulp, flow or pressure changes, vibration, or temperature shocks."
"No laborious sampling and measurement errors. Operators can now concentrate on other important tasks." 
Download eBook.