A new range of live cultured sodas from Remedy Drinks is hitting supermarkets and convenience stores this month, based on traditional recipes. The product was designed to help consumers make the switch from sugary soft drinks.
The Remedy Drinks Sodas use all natural and organic ingredients, including Kola nut, orange juice, lemon and lime juice, and spices such as vanilla, cloves, cinnamon and ginger. It is then fermented with a Remedy natural live culture to brew out all of the sugar and create the new range of handcrafted, live cultured sodas with organic acids.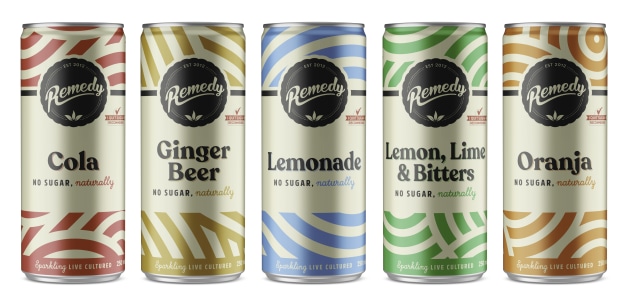 Remedy Drinks found that, according to website rethinksugarydrinks.org.au, Australia is in the top 10 countries for per capita consumption of soft drink with around 50 per cent of children aged 2-18 years and over 30 per cent of adults consuming soft drink.
Remedy Drinks co-founder Emmet Condon said it was the right time to expand the Remedy range into live cultured sodas.
"Creating a range of live cultured sodas is the natural extension of our work to encourage more people to make the switch and incorporate delicious, live cultured drinks into their everyday diet for the good of their overall health and wellbeing," said Condon.
"With the launch of Remedy Sodas there is now, literally, a Remedy drink for everyone – whether that be a Cola fan or those who prefer a Ginger Beer."
The new soda ranges has five flavours – Oranja, Lemonade, Cola, Lemon Lime & Bitters, and Ginger Beer – and is now available in supermarkets, petrol and convenience stores, café and health sotes, and online.
A single 330ml glass has an RRP $4.50 and a 4-pack of 220ml is RRP $10.00.