Local artisan whisky maker Starward has rolled out a limited edition single malt called Seafarer that has spent almost a year maturing on board the luxury cruise liner Queen Elizabeth.
Seafarer whisky has spent almost year sailing 95,000 nautical miles around the globe in an oak barrel fixed to the ocean liner's open decks.
The Seafarer was created in a partnership between Cunard and Starward in celebration of the ship's inaugural homeporting season in Australia this year.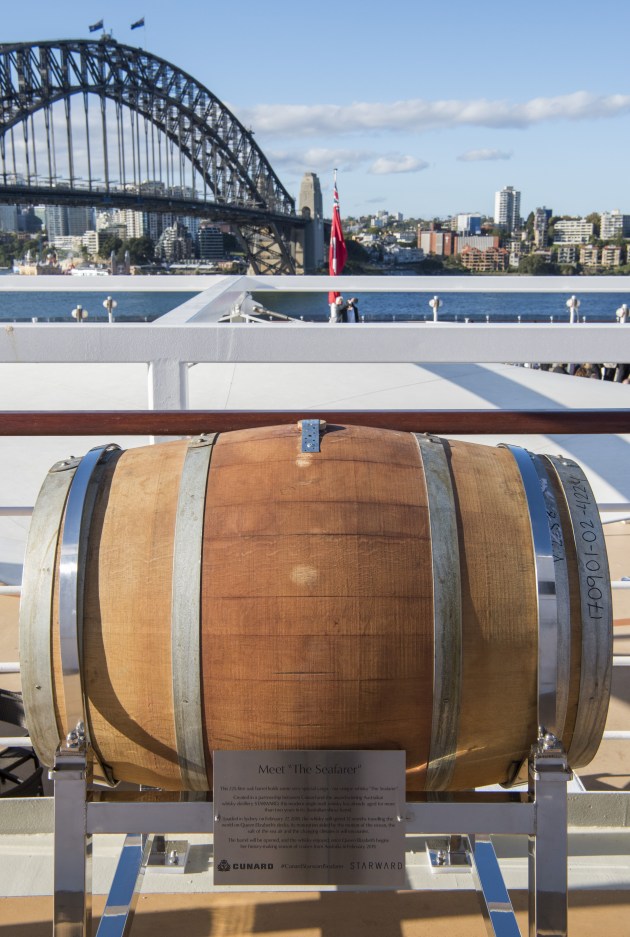 The three-year-old single malt whisky experienced temperatures ranging from zero to 32 degrees, and travelled to more than 90 ports including St Petersburg, Helsinki, Lisbon, Venice, Hong Kong, Penang and Cape Town over its 347 days aboard the ship.
After first being aged for two years in the distillery, the whisky was housed in a 225-litre oak barrel which was secured on Queen Elizabeth's open aft decks.
Starward founder David Vitale said because the maturation environment is crucial to the final flavour of any whisky, this was a great opportunity to create something different.
"It was almost a year ago that we loaded the seafarer on to he aft deck of the Queen Elizabeth" he said. "It was a bit of an unknown experiment that we were undertaking, but one we fearlessly undertook to examine what would happen with a barrel of whisky that travelled around the world.
"What we wanted to do was to examine what whisky can be if you really push the boundaries, and think about it the same way distillers would have 100, 200, or 300 years ago when they were looking to the environment they were in to make whisky."
On February 10 the barrel was offloaded in Melbourne and taken straight to the nearby Starward distillery for bottling. The Seafarer still had Starward's trademark fruit characters, Vitale said, but the oak influences are stronger, its jammy characteristics have developed with time and the dessert cooking spices like vanillin are more identifiable.
"This is a whisky that's been on an amazing journey so the result is appropriately epic. It's a special drop so we're recommending that it should be drunk neat or with a dash of water, so the subtleties of its flavour can be savoured," Vitale said.
The Seafarer is now available to Queen Elizabeth guests as well as visitors to Starward's Port Melbourne distillery.