Magnetic separators and metal detectors can make or break food safety for chocolate makers, writes Eriez's Ezio Viti.
Eriez Magnetics has worked with chocolate and candy manufacturers around the world for more than 60 years to ensure metal contamination doesn't reach consumers.
The problem of ferrous metal contamination in chocolate is a big one, but it can be reduced with the use of magnetic separators and metal detectors. Metal detectors can detect both ferrous and nonferrous metals including stainless steel, aluminium and brass, and the proper use of this equipment will help the processor obtain a metal-free product.
Through the following examples, I'd like to illustrate how some of our customers have used this type of equipment to solve their metal contamination problems.
Unusual metal events
Detection of unusual metal events triggers a line shutdown and root cause analysis for one of our US clients, a major chocolate bar manufacturer.
To address this problem, they have installed magnetic separators to capture any hazardous metal that may come from an ingredient supplier, or that falls into the product through the manufacturing process.
Rare Earth Magnets (REM) play a critical role for this company in meeting safety guidelines, and they are an important component of its food safety program. A properly established and operating REM control point enables the manufacturing operation to react quickly to unusual metal findings.
This customer's dry ingredients flow through a feeder which has been equipped with an Eriez Xtreme Rare Earth (RE) Grate Magnet. This is specifically designed to catch any ferrous contamination.
In addition, another Eriez RE Grate Magnet is positioned inside a hopper that dispenses sprinkles. An Eriez RE Tube Strainer Magnet is also housed within the pipe supplying chocolate to the enrober, a machine that showers the bars with liquid chocolate. Finally, an Eriez Grate Magnet is located inside a screener that processes recycled chocolate.
Missing bolts and shims
Metal detectors can also help identify problems before major damage occurs to downstream equipment.
In fact the use of metal detectors once averted a potential disaster for one of our US chocolate manufacturing customers.
The problem arose when four bolts and shims went missing from a depositing plate on its new chocolate molding line running chocolate almond bars.
Three suppliers provide bulk chocolate coming into the plant in 680 – 907kg totes. After blending, the chocolate is pumped to various production areas for conversion into specialty confections.
The company manufactured 25,000 bars that day and the chocolate had already been wrapped, boxed and put in cartons.
Finding the missing metal would have been like finding a needle in a haystack, so the company approached Eriez for a solution, so we brought in a metal detector and began scanning in the cartons, and we were able to identify the case.
All four pieces of metal were retrieved using the metal detector, and the chocolate was shipped on time.
The chocolatier then installed Eriez metal detectors throughout the plant, and an Eriez metal detector at the end of the line to serve as an additional safeguard.
Removing fine iron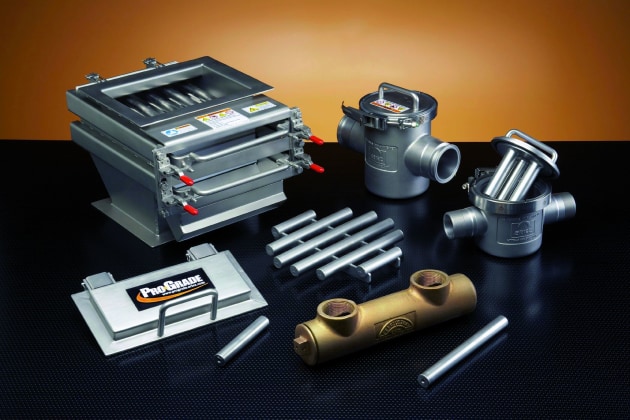 In our final example, a Canadian chocolate manufacturer discovered it needed to remove magnetic scale, rust and fine iron contamination off its processing line from its liquid chocolate, which flows at a rate of up to 2,722 kg per hour.
Ferrous Traps provide magnetic protection for liquid lines and processing equipment, and the company installed these to remove the contaminants as the chocolate moves in pipelines throughout the plant.
This not only preserves product purity, it also helps to prevent equipment damage. 
ABOUT THE AUTHOR: Ezio Viti is a sales director at confectionery technology company Eriez Magnetics Australia, working on helping businesses grow. He can be contacted on 03 8401 7400 or eviti@eriez.com.