Organic meat company Arcardian has doubled throughput of its meat trays with the help of a new wrapping solution from Wedderburn.
Grass-fed organic meat company Arcadian has revamped the way it wraps vacuum-packed and MAP trays in a cold, wet environment with a new solution for its tray sealed, sleeve products.
Arcadian was founded back in 2005 by CEO Alister Ferguson who sought to tap into the growing global demand for grass-fed organic meat with quality produce from certified organic farms across Australia.
Today, the company employs 58 people and is the largest certified organic producer network in Australia.
At its packing plant in Gosford NSW, Arcadian produces ranges of organic value-added products such as sausages and patties in MAP trays, as well as variable weight steak cuts in vacuum-packed trays.
A few years ago, a rebrand introduced a number of tray-sealed, sleeve products to the range. The company needed an efficient, cost-effective way to consistently apply a quality sleeve in a tough environment.
At the time the company's packing process involved hand application of cardboard sleeves and then printing and applying an additional label for variable information data.
Consequently, results were inconsistent and the process was very labour-intensive, with bottlenecks on the line slowing down production.
The company decided to look for a better solution, and after evaluating a number of machines on the market and installing a competing solution that failed, Arcadian opted for Stick 'n' Sleeve from Wedderburn.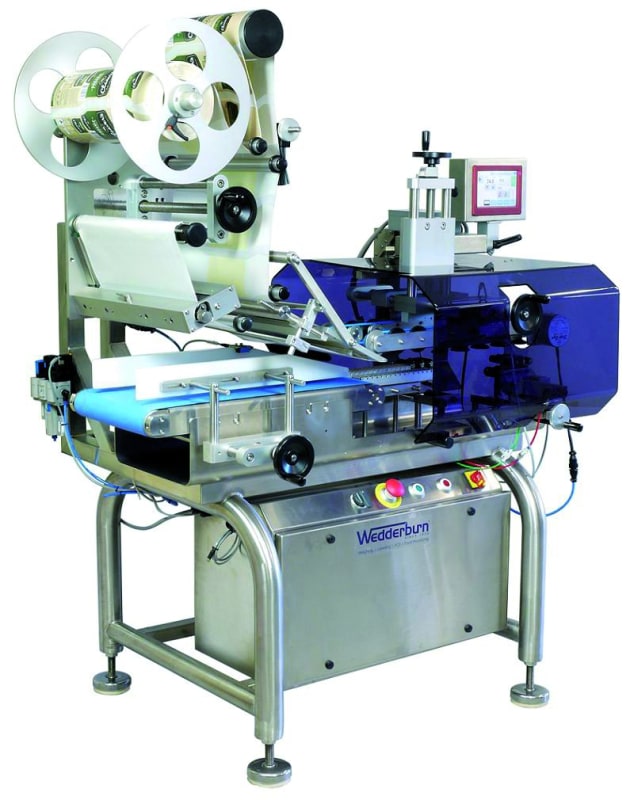 The Wedderburn Stick 'n' Sleeve solution is comprised of a consumable label, available in several formats, and an automatic applicator, which gives Arcadian packaging the appearance of a cardboard sleeve with the convenience of an adhesive label.
As Stick 'n' Sleeve is average weight compliant, the solution ensures a sizeable reduction in giveaways for fixed weight products. The design of the machine makes it suitable for tough environments. Components are IP65-rated, while the open frame design minimises food traps and simplifies cleaning.
Installed in August 2016, the first Stick 'n' Sleeve machine labels value-add packs in MAP trays such as sausages and patties. Following its success, Arcadian ordered a second machine, which was installed in April 2017.
The second machine packs variable weight cuts in vacuum skin packs, and it weighs, labels and prints variable data in one pass. Again, pleased with the result, Arcadian is planning to purchase a third machine.
Thanks to the upgrade, the company has been able to re-allocate employees to other areas of the business, meaning fewer wages on the lines, which is a significant saving. Throughput has also doubled, and sleeves are applied consistently.
"We built a very good rapport with the team at Wedderburn. The support has been fantastic and we haven't always experienced that level of support from other manufacturers," Arcadian GM Ron Waterhouse said.