After an excitable Day 1, Day 2 delivered big crowds, many discussions, and deals across the whole show. As the foodpro organising team said, "The best of new automation and innovation was out in force."
Proceedings got underway with Victorian MP and parliamentary secretary for jobs, Bronwyn Halfpenny cutting the official opening ribbon. Halfpenny attended on behalf of industry and innovation minister Ben Carroll and said the government recognised the importance of food and beverage manufacturing to the state.
"The Victorian government has established food as one of the key five areas that is vitally important to Victoria. We understand that isn't easy for businesses small and large in this area, so we are pleased to partner this event to help put Victoria on the map for the food and beverage industry," Halfpenny said.
Publisher Lindy Hughson caught up with show organiser Felicity Parker to discuss what to expect at the show.
Food & Drink Business also took to the show floor with video camera in hand to record its signature show/expo video interviews with exhibitors. You can catch them all under the foodpro section of the website and on its YouTube channel.
Presentations, panels, and classes continued at the Product Innovation Stage and Schneider Electric Smart Food Lounge, including Yume chief commercial officer Katherine Gokari-Whaley spoke about how the company was working with large manufacturers to commercialise excess inventory at scale, and Brad Yager from Schneider Electric discussing the goal of a holistic supply chain vision.
As foodpro account manager Felicity Parker told Food & Drink Business on Sunday, the ingredients and food science section of foodpro has grown 200 per cent.
Leaders in taste in nutrition for the food and beverage industry, Kerry exhibited its commitment to great tasting products with improved nutrition and functionality. Kerry's research and development team offered a number of samples to visitors showcasing their technologies. The plant-based hoi sin duck featured plant-based meat marinated with Hoi Sin style sauce, and Kerry technologies such as Kerry Tastesense Masking, Kerry Red Arrow Smoke and Fermentation processes. Meanwhile the Kerry beverages stand was popular, with visitors interested in trying the Vegan Protein Punch which showcased how to introduce protein into a non-dairy drink. This flavoured water featured Kerry Prodiem Refresh Pea Protein and BC30 probiotic.
Foodpro organisers said Kerry was pleased with stand attendance, including interest from food technology university students – the next generation of scientists.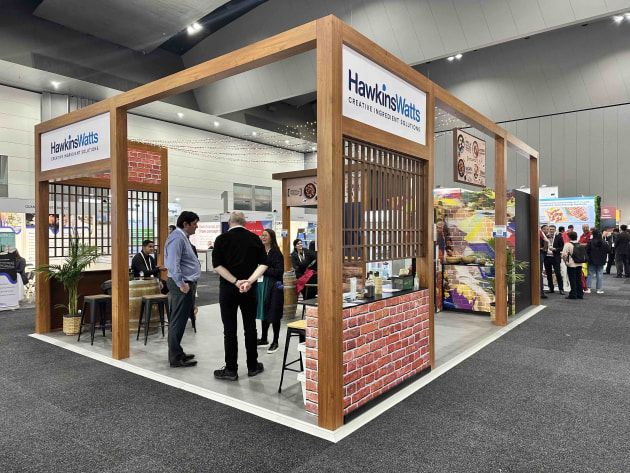 Meanwhile, food, beverage, and supplement ingredients specialist, Hawkins Watts, demonstrated its commitment to innovation, quality and service with a unique hawker food stand. The company showcased their ingredients in a unique way by preparing a number of free sample dishes such as their very popular vegan mac n Kim-cheese croquettes. Having prepared a similar concept three years ago to be debuted at the previous foodpro, which was postponed due to the pandemic, the company was thrilled with the amount of interest in its stand.
Gelatine, functional protein and collagen peptide experts, Gelita, showcased a range of natural, pure, allergen free and clean label ingredients. Gelita reported that businesses showed a keen interest in applications for collagen infused products such as collagen gummies and iced tea mix. Several versions of these were on display at the stand.
The show is open from 10am to 5pm today, Tuesday 25 July, and tomorow from 10am-3pm, at the MCEC in Melbourne.