We asked HMPS managing director Mark Emmett about a new machine that makes packing lightweight milk bottles into crates a whole lot easier.
Thinner plastic in milk packaging due to the lightweighting of bottles is good news from a sustainability perspective, but it's posing some challenges for milk producers.
Current models of this type of equipment sometimes 'drop' the filled bottles into the crates, causing them to split.
So, in response to a customer request, HMPS recently designed a new crate packer to accommodate thinner styles of packaging.
MD Mark Emmett says he believes the HMPS 7000 is the first of its kind.
"This is an Australian first as the customer was the very first to realise this upgrade," he says.
"[Lightweighting of bottles] is a new trend, therefore the need for this has only just become apparent."
HMPS designed and built the first prototype, and now has a blueprint.
"We anticipate that many dairies will be moving over to this style of packaging, which would mean a required machinery upgrade."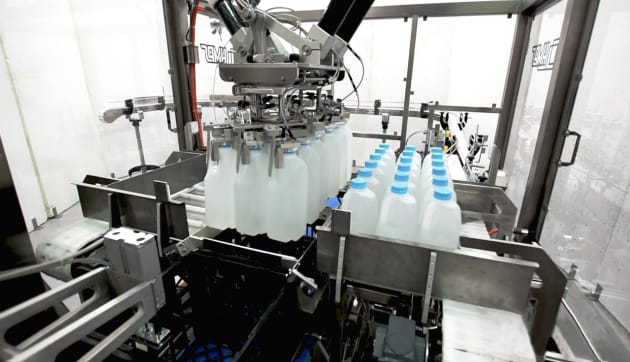 Why the need?
The machine came about when HMPS was approached by a dairy customer who'd recently moved over to a thinner plastic to produce lighter bottles at a reduced cost.
"This had became problematic when their current case packer would 'drop' the filled bottles into the crates causing it to split from damage," Emmett says.
"Due to the softer and thinner plastic, more care was needed when handling these bottles – both in the pick and place area as well as in dropping it into the plastic crates where it would be shipped off for palletising."
Milk producers – and plastic packaging in general – is becoming thinner. This trend will see generous cost savings for producers in terms of profits, and is a plus for the environment.
"One of the key benefits of the machine is not only its accuracy and care in handling, but also the speed, with the recent customer being able to now produce twice the amount of bottles per minute," Emmett says.
The crate packer can pack 200 x two-litre bottles per minute, which equates to 22.2 crates per minute. It allows for a variety of bottle sizes (and of course weight) as well as packaging formations and crate sizes.

Emmett says the machine has potential applications for other industries outside of dairy.
"Any plastic bottling types can be used on this type of machinery, so we're looking at a new benefit for beverage producers," he said.

"We also expect export potential, with immediate enquiries coming from New Zealand as a large dairy producing country."