In this content series, Food & Drink Business takes a closer look at the opportunities inherent in the fast-evolving food processing industry, with insights from leaders at companies which have signed up to exhibit at APPEX 24.
This month we speak to Lewis Worthing from Opal Packaging.
The Australian manufacturing sector is at a critical juncture as it seeks to grow onshore capacity and capability while remaining globally competitive. With reference to your business, what do you see as a) the key challenges and b) the main growth opportunities inherent to this dynamic sector?
Key Challenges
The packaging industry faces increasing pressure to adopt more sustainable practices. The use of non-recyclable materials, single-use plastics, and wasteful packaging can contribute to negative environmental impacts. Minimising waste and finding more environmentally responsible alternatives remain significant challenges.
Main Growth
Incorporating technology into packaging can enable value-added features such as interactive labels, temperature monitoring, freshness indicators and anti-counterfeiting measures. Smart packaging enhances user experience and opens opportunities for differentiation.
What role has automation played in growing your business and advancing your customers production performance?
Automation has played a significant role in transforming our business and optimising case erecting machinery processes. Some of the key benefits are increased efficiency, cost savings, enhanced safety systems, data driven outcomes and creating a competitive advantage.
Businesses that adopt advanced automation technologies tend to be more agile, responsive and adaptable to changing market conditions. Automating repetitive and labour-intensive tasks can significantly reduce labour costs and minimise human errors. This can allow businesses to allocate resources more effectively and focus on more strategic aspects of their operations.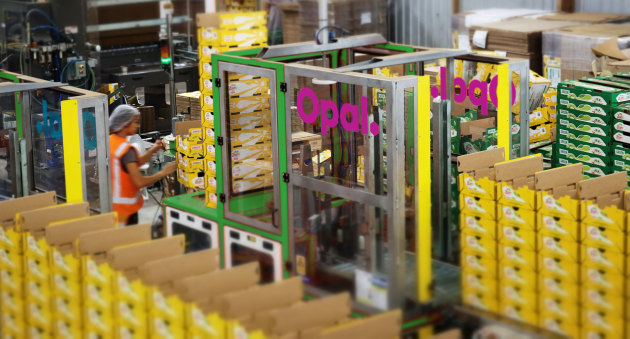 What innovative technology/product/solution has your company brought to market recently that sets you apart from your competitors?
Innovative packaging is at the core of Opal's DNA. We believe that the way to stay ahead in today's rapidly evolving world is to constantly challenge the status quo and push the boundaries of what is possible.
We have many great examples of innovative solutions: one that stands out is our High-Speed Kiwifruit case erector. Through collaboration with our technology partners, Opal exceeded customer expectations by delivering a solution that reduced operator fatigue and injury, improved system safety and increased packaging throughput by 100 per cent.
Working with your customers, what key trends are you observing unfold in the Australasian food and beverage processing sector?
My view on key trends sits in three categories:
Food Safety, Traceability and Regulatory Compliance: Ensuring the safety and quality of products remains a top priority. Technologies for tracking and tracing products throughout the supply chain are being explored and implemented. Adhering to evolving food safety regulations and labelling standards are crucial for businesses operating in the sector.
Technology: The adoption of automation, robotics, and digital technologies to streamline processes, enhance efficiency and improve quality is on the rise. This includes advances in manufacturing, packaging and quality control.
Sustainability: Sustainability considerations are influencing the sector, with an emphasis on reducing waste, optimising resource use, and implementing more environmentally responsible practices. Packaging innovation, waste reduction efforts and energy efficient production processes have become core considerations. Manufacturers are focusing on providing more sustainable packaging solutions, including reducing single-use plastics, adopting recyclable materials and designing packaging that extends product shelf life.
APPEX is a new, all-encompassing trade show for the processing and packaging industry. Your company has signed up as an exhibitor at the inaugural show in March 2024, what made it a compelling platform for your business?
We are thrilled to participate in this inaugural show, which promises to be a hub of innovation and collaboration. This event aligns with our vision, which is 'Opal shapes the future through sustainable packaging'. We believe that the show's diverse audience of industry experts, potential clients and partners will provide an ideal setting for meaningful conversations and future collaboration.