Sydney-based contract packaging company Multipack Food's recent expansion at its Ingleburn facility has more than doubled its volume throughput in six months. Kim Berry spoke to commercial director Brad Devine about growth in a time of pandemic. This article was first published in Food & Drink Business September/October 2020.
For contract packaging specialists Multipack Food (MF), 2020 has been a busy one. Commercial director Brad Devine told Food & Drink Business COVID-19 has had no negative impact on the business.
"Our focus has always been to be on the front foot with new or interesting white-space products in markets that are about to boom. That has held us in good stead. All our clients and the products we pack are in the fast-moving consumer goods space that end up on supermarket shelves or in the meal kit/ready meal sector.
"We've never targeted the foodservice space and that has played in our favour this year when you consider the impact of COVID-19 restrictions on that sector," Devine says.
Speed to market is something the company is also committed to. "FMCG is unpredictable and sometimes a risky market, which has never been more apparent than this year. By focusing on speed to market, it means we can do small runs, get products on shelves faster and gauge a product's viability much quicker. That is very appealing to our clients."
Find the growth point
Two markets MF has focused on are the burgeoning functional beverage space and components for meal kits.
Devine says that with 2020 being the year of the pandemic, meal kits and other products that require home meal preparation have skyrocketed.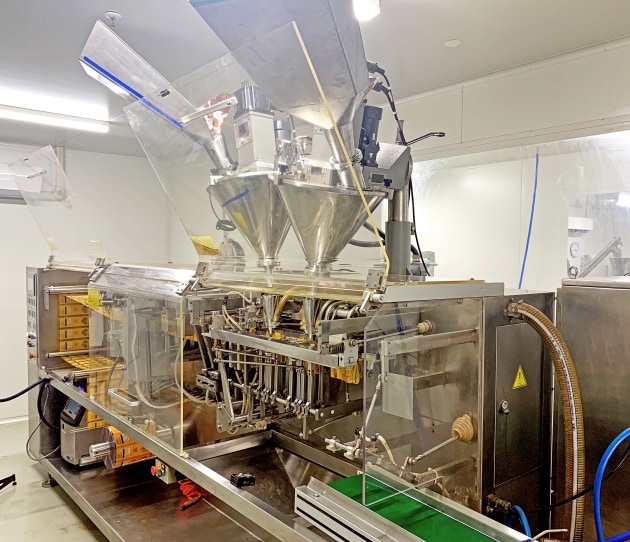 "We have all changed our eating habits to be more home-based, ideally healthier but also quick and easy, the meal kit segment has simply stepped up to fill that need," he says.
In January, market research company Nielsen said meal kits were estimated to be worth more than $300 million in annual sales, with a 40 per cent growth rate compared to 2018.
Devine agrees, saying pre-COVID-19 MF was seeing growth at around 30-40 per cent. That doubled during the first couple of months of restrictions and has settled back to the 30-40 per cent mark.
In the US, where the meal kit market is more mature, it is growing three times faster than any other channel, Nielsen said.
MF also saw functional beverages, specifically nootropics and the shots category, as a potential growth area, which has come to fruition.
"It's taking off," Devine says. "It's a category where consumers are looking at the benefits of the drink, like nootropics, which are a group of ingredients and compounds that have been shown to assist cognitive function and mental clarity."
Sizing up
The success of these channels has been the catalyst for MF's most recent expansion. It has added six new clean rooms, three more liquid sachet lines and a third vertical form, fill and seal pack line.
"We've added a fantastic horizontal sachet line as well. It's a high-speed processing line that produces consumer-friendly packaging with an easy tear top. There are notches in the side of the packet and it's also easier to pour.
"We had it purpose built – we waited until we had enough volume to make it worthwhile, and we're already looking to add more capacity. It has been very popular," Devine says.
MF completed the fitout internally, with Devine saying it had the in-house capability. Without any new design elements, it was a relatively straightforward process. "It was very similar to what we've built previously," he says.
MF opened its 3400 square metre Ingleburn site in 2015. It is fully accredited with a suite of equipment offering its clients blending, mixing, packaging, and filling lines for wet and dry product (powders, granules, solids, liquids, pastes, gels).
Packaging format options include pouches, spouted pouches, sachets, stick packs, bags, pillow packs, bag-in-box, buckets, cans and bottles.
The success of its beverage shots packaging offering has resulted in the addition of a fifth filling line, specifically to lead the way in this channel.
"Our goal has always been to be an industry leader. Our success during such an uncertain time is very encouraging. We're already scoping our next additions to the factory."