Vision systems hold the key to cutting meat industry labour costs, writes Omron's Matt Rusbatch.
Despite extensive testing and trials of differing methods of measurement, Objective Carcase Measurement (OCM) remains a top industry concern in Australia.
Each processor must satisfy both supplier and customer with pricing and quality grading that is auditable, consistent and transparent, with quality still judged by eye.
And how does the processor ensure fairness and traceability for suppliers? Technology and automation is the obvious answer, but Australian meat processing plants don't have fully automated processing lines.
The Australian beef industry relies heavily on labour throughout the slaughter process: it accounts for about 65 per cent of total processing costs.
Specialist inspectors are trained to grade meat according to stringent guidelines, with regular audits and tests to ensure consistency across the board. In Australia, grading is completed after the animal is quartered and chilled.
Carcases are inspected in a stationary environment by inspectors moving through and assessing each carcase.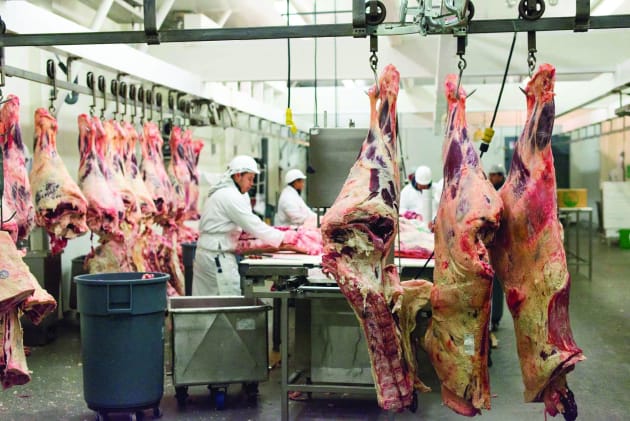 Substantial capital investment
These processing methodologies have meant plant setup remains almost unchanged, even as new factories are built.
Australian beef processing factories are yet to adopt the full chain automation currently available in pork and lamb facilities. To do so would require a substantial capital investment.
Many technologies have been tested, with DEXA (Dual-Energy X-ray Absorptiometry), SEXA (single x-ray absorptiometry) and CT Scanning showing the most promise to date.
Any automated grading solution – to be cost effective – should look to augment inspection in the current environment, yet remain flexible enough to be integrated into a line inspection system when the time comes.
Acceptable fresh meat colour is considered the most important quality trait customers use when making decisions regarding intent to purchase.
Scoring method
Meat and Livestock Australia (MLA) developed the Palatability Model over a 10-year period using 70,000 samples and extensive consumer testing.
It uses a scoring method to predict the palatability of main cuts of meat cooked using a variety of cooking methods. Ribeye area (REA) is an indicator of muscling and an important factor in determining Yield Grade.
As ribeye area increases, retail product yield increases.
Having a vision solution which can accurately determine and record the colour and size of the REA would allow processors to pay suppliers more accurately.
Adoption of automated grading systems will depend upon their effectiveness in accurately grading carcases.
Fairer payment system
Being able to record images and data from a vision system for each carcase could also lead to implementation of a database to enhance their breeding programs and assess on-farm practices with a view to overall quality enhancement.
Processors would also gain as the ability to predict more accurate yield allows for a fairer payment system.
Industrial vision systems hold the key to any OCM system. They act as an accurate, impartial eye when grading based on colour and size of REA in beef.
Automation specialist Omron Electronics offers true colour vision sensors, so there's no need to convert greyscale images to colour.
As well as determining meat colour, Omron FQ and FH series vision sensors accurately measure size, including fat content and marbling.