The burgeoning interest in 'meat free' has seen business for Australia's award-winning first 'vegetarian butcher', well… mushroom.
Driven, humble, and creative. These values sum up the always-on-the-go Suzy Spoon, founder of perhaps Australia's most unique food business: Suzy Spoon's Vegetarian Butcher.
A vegetarian for 30 years, Spoon established her eponymous business in 2012. Using the word "butcher" was important in the name.
"It describes exactly what I do: I make sausages, I make burger patties, I make schnitzels. Butchers make smallgoods, it's just that mine are vegan — but I don't pretend it's meat. Because the name is so catchy, whether people love it or hate it, they still want to talk about the 'vegetarian butcher'.
There were two drivers behind Spoon – who tongue-in-cheek calls herself "director of sausages" – starting up her business.
The first was seeing a gap in the market.
"Five years ago there was a real lack of delicious vegan food in the supermarkets, things were just so highly processed.
The flavours were terrible. Rubbery and just awful. I just thought: 'Vegans and vegetarians, they're not about processed, that's like the opposite of what we're all trying to do'.
"So I wanted healthy food, made with real ingredients that actually tasted delicious. I didn't know how big we'd grow, but I thought if it's just in my local community, then people can have a quick dinner when they get home if they're busy."
A year in the making
The second driver was former Spiderman actor Tobey Maguire. Maguire was in Australia filming The Great Gatsby and the sought-after Spoon was his personal chef.
It was Maguire's comment that he preferred Spoon's food to some well-known brands that made her realise other people would like her food as well. Hopefully lots of other people.
So she spent a year perfecting a vegan sausage by testing them on co-workers and her partner.
"It's a real juggle making sure it tastes delicious and has a good cut-ability on the plate. It's got to be slightly like a meat sausage – people are expecting a certain thing when they eat a sausage – and the ingredients have to be easy to get and nutritious."
These days Spoon's partner, Tracy Smith, is also a partner in the business, although she still holds down a full-time job Monday to Thursday.
Organic growth
With that first sausage, Spoon began selling at Sydney's Marrickville Organic Farmers Market in May 2012, making her product in a friend's "massive, clean and beautiful" kitchen.
"From that one sausage, I was then able to make other sausages, and then I made a burger patty and schnitzels. I'm always experimenting. Once I'd made something that was good enough to sell, then one by one we just added another product."
Having outgrown the Marrickville Market, Spoon moved to a little shop in Enmore (still in Sydney's inner west), making products onsite and selling a couple of different types of burgers to encourage people to taste and then hopefully buy. Six months later the business had outgrown those premises and moved a few minutes east to the main thoroughfare of King Street, Newtown.
"It was never really my aim to have a café, but that building gave us the room to have a big one. It really was having two businesses going at once. It was good, but hard."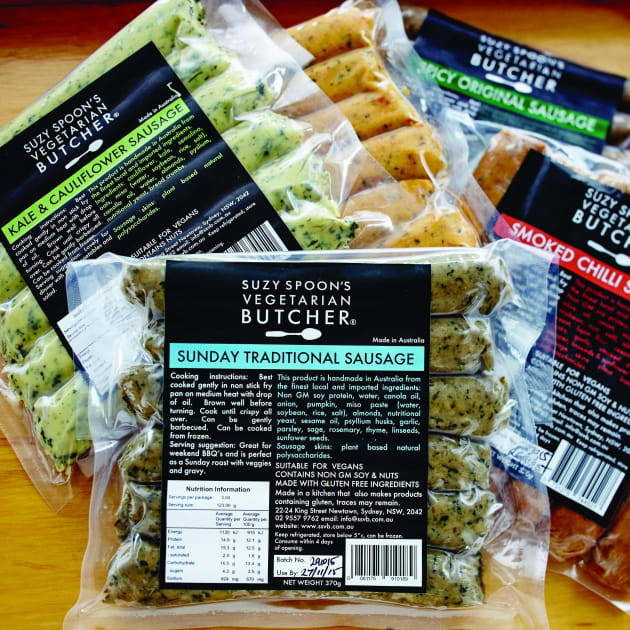 New space brewing
A rent rise on that premises pushed Spoon to move elsewhere.
Unable to find a similar type of building, she and Smith closed the café (which had employed 11 people) and returned to concentrating solely on food production.
"King Street was a fabulous space but finding another space where I could both have a café and do manufacturing was impossible – they're all being taken now by the microbreweries in Marrickville."
The "fantastic old food factory" they now occupy in nearby St Peters needed lots of renovation.
"Because where we are now is a factory, it doesn't have a shop as such, but I do have a fridge set up in a little room and if you ring the doorbell, you can come in and buy product. It's a bit like a factory outlet."
Besides Spoon, the business has three full-timers with Smith working every Friday "and a lot of other time – we talk about the business all day and night at home".
Timing down pat
It seems the business has become established at just the right time.
"Five years ago when I first thought of the idea, the word 'vegan' was still a bit of scary for meat-eaters," Spoon says.
"I don't think it is at all now, but I still like the inclusive word 'vegetarian' – it's a middle-ground name."
Spoon believes there are more vegans than vegetarians in society now, and movements such as "meat-free Monday" have also been gathering steam.
"Young people are flooded with information that wasn't at their fingertips before," she says.
While Spoon's products are vegan, she went for the word "vegetarian" in the name so as not to isolate any groups.
Social media has also been a blessing for Spoon.
"In the whole time I've had the business, we've never paid for any advertising and we've never really done any proper marketing, but social media has been so kind and generous to us. I suppose it's a very honest way of advertising really: people share things if they truly believe in what you do. And if they don't like it, that gets around too."
Most of Spoon's output is sold via a distributor and the other half is via the online store. She also now has a Melbourne distributor and is planning to expand into South Australia and Western Australia.
"We need to have the right cold chain in place and then we'll be able to sell Australia-wide online too. It's just the cost of it.
"It's exactly the same for export. After a lot of work, I'm hoping that will also come off this month. In fact, the way things are going, it's possible we'll be able to have our stuff sold in New Zealand before we have it in WA, which is quite funny, isn't it?"
Staff and costs
Volume is another issue Spoon is grappling with. "Customers want products cheaper and we use really lovely, really expensive ingredients; then because they're all handmade, wages are very, very high."
A recent upgrade from a small hydraulic sausage machine to a big vacuum one hasn't seen time benefits – yet.
"We anticipate that when we learn to use it properly it will speed things up a bit, without losing any quality.
"I'd love to automate the schnitzel, but I'd need a rolling or a pressing machine, then a crumbing machine, and that would all need to be on a conveyor belt. That would be maybe $70,000 worth of equipment just for one product."
While the business has experienced double-digit growth every year since establishment, Spoon says: "Spending doubles when my takings double.
"It's a terribly hard road: food businesses will all completely get that, but the general public don't get that at all, they just think we're huge."