A heritage ice cream brand has adapted to changing tastes with a push into ultra-premium branding.
South Australia has seen something of a food boom in the last few years.
The state is home to numerous successful companies including San Remo, Thomas Foods International, Coopers, Bickfords, Tuckers Natural, Mexican Express, Beerenberg, Tony's Tuna, Laucke, Macro Meats Gourmet Game, Agriexchange, and Almondco, and all have contributed to growth in the state's food sector.
Food SA chief executive Catherine Barnett said much of the revenue and employment growth in the state could be attributed to successful local companies with humble origins, while the impact of overseas-based multinational companies had declined.
"South Australia's future is closely tied to the food industry and I expect we'll become known for our strength and innovation in food manufacturing," she told The Advertiser recently.
Late last year, the state's high achievers were recognised in the South Australian Food Industry Awards at the Adelaide Convention Centre, and one of the stand-out stars on the night was Golden North.
The Laura-based ice cream business was inducted into the San Remo Hall of Fame, and collected the hotly contested Tasting Australian Consumer Award as well.
Golden North now manufactures more than 80 different products, including Australia's only certified Low GI ice cream.
Not only that, it has embraced Australia's foodie culture and developed an "ultra premium" ice cream range with Poh Ling Yeow of Master Chef fame.
Called Jamface By Poh, the range is available in three wittily titled flavours: Cherry Springer (Cherry Cheesecake), Fudgy Smuggler (Chocolate Fudge & Raspberry), and Nutty Joe (Espresso Hazelnut Praline).
Golden North's managing director Peter Adamo told Food & Drink Business he believed the company's success is due to its strong South Australian heritage – it has operated in the state since 1923 – and consistent product quality.
"We use fresh milk and cream sourced from local dairy farmers, which has the same creamy taste as when we started," Adamo said.
Where it all began
Golden North set up shop in the town of Laura, 240km north of Adelaide, in 1880. William Bowker and his family had moved to the area and started selling fresh milk and cream from their dairy.
In 1923, the Bowkers installed two cold rooms and a one-tonne ice tank in the factory, which led to the first production of ice cream.
In 1983, when the Bowker family sold Golden North to Farmers Union, the company's distinctive "extra creamy" ice cream expanded rapidly into the larger market of Adelaide through Farmers Union's distribution network.
In 2001, Golden North was sold to a group of four South Australian businessmen, placing the brand back in the hands of South Australians.
In 2008, the business was sold to its current owners, which comprises five South Australian families who've diversified the brand's product range through innovation programs, an R&D team, and further investment in the plant and equipment.
The company has grown from annual sales of $9 million to more than $25 million.
Keeping the ice cream cool
Golden North has since worked on diversifying its product range "to keep our consumers excited", according to Adamo.
"We monitor changing consumer tastes and flavour trends across different category profiles such as bakery and confectionery, as well as overseas trends in ice cream," he said.
"The continuous growth of Australia's foodie culture has seen a demand for ultra-premium ice cream, and Jamface By Poh reflects this.
"Another noticeable trend is an increased health consciousness in daily food consumption, which led us to launch Good'n Creamy last year."
Good'n Creamy is a certified low-GI ice cream for consumers cautious about their energy intake, particularly diabetics.
"When developing Good'n Creamy, we carefully examined all ingredients used and chose to use stevia as a natural substitute for cane sugar in order to meet the low GI requirement set by the Glycemic Index Foundation," he said.
The product is tested and certified by the University of Sydney.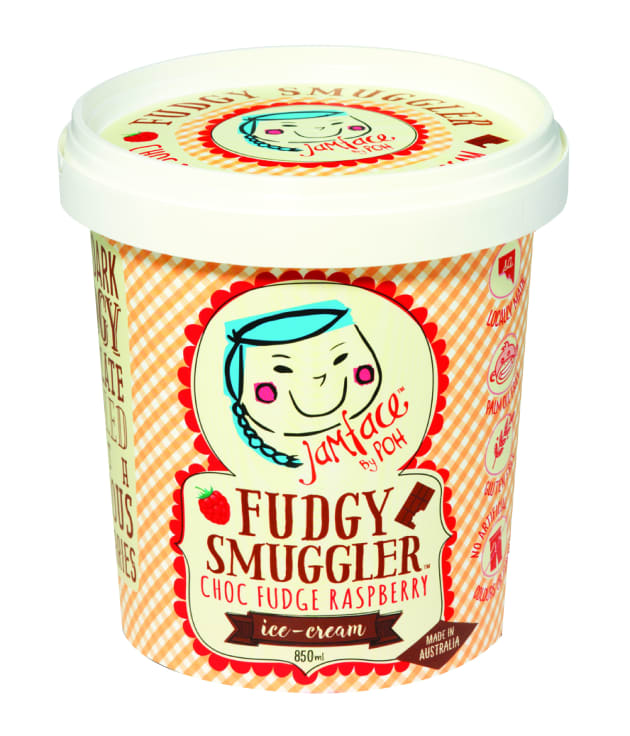 Ethical nutrients
Golden North also claims to make ice cream that's palm oil-free and ethically produced.
"Since 2011, we've ensured all ingredients in our products are palm oil-free," Adamo said.
"In 2012 we became a 100 per cent Palm Oil Free Company, so consumers can be confident the ingredients used in our ice cream don't add to the deforestation of the Orangutan habitat."
A simple process
Golden North Ice Cream is made with fresh milk and fresh cream from local dairy farmers, and uses no wheat-based fillers.
During the production process, the milk and cream is combined with other ingredients in the mixing vat before being homogenised and pasteurised.
The ice cream mix is held in vats overnight before churning, then the mix is chilled with air injected by the churn. The ice cream is then filled into containers and frozen.
Export ups and downs
The ice cream company has also made a move into export markets in response to strong demand from Chinese consumers for "clean and green" Aussie food.
Golden North's first shipment of ice cream went to China in May 2015, and it concentrated on distribution to supermarkets with its two-litre family tub and Giant Twins Multipack.
"More orders are expected in the new year for the next Chinese summer," Adamo said.
Fresh Golden North milk has also been introduced to the Chinese market to meet demand, and is air-freighted weekly into key markets.

One of the challenges for the company has been the high price of dairy products compared to local Chinese products due to supply chain costs, especially for fresh milk.
Adamo, however, is looking to develop ice cream flavours specific to the Chinese market.
"The Free Trade Agreement will help in decreasing the price of goods as the tariff decreases," he said.
Adamo believes the future of the brand lies in creating more innovative products.
"We'll need to continually communicate our brand differentiation and unique benefits as well as keep engaging in social media," he said.
"Strengthening our national distribution and branding in the eastern states and growing our global presence through export will also be a key focus." 
Winners at the South Australian Food Industry Awards also included Ray Borda for his kangaroo meat industry efforts; Kris Lloyd for her work with the South Australian Cheesemakers Association; and Natural Fractions for its fractionation system.
Other noted companies were Bultarra Australian Saltbush Lamb; Sunfresh Salads; Wakefield Grange; Almondco; AgriExchange, MOO Premium Foods, Pangkarra Foods, Fleurieu Milk Company, Spring Gully Foods; B.-d Farm Paris Creek, Galipo Foods, and 2XE.