Plant-based protein company v2food has raised $72 million in its latest funding round, bringing in Europe's largest investment fund, Astanor Ventures and China's leading e-commerce platform.
The Series B Plus funding round brings the company's total raise to $185 million, and its value to more than $500 million – up from its launch value of $2 million two and a half years ago.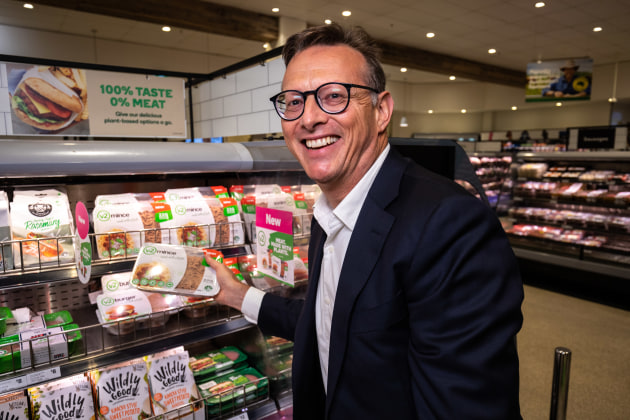 V2food CEO and founder Nick Hazell said the focus was now on scale, global competitiveness, and business development. "Adding to our existing Sydney HQ, we have officially opened operations in China and appointed our new China general manager Cyrus Pan to build the brand locally across Asia," Hazell said.
The company recently announced its launch into the Chinese market, with its first batch of products including a new iteration of v2mince, resembling pork. It has already got a foothold in New Zealand, Thailand, the Philippines, Japan, and Korea.
The company said it plans to use the new funds to scale its advanced manufacturing and broaden its global reach across Asia and into Europe.
Investment fund Astanor Ventures partner Hendrik Van Asbroek said v2food was well-positioned to have an impact globally.
"Alternative meat has a crucial role to play in the fight against climate change. The v1 versions of alternative meat have created awareness and demand, now we have to step up and supply the customers with healthy, delicious, and price-competitive products.
"V2food, with its world-class team and scientific expertise, is the right company to deliver this new generation of alternative meat across the globe," said Van Asbroek.
V2food declined to name the Chinese e-commerce platform that has come onboard, while existing investors Huaxing Growth Capital Fund, Main Sequence, and ABC World Asia have committed more money to the kitty.
This latest funding round follows its Series B raise of $77 million in October 2020 and a Series A raise of $35 million in November 2019.
New and existing investors of v2food also include Altitude Partners, China Renaissance, Esenagro, Horizons Ventures, Marinya Capital, Novel Investments, Sequoia Capital China and Temasek.
V2food was the result of a partnership between Jack Cowin's Competitive Foods Australia (CFAL) and CSIRO deep tech venture fund Main Sequence. CFAL is one of the largest restaurant franchisers in Australia. Cowin's group of companies includes meat processing company Comgroup, Domino's Pizza Enterprises and PMFresh.
When v2food launched, Cowin said group of businesses were working with CSIRO's food science and manufacturing expertise to achieve "sustainability of our food supply".
"I think the exciting part of v2food here is that it's an opportunity to grow this into, not just an Australian business, but as a big picture, this could become an international business
"We've got the raw materials, we can produce a product that is very competitive… if we can use the grains for our farmers to grow and turn it into protein and make that a competitive product – as beef gets more expensive – we've got a lower cost product that will be able to supply the nutrients and protein people need," Cowin said. 
As it launched its retail offering, it also went onto the Hungry Jack's menu as a plant-based Whopper burger called the Rebel Whopper. 
Listen to Food & Drink Business editor Kim Berry interview Phil Morle, Main Sequence, and Nick Hazell, v2food, about foodtech, investment and the future of food here.