In a quest to stand out in a crowded market and attract new drinkers, some Australian craft brewers have headed to the dessert cart. Joshua Gliddon talks to those embracing the sweet. This article was first published in Food & Drink Business April 2021.
The craft beer market in Australia is a crowded one. With more than 700 craft breweries in the country, getting the attention of a discerning drinker can be a challenge. Some of the more adventurous brewers have turned to dessert beers as a way to differentiate from the crowd.
"Dessert beers are an extension of what's been happening in the beer world for the last decade," says Luke Robertson, content manager and beer aficionado at the Independent Brewers' Association (IBA).
"They provide brewers with new ways to experiment, and provide a point of difference to traditional beers."
One craft brewery that has had success with its dessert beer range is Melbourne-based Tallboy & Moose. Co-founder and director Steve Germain, a native Canadian (hence the "moose"), says his brewery tends to veer away from having more than a handful of core beers in its range.
"Aside from our core lager and pale ale, we're interested in new and interesting concepts," says Germain. "Our business has a high turnover of product development and new concepts, and we have done a lot that is dessert inspired."
Tallboy & Moose has a track record of dessert beers – a Nitro 'Snot Block', the questionable name Australians give to a vanilla slice, or its Baked and Confused cookie dough ale. Its current dessert-inspired offering is a Piñata Springs pina colada pastry hard seltzer.
Germain says that dessert-style offerings are popular with customers. "A lot of customers have a sweet tooth and desserts are fun," he says.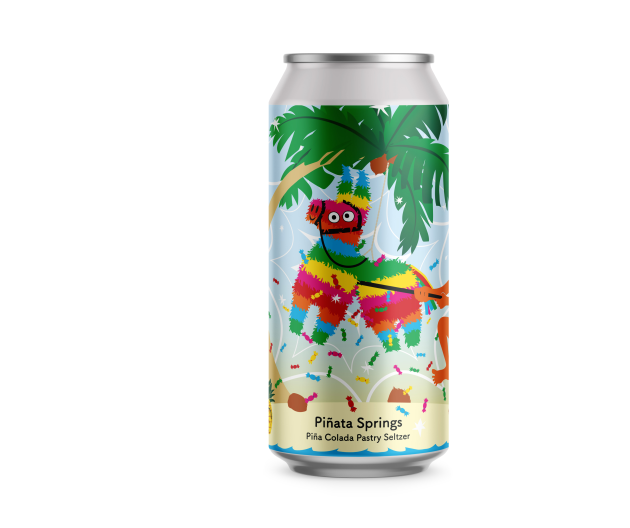 "As craft brewers we are always trying to innovate. It's common to look to adjacent sectors like what's happening in the restaurant scene or what's popular in terms of ingredients or cuisines. We also look at classic cocktails and other concepts, to then have a play and hopefully bring them into the beer world."
Customer demand fuels innovation
For Helen Black, co-owner and director of The Coastal Brewing Company in Forster on the Mid North Coast, New South Wales, satisfying customer demand for new and interesting beers is always top of mind when developing new brews.
"Since we started production in June 2017, we have brewed around 45 different beers, including a Lamington Imperial Dessert Stout," she says. "For us, it's about innovation with flavour because customers are demanding new experiences with beers."
Black says using a dessert beer as part of the company's tasting paddles is like a beer version of a degustation meal. The customer starts with a lighter beer like a pilsener or lager, and moves through a rainbow of tastes, eventually winding up with a heavier beer at the end of the paddle.
"That's where a dessert beer works really well, at the end of the tasting paddle," she says.
Coast Brewing has just put the finishing touches on its latest sweet brew – Shelly's Milk Chocolate Orange Stout. It is based on a milk stout with some of the roasted malts swapped out for chocolate malt.
Black says the orange intensity comes a mix of bitter and sweet orange peel powder made from dried orange peel that is added to the boil.
"After fermentation, we transfer the beer into a 'brite' tank, where it sits under pressure to carbonate. In that final stage we add around four kilograms of fresh orange zest for forty-eight hours to provide that final citrus infusion.
"The rich chocolate flavour in the beer comes from a combination of the chocolate malts in the mash, and the addition of chocolate and vanilla extracts," Black explains.
Chris Farmer, director, owner and brewer at Mr Banks Brewing Company in Seaford, Victoria agrees that customer demand is fuelling innovation, particularly in the dessert beer space.
"Our dessert beers have a great reception from our customers," says Farmer.
His brewpub, which has been running for five years, is focused on IPAs, lagers, pastry stouts and kettle sours.
"It's all the fun stuff that gets people excited, but we also have a focus on sessionability – beers that are full in flavour but you can also have more than one of."
Farmer says dessert beers are more of a winter offering, although he notes that pastry sours could be considered dessert beers.
"We have one called Cool Whip coming out. It's an apricot pie imperial pastry sour incorporating apricots and lactose," Farmer says.
Season (and GABS) playing a role
According to the IBA's Luke Robertson, GABS, the annual Hottest 100 Craft Beers festival, has played a massive role in popularising dessert beers.
"GABS has really driven brewers to push the market," he says. "The brewers are experimenting and seeing what sticks. The dessert beers all taste pretty good if they are done well – after all, who doesn't want to drink a tiramisu beer after a meal?"
Along with GABS, seasonality is driving the dessert beer market.
Germain from Tallboy & Moose says the trend truly started around a decade ago with the rise of pumpkin beers in the North American and European markets.
"The only problem is that pumpkin spiced beer, as a trend, ended up getting beaten to death," he observes. "Some people love them, but that trend hasn't been as strongly reflected in Australia for seasonality reasons."
Overall, he says, customers respond well to flavours and sensations they know and understand. If there's a popular chocolate bar or dessert dish, if it's well-executed in beer form, then people recognise it and want to try it.
"When it comes down to it, dessert beers are an interesting way to engage consumers. They are an iteration of something customers recognise and enjoy, and in the end, it's all about having a bit of fun."