From home hobby to bespoke premium bacon, Simon Lawry and David Ball are on a quest to see the porcine product crowned the 'king of meats'. Varun Bodhi talks to the founders of Saltsmith about their artisanal streaky bacon. This article first appeared in the October 2021 issue of Food and Drink Business.
Career dissatisfaction and an impulse buy of a book on charcuterie make up the origin story of Saltsmith – hand-made, free-range bacon products pushing flavour boundaries beyond the humble rasher.
"I just found that I wasn't making things anymore and I needed a hobby. I happened to pick up a book on charcuterie and the store owner told me that it's not really that hard," co-founder Simon Lawry recalls.
As his skills and passion grew, Lawry approached his friend David Ball to get involved. The duo started to take their passion seriously and began talking and working with farms in Victoria and the Australian Food Sovereignty Alliance.
"Bacon was the thing I kept turning back to, Dave and I loved it along with the process of making something high quality," says Lawry.
After researching the commercial bacon market, the pair also noticed a gap in the market for genuinely high quality bacon. While most producers were focused on different cuts, Lawry and Ball decided to focus on streaky bacon and then explore different ways of curing and smoking.
"No one in Australia was getting creative with bacon or challenging the status quo," Lawry says.
A tipple creates a ripple
The pair are also quite partial to a whisky and it was discussions with Starward Whisky founder David Vitale that pushed Saltsmith to the next level.
"We talked about running bacon and whisky flight nights, but David pointed out we would need to be be producing our bacon commercially for that to happen," Lawry says.
Lawry and Ball decided to formally establish Saltsmith and officially enter the charcuterie industry. What followed were three years of experimentation, flavour trials, and equipment and processing technique adjustments.
Today, out of a small factory in North Melbourne, Lawry and Ball are bringing back traditional dry curing methods. 
Using only streaky bacon and custom-built equipment they are building their reputation for a premium product with innovative flavours that challenge perceptions of what bacon can be through its Breakfast Bacon, Four Pepper Bacon, and flagship Maple Whisky Bacon.
Let's get cookin'
Lawry says Saltsmith's point of difference from other commercial producers lies in its curing and quality control process.
"Most commercial producers don't use traditional dry curing methods and that sets us apart," says Lawry.
While other producers incorporate brining and salt-water injections to increase speed in production and curing, the pair believes such shortcuts sacrifice the quality of the bacon.
"The first step we take is dry curing and we look for quality control in this step," Lawry explains.
All curing ingredients are applied straight onto the belly. To ensure consistency and quality control across the curing process, Saltsmith weighs each belly and cures to the specific weight of the meat – each rasher being dry cured for seven days.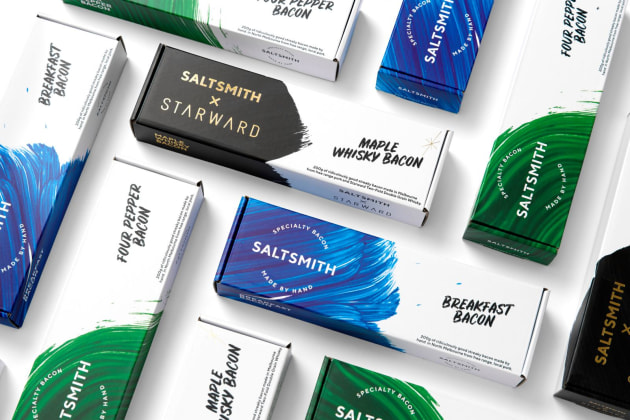 Where most large-scale producers hot smoke – cooking and smoking the bacon simultaneously at temperatures upwards of 120 degrees – Saltsmith separates this process by cold-smoking and then cooking.
"Our process involves cooking to lower temperatures and very precise smoke. We use fruitwood, mainly cherry and peach, at under five degrees.
"As a result, a sweeter smoke is created and it adds a layer of great complexity to the product which we believe is necessary for the quality we look for," says Lawry.
By cooking the bacon at the lowest temperature possible, Saltsmith aims to maintain all the moisture in the meat while abiding by food health and safety standards to present the most flavoursome product.
Sealed and ready to serve
For Saltsmith, incorporating a paddock to plate approach, eliminating distributors and working directly with local Victorian farmers so they can trace all produce back to pasture made the most sense. 
Its current supplier in northern Victoria, Limestone, is approved by the Australian Pork Industry Quality assurance program and free range accredited.
"We made sure to check how our suppliers raise and treat their animals.
"Food should be treated as more than just a product. It's about being mindful and respectful of the process and of the farmers who raise the animals and of course, the animal itself," says Ball.
With everything produced in-house, the Saltsmith team is evaluating how to balance sustainability and profitability. The company has transitioned from using vacuum sealed packs to boxes and are in the process of developing a sleeve for the retail market.
"We try to be as sustainable as possible where we can. We look at all of our processes from a sustainability and ethics angle, it is part of the reason we only use Australian free-range pork," says Lawry.
On the horizon
The duo are very optimistic about their future and are searching for all means of expanding.
"We are looking to expand into retail, partner with some individual grocers and also direct to consumer delivery," says Ball.
They have a retail outlet every weekend at the Queen Victoria Markets and have plans for new flavours as well as exploring the idea of seasonal releases