Nestlé and Lion Dairy & Drinks are the latest producers partnering with Australian charity R U OK?, releasing limited edition packaging of popular products to support the cause.
Nestlé's KitKat is the official 'Chit-Chat' partner for this year's campaign, encouraging people to go beyond 'having a break' and drive conversations with those around them to ask, "Are you ok?"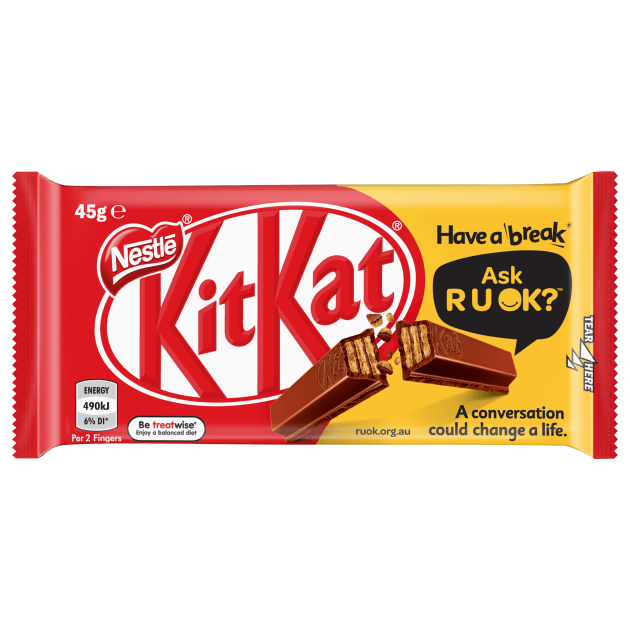 "For both KitKat and R U OK?, the front of pack limited-edition messaging provides a vital way to ensure our message has impact and helps raise awareness for R U OK?'s 2020 campaign focus," Nestlé head of marketing Joyce Tan told PKN.
"It was incredibly important for the KitKat team to help raise awareness for the charity's 2020 campaign focus of 'there's more to say after R U OK?'. As a long term 'Chit Chat' partner KitKat is providing direct financial support to 'R U OK?', while the limited-edition KitKat R U OK? packs have been designed to raise awareness of the need for us all to ask those around us 'R U OK?'" 
Meanwhile, Lion's Dare Iced Coffee brand has announced its partnership with the charity for the next three years, and will roll out 5,275,000 limited edition Dare 500ml core packs with R U OK? messaging in the lead up to R U OK? Day on 10 September.
"R U OK? aims to start life-changing conversations and create a more connected world. Dare has always been known for saying a 'Dare Fix'll Fix It'. But the truth is, a Dare fix can't fix many of life's challenges. But, thankfully, a conversation could," said Lion Dairy & Drinks managing director Kathy Karabatsas.
"The R U OK? message will be featured on front of pack, and on the back of pack there will be the four steps to help guide consumers on how best to start a conversation with a mate.
"This long-term commitment by Dare will also support the cause by helping consumers to identify the signs that someone in their life may be struggling and to encourage a more meaningful conversation."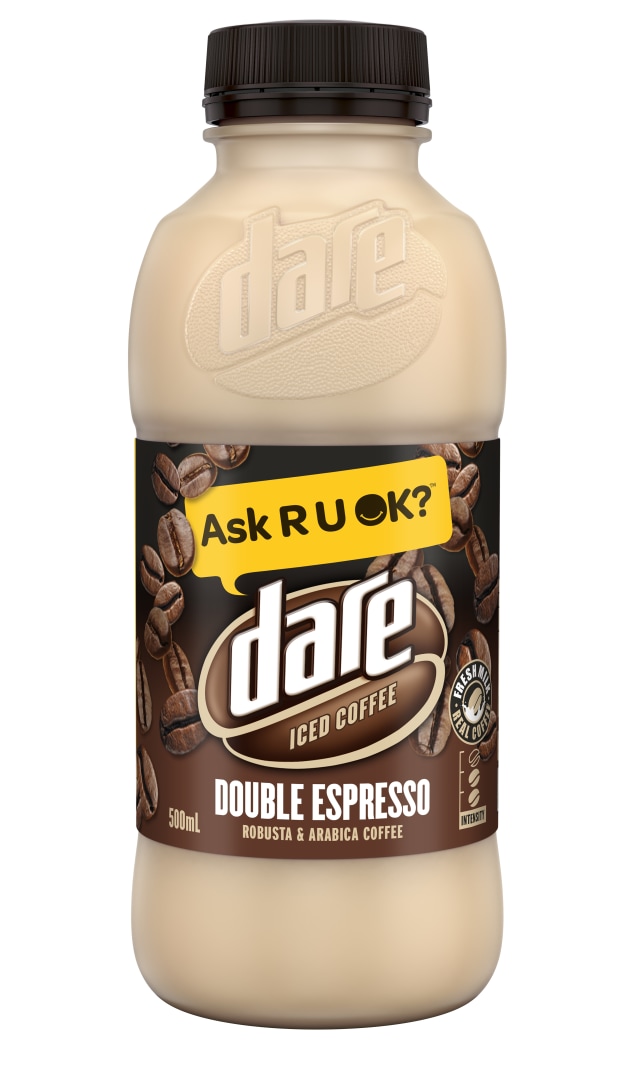 R U OK? CEO Katherine Newton said she welcomed the support of both KitKat and Dare Iced Coffee.
"2020 has been a challenging year for many, making it even more relevant for us to stay connected and, for those who are willing and able, offer support to those around us," said Newton.
"Encouraging Australians to make a mental note to check in with a mate and take a look at the tips on how to open a conversation, may just be the start of a meaningful conversation, and we know that an authentic conversation has the potential to positively change a life."
Dare will also provide support to the cause across its social, online video and sponsorships with football clubs including St Kilda, as part of its three-year partnership with the charity. The Saints will share R U OK? messaging across its social media platforms.
In June, Byron Bay Cookie Company announced its support for R U OK? with limited edition packaging for its Milk Choc Chunk cookie product.