For Harvest B co-founder and CEO Kristi Riordan, the opening of the company's – and country's – first plant-based meat ingredients facility is the first step to address the growing global need to fundamentally change the way we produce food.
"It's important to recognise that we are simply borrowing the earth from those generations who have come before us, but we're also borrowing it from the generations that have yet to come. We have an obligation and a responsibility to think about sustainability of the systems we build here on our planet. Food sustainability is what gets us up and drives us every day," Riordan said.
Riordan co-founded Harvest B with Alfred Lo, who is also the company's CCO. When the pair were investigating the plant-based protein market, they discovered a gaping hole in local suppliers of locally made plant proteins to Australian food manufacturers.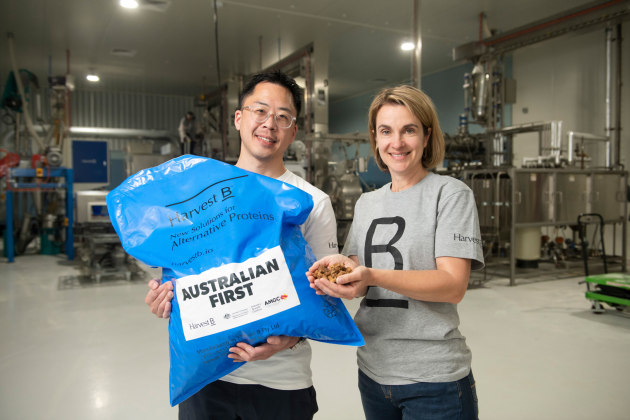 "It made absolutely no sense that high quality, Australian grown produce is shipped offshore to be processed, only for us to buy it back at higher costs as finished consumer products. It became quickly evident to Harvest B that there was a significant opportunity for this value add to be done in Australia, creating local jobs and greater export opportunities," Riordan said.
Years of research have culminated in a patented processing system and a dry, ambient, shelf-stable plant-based meat with a two-year shelf life. It is also priced lower than conventional animal proteins, Riordan said.
Lo added, "Now food manufacturers have the option to source locally developed products leveraging local inputs that are clean-label certified rather than resorting to international suppliers."
The facility, in Sydney's west, will initially manufacture 1000 tonnes of plant-based proteins that can replace conventional meat, using Australian-grown grains. The product is made with wheat and soy, is delivered in a range of sizes and shapes. Manufacturing customers can then convert the protein to a wet base and create consumer-facing food products.  
Harvest B advisory board member and R&D specialist David Landers said the R&D team were continually evaluating the product and processing methods.
"The quality of the raw ingredients is critical to the end product's taste. Wheat and soy go hand in hand, but we have other proteins in the pipeline that we're testing," he said.
Riordan said they have invested heavily in R&D to ensure the business can grow. "We have created a novel product range that we believe exceeds the taste, texture, and price expectations of our consumers. In fact, industry and consumer feedback has been overwhelmingly positive to the point that we now have customers, both locally and abroad, approaching us," she said.
Director of engineering and operations Daniel Clampett said processing is done using heavily customised Wenger equipment and can extract around 30 per cent more moisture than other systems. The rest of the factory is fitted out with Urschel, Innovative Process Applications (IPA), and locally made equipment.
At the launch, Riordan gave special mention to Lo, the manufacturing, and R&D teams for their persistence and resilience in getting Harvest B to this stage. "It is so hard to build a new business. It's hard to innovate in the new technology. Doing it through covid, doing it through this current economic climate, fighting the changing tides of how we eat is incredibly challenging."
Harvest B was one of six companies to receive federal government funding through the $30 million Advanced Manufacturing Growth Centre (AMGC) Commercialisation Fund. Created by the previous Coalition government and managed by the AMGC, the fund was designed to help fast-track commercialisation and export of high-tech and high-in-demand products and services through a co-investment model.
For AMGC's managing director Jens Goennemann, Harvest B "exemplifies" what Australian manufacturers can achieve using local resources.
"Australia is a nation blessed with abundant natural resources, yet we have relied too heavily on the luck associated with trading these commodities in a raw state. Like Harvest B, we should be leveraging our smarts and add value to these high-quality natural resources – right here in Australia," said Goennemann.
In December, AMGC announced the latest round of manufacturers selected for the fund and that it would be the last, officially closing the program.
At the launch of Harvest B's facility, federal industry minister Ed Husic said the current Labor government would continue, "revitalising Australia's advanced manufacturing by backing companies like Harvest B. Supporting domestic capability in emerging technologies, including in areas like food production, will be a focus for the National Reconstruction Fund.
"Australia has a strong reputation as producer of safe, premium, high-quality foods, and Harvest B will support domestic businesses to capitalise on the growing demand for plant-based protein foods," Husic said.
Harvest B also raised $4.5 million from investors including Aura Ventures and Woolworths' venture capital arm, W23.
Riordan said its goal is to initially develop 10 different product lines with substantial export into South-East Asia which is already presenting opportunities.