Paola and Michael Karamallis' part-time experiment spinning up clouds of sweet joy to sell at local markets steadily grew to become Australia's most-awarded fairy floss brand. Here's how they transformed Fluffy Crunch from an events-based business to an online success story. Stuart Ridley writes. This article was first published in Food & Drink Business March 2021.
Paola Karamallis always dreamed of owning her own café instead of working for someone else. But despite more than 15 years' experience in hospitality, real estate agents would not take her seriously.
"The problem was our applications kept getting rejected because real estate agents told us we had no skin in the game," she explains.
"We needed to show we could run our own business not just manage one, so we started Fluffy Crunch as a part-time experiment at the local markets to gain business experience."
Michael remembers feeling on cloud nine when Paola returned from a day at the markets with close to $1000 just from selling fairy floss, even though the profits weren't huge.
Still, the couple worked out that if she could sell five times that amount of fairy floss in a week, Paola could afford to quit her weekday job and save up to make her café dream a reality.
Except it didn't quite work out like that.
It's show time!
"Call it serendipity, but about six months in, I was made redundant from my role as a customer experience manager and had the opportunity to invest my time completely into Fluffy Crunch," says Michael.
"By the end of the year Fluffy Crunch was earning enough to replace both our previous incomes and that's when we decided to put the dream of the café aside."
Paola admits she was quite relieved when Michael suddenly had more time to help with Fluffy Crunch.
She had been frantically juggling her hospitality work during the week with late nights responding to more and more online inquiries about providing Fluffy Crunch for party favours at events.
"I found myself going to bed at 3:40 in the morning every day because I had to cope with having my day job and then answering Fluffy Crunch inquiries via email, Instagram and Facebook word of mouth," she says.
"We had made the decision I'd leave my job and then, coincidentally, Michael was made redundant. Although that sounds scary, it was a blessing, because he could work full time for the business when I needed it the most. And he had three to four months of payout we could live on while we applied for more events."
In those early days of working together the couple set up stores at as many as events as possible, often up to six in a week. Every event was also a testing ground for new flavour experiments and which event formats brought in the most money.
By 2018, they'd settled on a winning combination of fewer but larger events, like Vivid Sydney, Canberra's Floriade, and the Royal Melbourne Show. At the show, they sold more than 25 eye-catching, taste-
bud-thrilling fairy floss flavours with a host of magical sprinkles such as freeze-dried fruit, edible glitter, popping candy and powered Nutella. Not surprisingly, young people gave their products a lot of love on Instagram and Facebook.
"The last Saturday of Vivid Sydney in 2018, we had our most successful event ever," recalls Michael.
"We had four fairy floss machines running and served more than 1000 glow in the dark fairy floss sticks each as big as your head in five hours. The atmosphere was amazing and the amount of excitement and joy we created was something we'll never forget."
The COVID-19 pivot
Up until February 2020, big events like the Royal Shows and Vivid brought in more than80per cent of Fluffy Crunch's revenue.
Sure, Fluffy Crunch had a lively online presence across social media and its website, though it was mostly about extending word of mouth as far as possible by featuring fan-created content. Online sales were a nice little earner while they slept, but hardly an overnight success.
Then the pandemic hit, wiping out a full calendar of nearly 100 events including 13major multi-day shows.
"Since March 2020, every month has been uncharted territory," explains Michael. "This is our first time running our business completely online, and as it's difficult to anticipate people's buying habits, we've had to be quick to adjust as required. For instance, when our sales dropped by more than 20 per cent in December 2020, it was clear from the previous month that people were planning ahead and buying well before Christmas."
That said, going all in on ecommerce paid off in other ways for the Karamallis family: it allowed them to expand the business to new areas and increase revenue with more control, and Paola reports that not having to prepare for events meant they had most weekends free to spend more time with their daughter.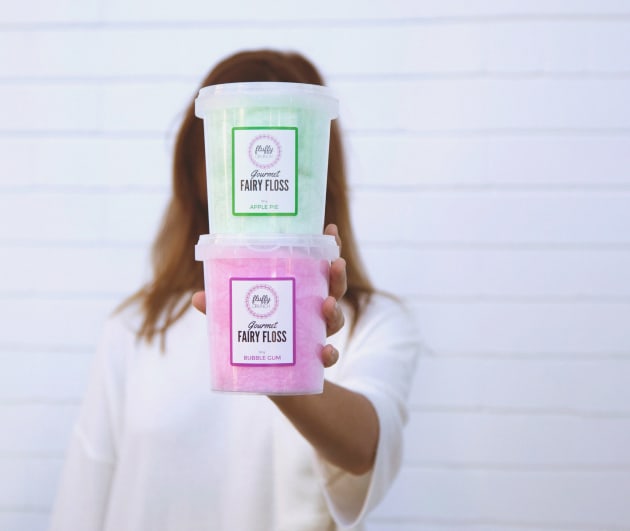 Michael is also glad he had extra time during lockdown to rewrite business plans with help from mentors in the online business community Business Blueprint, which he's been a member of for a couple of years.
He says having access to planning tools and process templates was a game changer even before COVID-19, saving him thousands of hours of trial and error – and having business mentors means "you can't procrastinate or make excuses".
"We even got the idea for the world's first fairy floss advent calendar from a simple conversation during an online networking event one evening with another business owner," he adds.
"It was one of our biggest sellers in 2020, so being part of that community is a no-brainer."
The successful family business secret
Paola's original dream of running a café with Michael was inspired by memories of how happily they'd worked together for other people earlier in their relationship.
Though working together for someone else compared to for themselves did require some adjustments.
"We've always been a good team but working together on Fluffy Crunch we had to learn new skills and see what we each had to complement the business best," she says, smiling.
"I'd tell him, 'You stick to this part, strategising things, and not on the packaging part (which I really love), because this a my part of the business'.
"Now there are a lot of times we don't even see each other during the day. 
"It means that sometimes when we're having dinner we can't help but talk about the business… but it is a balance."
"What we've realised is you've got to make time away from the business," adds Michael.
"It's good to have weekends off at the moment as a family, and we're getting better at making time for ourselves – like, dates for Paola and I."
For the couple, hard work is delivering sweet success.
Online business tips from Fluffy Crunch 
1. Become friends with your customers on online
"Paola spends three hours a day engaging with the Fluffy Crunch Tribe on Facebook, Instagram and via email," says Michael. "I keep suggesting we outsource some of this aspect of the business but it's an area she enjoys, and it keeps us close to the customer."
2. Fan-created content is gold
"Paola is constantly connecting with people who love our products and want to share their experiences. When we notice someone has taken a great photo we ask if we can share it and ask them if they would be willing to take more. So we send them a box full of Fluffy Crunch together with some guidance and often we are blown away by other people's creativity."
3. Put people in the picture
"We've also found that having people in the product images engaging with Fluffy Crunch proves to be more effective with our followers, rather than an image of a tub of fairy floss."
4. Use time-saving apps to make pictures come to life
"Most of our images are taken using a phone, then we use Canva to remove background and resize images. We've started using Splice to edit and compile video and images straight from the phone, and it's handy for reformatting content into different sizes to suit specific Facebook ad requirements."
5. Learn at least the basics of digital analytics
"The great thing about digital analytics is you get a clear picture of what's going on in your business, which helps you make better decisions. You can see which ideas work and adjust where required. We also track all our online advertising, so for instance, we know most of our customers who've bought online come directly via social. In January 2021, it was a third via Instagram and just under 30per cent via Facebook."
6. Outsource the heavy lifting for digital
"Digital marketing is a fast-moving beast which covers so many areas of your business, and I've found it saves me a lot of time outsourcing some of the processes to service providers who can focus their attention on getting our ads to perform well. My focus now is on making small improvements to our digital strategy while getting help from experts."