After a six-month long competition, the Asia-Pacific Scale It Up! Innovation Challenge announced its inaugural winner and runner up: Indonesian Meatless Kingdom and Australian start-up Eighth Day Foods.
Meatless Kingdom produces mushroom and plant-based products. It launched in 2016.
Eighth Day Foods is a B2B plant-based protein supplier, using lupin. Its technology – Rapid Solid-State Fermentation – transforms lupin seeds into ready-to-cook protein.
The two now receive access and use of the state-of-the-art Protein Innovation Centre in Singapore, continued sharing of knowledge and expertise from the three sponsor companies, as well as ingredients such as pea protein, speciality oils and starches from Cargill. They preserve their IP and equity throughout the process.
Bühler, Cargill, and Givaudan sponsor the event, with challenges run in the US, Europe & Middle East, China, and Asia-Pacific.
Bühler Group regional innovation lead Dr Aparna Venkatesh said, "It has been an absolute pleasure being part of the finalists' journey and we're excited to continue supporting in bridging the gap to commercialisation! The passion and drive I saw from the start-ups in discovering solutions was admirable; I hope others are inspired by this challenge, and we see more acceleration of these innovators."
Eighth Day COO Lloyd Wilkins told Food & Drink Business the company was very excited, with the challenge already making a big difference.
"To say that this has been transformational for our start-up is an understatement. We knew we had an innovation with potential but were struggling to translate this potential to market readiness, as we lacked the expertise to fully optimise the taste and texture of our product.
"This all changed when the Scale it Up team joined forces with us as semi-final winners, and their expertise ensured that we rapidly addressed these challenges before the finals," Wilkins said.
The Scale It Up! Innovation Challenge aims to help plant-based protein start-ups in Asia accelerate bringing their products to market. The challenge included 30 companies, competing in a six-month long contest.
Organisers said, "The competition focuses on attaining scalability, fostering innovation, and bringing unique value propositions for consumers through authentic tastes and textures.
"It facilitates the exchange of innovative ideas, in-depth technical expertise, and commercial knowledge, to overcome the challenges that start-ups typically experience in the journey of developing market-ready solutions."
Scale it Up is looking for:
Plant-based food products
New protein sources for food ingredients or consumer products
New opportunities along the food value chain
Solutions that closely mimic consumer experience of meat and dairy
Solutions that propose a unique taste profile
Projects with enough material to scale
Over the six months of competition, the teams and sponsors work in tandem to drive growth, explore using innovative ingredients from micro algae to lupine as well as the essential building blocks for alternative protein products.
Scale it up said the goal is to improve the overall eating experience and optimise the manufacturing process to scale production.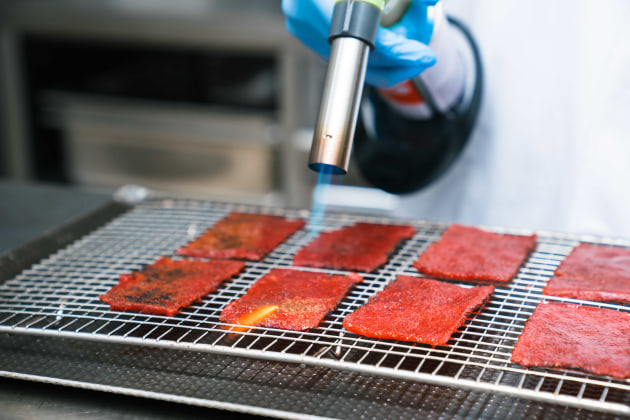 "Meatless Kingdom was selected as the winner with their plant-based bak kwa (barbecued meat), an Asian inspired plant-based protein that offers an affordable and attractive sensorial experience, while Eighth Day Foods was selected as the first runner up for their innovative product, a plant protein derived from lupine that offers a clean taste profile," challenge organisers said.
Meatless Kingdom co-founder and CEO Widya Putra said, "We feel honoured to be the first winner of the Asia-Pacific Scale It Up! Innovation Challenge. This experience has enriched our knowledge and competency about product development in the alternative protein space. We hope this achievement will be a source of inspiration to more food technology start-ups, especially in Indonesia."
Cargill technical leader Asia Kok Wei Beh said, "The creativity and the spirit of innovation shown by the start-ups has been inspiring. I believe this has been an insightful experience for all the start-ups involved, and they are able to take away more refined prototypes which are a step closer to commercialisation.
"The unique ideas conceptualised, signal that the future of plant-based protein alternatives is bright in Asia-Pacific.
"Meatless Kingdom brings to the table an innovative product which delivers on taste, smell and price. We collaborated with the team to further improve their product by providing functional systems to closely emulate the taste and texture of bak kwa, thus making their product more attuned to the Asian consumer palate."
The support from the global powerhouses was not lost on the Eighth Day team.
Wilkins said, "We are incredibly grateful to Givaudan, Buhler and Cargill for supporting us through our Scale it Up journey.
"Winning further support from the Scale it Up team is incredibly valuable to us as we now embark on the commercialisation and scaling of our innovative protein."
Head of Regional Innovation, APAC Taste and Wellbeing, for Givaudan, Michele van der Walt, said the challenge offered exciting opportunities for all involved.
"Combining the experience and capabilities of the sponsor companies with the innovative mindset and technologies from the start-ups really can lead to breakthrough solutions. The inspiration, creativity, and innovation that the finalists brought to the table were so strong that it made selecting a winner very difficult! I'm sure we will see much more from all of the companies involved."
With the completion of three challenges in North America, Europe, and Asia-Pacific, the sponsor companies will be launching the second edition, bringing it back to North America.
 Click here to learn more about the Scale It Up! Innovation Challenge.