When it comes to workplace equality, food and beverage manufacturing is performing better than some sectors. As the country's largest manufacturing sector, a third of its workforce is female but with the pay gap at 11 per cent there is still a way to go. 
In the Workplace Gender Equality Agency's latest Gender Equality Scorecard, looking at data from 2020-2021, across Australian business there is a 22.8 per cent gender pay gap, with women earning $25,800 less, on average, than men.
Also, two in five (41 per cent) managers are now women, but it has taken nine years to increase just five percentage points from 36 per cent in 2013.
Women account for less than one in five CEOs or board chairs, and only one in three board members.
Men are twice as likely as women to be in the top earnings quartile, earning $120,000 and above, while women are 50 per cent more likely than men to be in the bottom quartile, earning $60,000 and less.
The majority of boards are still dominated by men: 74 per cent of boards are comprised of more than 60 per cent men, and 22 per cent of boards are solely men.
With that picture painted, it is unsurprising feminised industries lag on action despite persistent gender pay gaps in favour of men.
Pay gaps continue for Health Care and Social Assistance (14.4 per cent) and Education and Training (10.5 per cent) industries.
The issue is compounded by data that reveals they are also the least likely to undertake gender pay gap audits (less than 30 per cent) or then take action (less than 40 per cent).
Food and beverage performance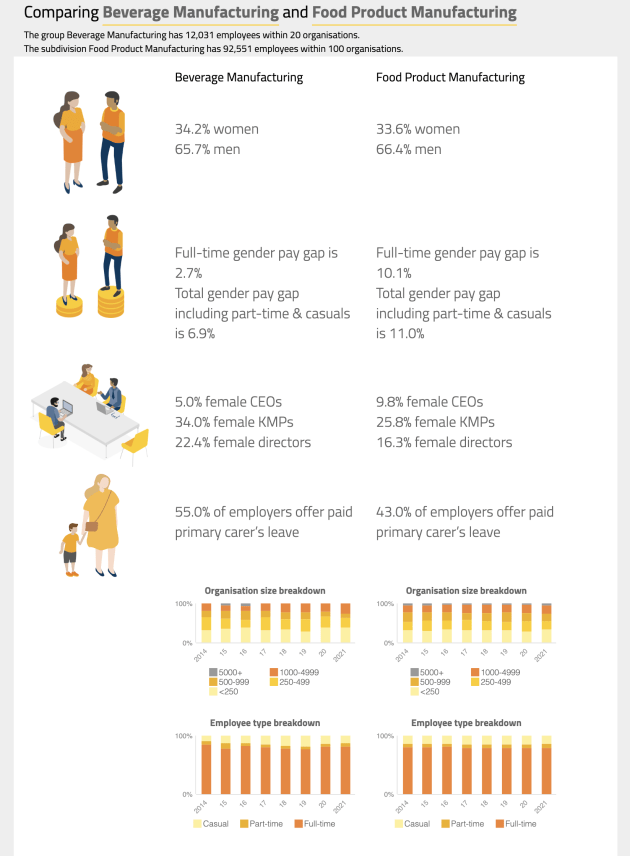 In the WGEA report, food product manufacturing takes in bakery, dairy products, fruit and vegetables, grain mill and cereal product, meat and meat products, seafood processing, sugar and confectionery.
The gender pay gap is 11 per cent compared to the average 22.8 per cent, while at management level the gap is 8.2 per cent compared to the national average of 23.3 per cent. The gap at a manager base salary level is 7.7 per cent compared to the 19 per cent average.
Women make up 31 per cent of managers in the sector.
Beverage manufacturing figures include beer, and wine and other alcoholic spirit manufacturers. There was a hair's whisker of greater female representation at 34.2 per cent but its gender pay gap is much smaller than food manufacturing – 6.9 per cent compared to 11 per cent.
It has fewer female CEOs (five per cent) but higher representation in management (34 per cent vs 25.8 per cent) and director levels (22.4 per cent vs 16.3 per cent). It also has a higher rate of paid primary carer leave.
Beyond the numbers
So what do those figures mean, or look like within the workforce? Last year I spoke to Maggie Pillay, Kellogg Australia manufacturing director and Louise Weine, the CEO of the National Association of Women in Operations (NAWO) about this very topic.
Please add it to your podcast player for the trip home or your morning walk – or listen to it through the website here.  
In August, Weine also presented at our annual Women in Packaging event. All evidence shows that the greater gender diversity in a workplace, the better its business performance.
"Research has revealed that companies with higher diversity in management gained 38 per cent more of their revenue from innovative products and services than those companies with lower diversity.
"Diversity is a key ingredient for better decision-making. Diverse teams can leverage a greater variety of perspectives and are likely to consider information more thoroughly and accurately," Wiene said.
One part of getting rid of these gaps is for all employees and employers to ask three questions: what can I ask, what can I do, and what can I change.
For Catie Fry, founder of Australia's first all-women distilling company Clovendoe Distilling Co, there were industry and personal hurdles to overcome.
"In the early days, despite being a partner in Capricorn Distilling Co. and actively working, I was often considered only for the 'more female' tasks rather than given an option to work alongside the men who were physically distilling.
"So, I started making my own non-alcoholic spirit, Clovendoe Zero, in 2017, while juggling motherhood and my self-confidence as a distiller. It made me hold off from launching," Fry said.
But find her self-confidence she did and launched Clovendoe in 2020.
"In 2020, when we launched, the non-alcoholic beverage market share rose 2.9 per cent. IWSR forecasts that the no- and low-alcohol volume in Australia will grow by 16 percent from 2020 to 2024," she said.
Clovendoe is now known as Australia's first mindful drinking beverage company, selling only low- and no-alcohol spirits, blended with over 20 Australian botanicals.
But getting to that point has not been easy, with Fry saying gender bias has been difficult to overcome.
"For me, it's been a daunting and intimidating industry to be in, as a woman. I have worked extremely hard to deliver a profitable mindful drinking brand. I believe I've had to work harder than my male colleagues to be taken seriously in the industry after often feeling a gender bias, in the way of condescending comments," Fry said.
Fry's experience is not uncommon. Last year a US production manager for a craft brewery called out the industry for the sexist comments and attitudes she was receiving. It unleashed the sector's own Me Too moment, with hundreds of women working in brewing and distilling sharing their stories of sexist comments, harassment, assaults, and toxic workplaces.
We spoke to a number of leading Australian brewers and distillers at the time, inclduing Prancing Pony Brewery CEO and co-founder Corinna Steeb, Two Birds Brewing founder Jayne Lewis, Farmer's Wife Distillery founder and distiller Kylie Sepossays, and Jodie Dawe, the distiller and blender at Lark Distilling - all had their own experiences and advice for women in the industry. You can read about it here.
"Funnily enough, it was through my experiences of gender bias that drove me to commercially launch Clovendoe; all the times I had been ignored and overlooked in the industry was what gave me the passion to launch my own company," Fry said.
2021 research by Deloitte Access Economics found while women make up roughly 48 per cent of the workforce in manufacturing, wholesaling, retailing, and hospitality, only 10 per cent work in distilling.
Women of Australian Distilling is a collective to promote, encourage and support women and those who identify as women within the Australian craft distilling industry. It was founded in 2014 by Kathleen Davies in response to starting her career in the 1990s with no female representation in middle or senior management positions, role models or mentors.
The collective works with the industry's peak associations and organisations to support career development for women in the field of distilling, ambassadorship, marketing, administration, management, and cellar door operations.
It acts as a hub for female led trade and consumer events, courses, networking, PR, mentoring and personal development.
Clovendoe Distilling Co. is working towards offering female traineeships to help build the industry and make the profession of distilling as a female a norm.