When Brigid Woolnough went on maternity leave, her love of chocolate spurred the birth of a whole new career as a chocolatier. Kim Berry spoke to Woolnough about her company Kokopod at this year's Meet the Makers event on the Sunshine Coast.
A student exchange to Germany as a 16-year-old was the start of Brigid Woolnough's love and appreciation for chocolate. Her host father worked for a global chocolate company and with that, she was hooked, bringing home an entire suitcase laden with chocolate of every type.
In 2013, Woolnough was a primary school teacher taking maternity leave for the arrival ofher first child.
Her husband was often travelling for work and with a newborn, Woolnough turned to baking to fill the quiet times.
"I started by making wedding cakes, but in the winter months nobody was getting married, so I started making chocolates and selling them at the markets. I also did a six-week course at a chocolate school in Melbourne, learning the science and skills from some of Australia's leadingchocolatiers."
Over the next four years, Woolnough honed her skills, studying here and overseas.
"It reached a point where my husband got back from a trip and said, 'This is ridiculous. We're living in Willy Wonka's house. You either have to scale or stop'. So, we scaled," Woolnough recalls.
Shifting north
They moved to Queensland's Sunshine Coast based on the economic development the couple could see in the area.
"We range every council from Hervey Bay to Byron Bay and settled here because it had the most to offer," she says.
In 2016, Woolnough was introduced to the Food and Agribusiness Network, which has been instrumental in Kokopod's growth.
"Here we are, five years later. We have a commercial building and a team of eight. We have our own online store and wholesale to 300 stockists across Australia, as well as hotels, five-star lodges, gourmet IGAs and grocery stores, and gift stores," Woolnough says.
It hasn't been the easiest road, with Woolnough reflecting on the long hours
of trial and error in developing new flavours, finding local suppliers with similar operating principles, attending multiple trade shows and markets, building a business with a young family, and then managing the impacts of Covid.
"Our point of difference is blending art and science together, pairing the best Swiss chocolate with the best Australian produce ideally from our local region. Kokopod is showcasing what Sunny Coast has to offer," she says.
Woolnough is also in discussions to start exporting Kokopod to the world.
Finding the blend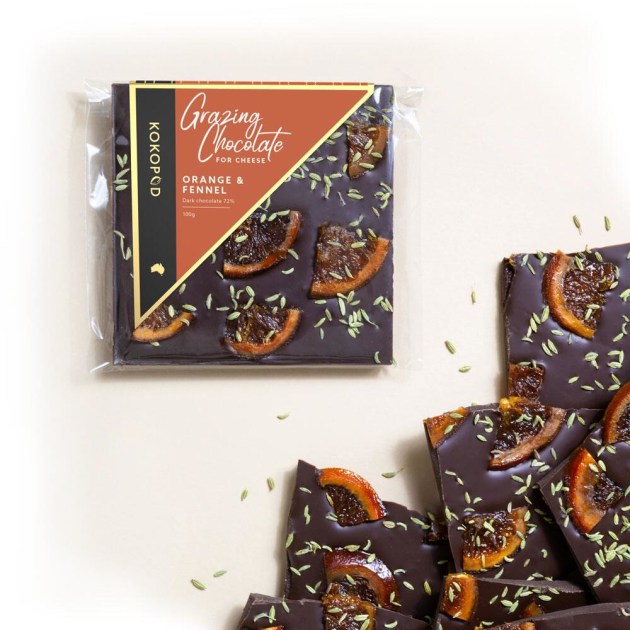 The hero of Kokopod's range is its chocolate coated macadamia nuts, one of the first products Woolnough developed. She uses local suppliers for ginger, LuvaBerry for freeze-dried strawberries and raspberries, and cookies from Black Lemonade.
"Every time we create a product, we think about the notes of the chocolate to the ingredients, and how we can showcase something local," she says.
Kokopod's grazing range is an example of that ingenuity.
"Our grazing chocolate for cheese products are designed to be part of a cheeseboard or platter. The chocolate is Belgian, so it is more bitter than others we use, and the flavours are stronger and more savoury."
Some of the grazing chocolate blends are Orange Blossom, Fig, Nib & Coconut, Blueberry &Coconut, and Lemon Myrtle & Macadamia.
"Our chocolates are beautiful and delicious. There is a romance in sharing them with family, friends, or as a gift," Woolnough says.
Woolnough's blend of fine chocolate, local ingredients, andpassion for her craft, are set to see Kokopod crack to export market.
This article first appeared in the June edition of Food & Drink Business magazine.