Fermented beverage company MOJO has launched MOJO Kombucha Soda, a kombucha with extra fibre to provide a prebiotic effect to support gut health.
According to MOJO, prebiotic fibre is the "favourite snack of our good gut bugs".
MOJO Kombucha Soda is authentically fermented, is low sugar and stevia free, and contains 2.5g dietary fibre per serve.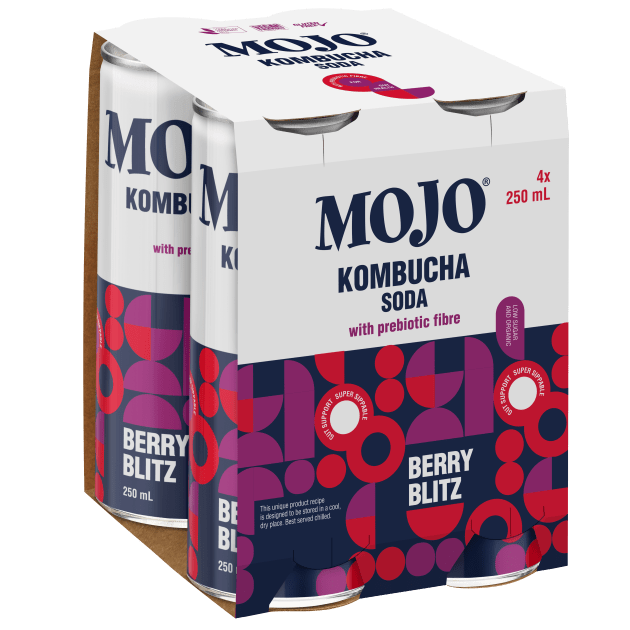 Launching in three varieties – Tropical Twirl, Cola Kiss and Berry Blitz – MOJO says the new range is perfect for people "seeking a tasty low sugar drink or a satisfying alternative to alcohol".
It has been launched in a 250 millilitre slim can with 100 per cent recyclable packaging.
MOJO CEO Anthony Crabb said: "Our team set out to create a tasty and convenient way for people to add to the prebiotic fibre in their daily routine, ensuring that our products are helping support the health of Australian microbiomes in a way that is new in the kombucha category."
"We're continuing our mission to help people understand gut health and discover how good it feels when you go with your gut."
Nutrition scientist and dietitian Dr Joanna McMillan said prebiotics are types of fibre that stimulate the growth of healthy bacteria in the gut.
"They're found in lots of fruits and vegetables like artichoke, garlic, onion and asparagus, bananas, apples and wholegrains like barley and oats. These fibres can't be digested, so they pass through the digestive system and become dinner for our good bacteria," McMillan explained.
The Kombucha Soda range is available from independent retailers across Australia at RRP $2.39 a can or $8.99 per multipack.