Cape Byron Distillery has added a pre-bottled gin and tonic to its product line-up, made with native finger lime and 100 per cent natural ingredients. 
The ready-to-drink Brookie's Gin & Tonic with Native Finger Lime features a custom dry style tonic with only 2.6g per 100ml and the signature Brookie's Byron Dry Gin, which is distilled with 17 native ingredients such as macadamias, finger limes and native raspberries.
"We know that the modern drinker is searching for quality, convenience and better alternatives. And we've heard the call for a premium Australian craft G&T, loud and clear," said Brookie's Gin co-founder Eddie Brook.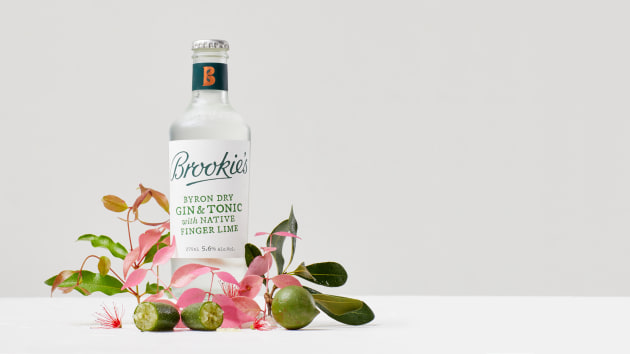 "We like to think we've created the Goldilocks of G&Ts - not too sweet, not too dry… but a little sipper that's 'just right'. 
"We're stoked that our signature rainforest G&T is now in a convenient bottle, so Brookie's frothers can enjoy a 'dry on the fly' outside of our distillery, anywhere, and at any time."
The Brookies Gin & Tonic with Native Finger Lime is available in packs of four for RRP $27.99 in liquor retailers nationwide.