Food & Drink Business has gathered the industry news you might've missed over the summer break into bitesize form, including the latest from a2 Milk, Coca-Cola Amatil, Fonterra & more.
Bubs Australia's new headquarters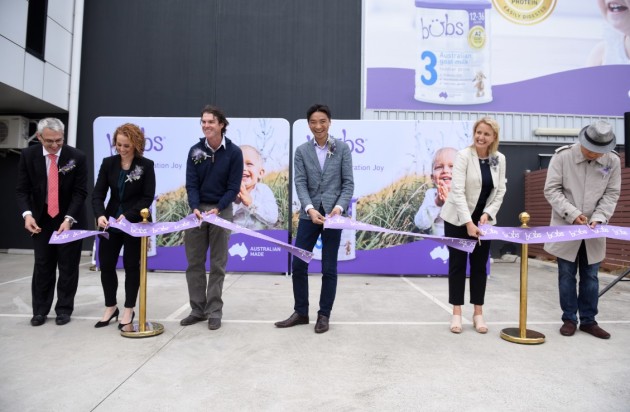 Milk formula company Bubs Australia opened its corporate headquarters in Dandenong, Victoria on December 13.
The official opening was held at the company's Australian Deloraine Dairy canning and packaging facility, with a number of state government representatives in attendance.
Bubs founder and CEO Kristy Carr said: "We see integrating supply chain, production and management in Victoria as a natural progression, which will help bring greater agility and scale efficiencies to our business."
Coca-Cola Amatil CFO resigns
Group chief financial officer at Coca-Cola Amatil Martyn Roberts has resigned, leaving the role to begin his new position in the health care sector.
Roberts will continue with Amatil over the coming months through to the presentation of FY2019 results.
Group managing director Alison Watkins said an internal and external search will take place for a new group CFO to replace Roberts in 2020.
a2 Milk CFO starts new role as CTO departs
New a2 milk CFO Race Strauss started on Monday (January 13), as his predecessor Craig Louttit stepped back from the role to take up the position of deputy CFO.
The company also announced its chief technical officer Phil Rybinksi will be leaving a2 Milk "to pursue other interests", while chief operating officer Shareef Khan will take on responsibilities until a permanent candidate is found.
The changes of senior leadership at a2 Milk follows the company's CEO Jayne Hrdlicka's resignation in December, as the "reality of the company's growth trajectory would mean the role was "too difficult to manage" with her other commitments".
Nestlé's $4 billion ice cream sale
Nestlé has sold its US ice cream business to UK manufacturer Froneri for USD$4 billion.
Froneri was established in 2016 as a joint venture between Nestlé and PAI Partners and has since grown to become one of the world's largest ice cream companies.
Nestlé USA's ice cream portfolio includes brands such as Häagen-Dazs, Drumstick and Outshine, with the transaction expected to be complete in the first quarter of 2020.
In May 2019, Fonterra sold New Zealand ice cream business Tip Top to Froneri for NZ$380 million.
Fonterra creates CEO Greater China role, streamlines Chilean operations
Fonterra has created a new regional CEO position for Greater China, sitting alongside the company's APAC CEO Judith Swales and AMENA CEO Kelvin Wickham.
Current president NZMP for Greater China and South East Asia The-Han Chow will take on the role in the interim "while we work through the recruitment process for a permanent CEO Greater China," said Fonterra CEO Miles Hurrell.
Hurrell said the creation of the new role in the company's management team reflects the importance of the China market to the Co-op.
Fonterra has also purchased a minority interest in Chilean milk processor Prolesur, which sells most of its production to Fonterra-owned dairy company Soprole.
Fonterra CEO AMENA Kelvin Wickham said the move will allow the company to simplify the interface between Prolesur and Soprole and take steps to better integrate the two businesses.
"It also allows us greater flexibility as we focus on realising the best value for the Co-op from our businesses in Chile in line with our new strategy," said Wickham.