At the recent Icons of Gin Awards in London, Australian gin distillers scooped up a slew of awards. Caroline Chiderley, aka The Gin Queen, was recognised as Communicator of the Year. Here she explains why Australian gin, and its makers, are so successful. This story was first published in Food & Drink Business April 2020.
At the Icons of Gin Awards in February, Australia took out top honours time and time again.
Sacha La Forgia from Adelaide Hills Distillery took out Distiller of the Year, Dave Withers form Archie Rose Distillery won Master Distiller/Blender of the Year and Cape Byron Distillery was awarded the Sustainable Distillery of the Year.
The recognition follows a number of other significant medals won by home grown gin brands in two other hotly contested competitions in the world, the San Francisco Spirits Competition and the International Wine and Spirits Competition.
Considering the thousands of gins on the market this is no mean feat. So why are our gins so good?
Gin distillers are adept at experimenting with different botanicals to create a unique flavour profile. What sets Australian gins apart are the native botanicals our distillers use, like boobialla (native juniper), kakadu plum, lilly pilly, sea lettuce and even green ants!
According to Royal Botanic Gardens Victoria – Melbourne Gardens director Professor Tim Entwisle, at least 20,000 of all plant species in Australia – about 80 per cent of the country's total – don't grow anywhere else in the world.
This puts our gin industry in a unique position to assert itself on the global stage with spirits that have a strong connection to where they are made.
La Forgia from Adelaide Hills says: "I love being able to tell a unique Australian story with botanicals that the world has never seen before and competing on the world stage. It shows the huge potential for our gins."
The main players
Australia's number one gin brand is Four Pillars. It was founded in 2013 by Cam Mackenzie, Stu Gregor and Matt Jones. In March 2019, brewing giant Lion bought a 50 per cent stake in the business with sales topping $25 million for the year. It is available in 25 markets globally and in the past 12 months experienced 70 per cent sales growth.
The Four Pillars brand was built by creating innovative gins like its internationally renowned Bloody Shiraz variety. It has also collaborated with international distillers like Hernö from Sweden and Kyoto from Japan.
This year Four Pillars is opening an outpost in Sydney and its base in Healesville, Victoria will undergo a major renovation that will double its capacity.
The Archie Rose Distillery in Rosebery, Sydney was the first commercial distillery to open in Australia in 100 years. It produces whisky and vodka as well as its gins, so its fans are spirits fanatics as well as distilling geeks.
Clever limited releases, like their Inside and Outside varieties made in partnership with the Sydney Opera House, and a facility which allows gin-lovers to create their own personalised gins has helped the distillery build a large fan base.
It is set to open another distillery in Botany Bay where it will expand production and move its whisky stock.
At the Adelaide Hills Distillery, its head distiller and founder La Forgia came from a winemaking background but found distillation offered him more creative scope. La Forgia worked 13 vintages around the world until a sidestep to a grappa distillery in Italy shifted his future from vigneron to distiller.
The decision to move into gin making was a wise one, with La Forgia now being one of Australia's most-awarded distillers. His first gin, released in 2015 after launching the distillery the year before, 78° Classic Gin was immediately recognised as a high-quality small batch gin using Australian botanicals not seen before. As well as a range of five gins, he now produces whiskey, vermouths and aperitifs.
After launching in 2014, in 2016 La Forgia joined forces with The Hills Cider Company to expand the product range and increase production capabilities.
In collaboration with Mismatch Brewing Company and Vinteloper, the four have created Lot.100, an 84-hectare property in the Adelaide Hills bringing visitors to the region.
It was supported through a large grant from the South Australian government.
Ones to watch
The Brogan's Way Distillery head distiller Brogan Carr is one of Australia's youngest and most qualified distillers. She completed a masters in brewery and distillation at Heriot Watt University, Scotland, focusing on Australian native botanicals for her thesis. The research she undertook included creating the three gins in the Brogan's Way range.
Carr says: "Australian native botanicals are an interesting and complex combination of flavours, which is evident from their chemical composition. My studies focused on the chemical and sensory analysis of some of the more popular Australian natives.
"What the data highlighted was Australian botanicals have unique combinations of flavour active compounds working together to create very intense flavour profiles specific to the country. It gives Australian distillers an edge when it comes to designing new products using combinations of traditional and Australian native botanicals."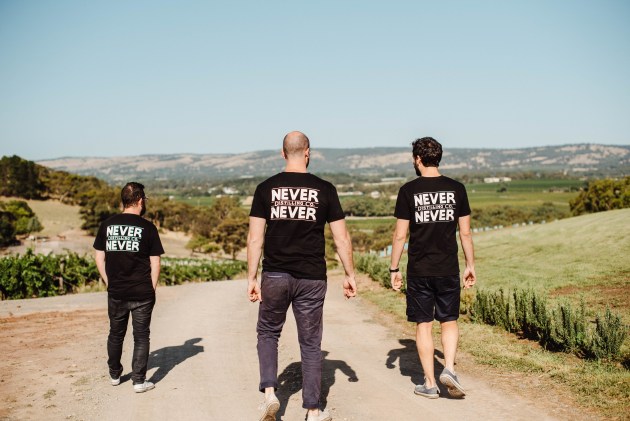 Never Never Distilling burst onto the gin scene in 2017 to, in their words, create a juniper revolution. While other Australian gin brands were bursting with unusual native botanicals, Never Never's owners Sean Baxter, Tim Boast and George Georgiadis forged a different path. While they do include Tasmanian pepperberry and Australian coriander, for them, it is all about the juniper.
"People thought we were crazy," sales and marketing director Baxter says. "Who would launch a classic gin when pink and fruit gins are taking over the shelves?"
They need not have worried. Their Southern Strength gin won World's Best Classic Gin in the World Gin awards in 2019. Distiller Boast picked up the Best Distiller gong from Drinks International Magazine the same year.
They begin the new decade at a beautiful new distillery and bar overlooking McLaren Vale with Chalk Hill Wines.
The road ahead
In Australia, gin is second only to 'Contemporary Beer' in actual dollar growth, growing from 22 per cent in 2017-2018 to 33 per cent in 2019, with 1.4 million units sold across retail liquor.
Roy Morgan released data in March that shows that while alcohol consumption is on the decline in Australia, spirits are bucking the trend, with gin experiencing the largest growth over the past 12 months. It rose from 7.4 per cent to nine per cent of Australians consuming gin in an average four-week period. Other spirits to increase included bourbon, which was up to 7.5 per cent, vodka rose to 6.4 per cent, and dark rum grew to 4.2 per cent.
Boutique gin distilleries continue to open with consumers keen to learn more about the production and provenance of their favourite tipple.
The industry is vibrant and internationally competitive – it is a very exciting time.