In an Australian first, Brownes Dairy Company is moving to a fully renewable and recyclable milk carton. It is switching 25 products – more than 17.8 million milk cartons per year – to the new fully renewable packaging format.
In an exclusive interview with Food & Drink Business, Brownes and its packaging partner Tetra Pak spoke about the process of bringing the carton into production. The renewable and recyclable Tetra Rex Bio-Based cartons will be integrated across its entire milk carton range.
The packaging is a world first, made entirely from plant-based, renewable materials. The first layer is paperboard made with wood fibres sourced from Forest Stewardship Council (FSC) certified forests and other controlled sources.
Next, two protective layers, derived from sugarcane, line either side of the paperboard.
It is the use of plant-based material in the protective layers that makes this package so different from other formats. The bio-based packages offer a more sustainable alternative to standard milk cartons and reduces the reliance on fossil-based polyethylene plastic in the lining.
Uncomfortable, necessary conversations
At Food & Drink Business + PKN LIVE last week, Brownes' senior marketing manager Nicole Ohm was part of a panel discussing what it meant to be a brave brand. In discussing the 130-year-old company's decision to migrate to the new packaging, Ohm talked about how the dairy industry cannot ignore the role it plays when it comes to the environment and climate change, and how it has to innovate to find ways to contribute to solutions.
"These conversations are not comfortable, but they have to be had," she said.
Back in the south-west region of Western Australia, Brownes collects approximately 150 million litres of milk a year from more than 50 dairies. It has a diverse portfolio, including milk, yoghurt, flavoured milk, juice and desserts and has enviable consumer brand loyalty in its market.
Brownes CEO Tony Girgis says: "We scoured the planet in search of the best sustainable packaging on the market. Making the switch to a package that utilises sugarcane and paper as feedstock is not only better for the environment, but now our consumers can trust the package is made from renewable, plant-based materials."
Tetra Pak Oceania MD Andrew Pooch says: "Bio-based means it is derived from plants which is a renewable resource. Renewable means that the source of packaging material is replenished, where more plants are grown than what is required to produce this packaging.
"The other benefit to renewable resources is that it has a lower carbon footprint than fossil-based plastic, which means this packaging has a much lower impact to climate change."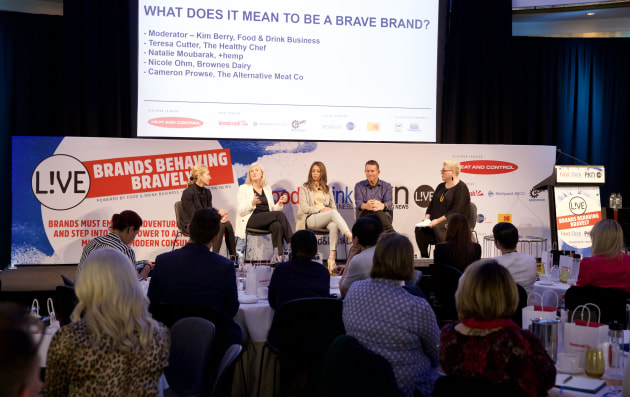 Taking the lead, raising awareness
Ohm said it had been something the company was been working on for some time.
Tetra Pak presented the idea to Brownes about 18 months ago. After ongoing discussion and researching the pack's use in overseas markets, the dairy realised it was a special opportunity that would enable it to become an industry leader.
Ohm says it shifted the company from a business-as-usual mindset to realising it could do something remarkable.
"We went from being active when it came to sustainability to becoming an industry leader, and that has had a flow through effect through the whole company culture – all areas of the business now look at what they can do in small ways."
For Brownes and Tetra Pak there was a joint commitment for the project to bring more light to the concept of a low carbon circular economy.
Girgis says: "There is a lot of emphasis on the importance of recycling, but less so on how we can make products more sustainable from the beginning. We wanted to improve the sustainability of our packaging across the entire lifecycle of our products."
Pooch adds that a low-carbon circular economy means the entire lifecycle of products and packaging solutions has a minimum climate impact.
"This means choosing renewable resources and efficient energy usage from the initial procurement stage through to supporting a market for materials made from recycled goods. The focus is on building a low-carbon and ultimately climate-neutral circular economy and, through even lower carbon solutions, this helps to significantly reduce carbon emissions from our economies," Pooch says
Ohm says the accelerated focus on waste and packaging in recent years is welcomed, but education is still needed.
"When we look at sustainability and packaging, there is a huge focus on the end-of-life. The concept of a circular economy is new thinking for many, and we see this as an opportunity to develop consumer's understanding around the importance of the creation stage of the packaging lifecycle.
Best-in-class partnership
"Managing consumer expectations can also be tricky. The inside of the carton is the colour of the cardboard, not white like most consumers are used to," she says.
Girgis highlights that the company completed its due diligence to ensure product quality, freshness and food safety were not compromised.
Ohm says the trials were extensive. "Shelf life trials, transport trials, you name it. The packaging is slightly softer than traditional packs, so we had to ensure it could deliver the same level of integrity," she says.
Both Tetra Pak and Brownes view the project and their relationship as a partnership. For Ohm it represents a best-in-class partnership.
"We have worked together like a hand in the glove. It was very high on Tetra Pak's agenda to launch this in Australia, and given our history as an innovative business, we were glad to be the obvious partner," Ohm says.
Pooch says innovation is critical to the food industry and that Tetra Pak is, "continually looking at ways to help manufacturers produce their products using less energy, less water and minimising waste.
"In our packaging, we seek to use the minimal amount of raw materials without compromise to food quality and safety".