Gin is one of Australia's fastest growing spirits, and according to IBISWorld, Aussie consumers are expected to favour premium and craft alcoholic beverages, particularly small, seasonal batches with a local or regional focus, this Christmas.
IBISWorld Senior Industry Analyst James Thomson, who is also tipping prosecco, craft beers, rosé and kombucha to be in hot demand, says Christmas is a crucial time for the retail sector with consumer spending during the month of December usually around 35 per cent stronger compared to the rest of the year.
Thomson expects spending on liquor at the retail level will total $1.6 billion in December 2018, an increase of 2.7 per cent over the previous December.
No doubt with this in mind, Australia's craft gin makers look especially ready to take advantage this festive season with a raft of seasonal releases and limited editions being launched.
Aussie gin specialist Gintonica has released its annual gin advent calendar featuring 50ml bottles of Australian craft gin with specially designed 'mini-me' distiller labels come with tasting notes from the distillers and recommendations on how to best enjoy the 24 bottles of gin.
Sourced from a range of Australian gin producers, Gintonica manger David Box says it's a good way to sample Aussie craft gins before committing to buying a full-size bottle.
"Some liquor stores now have a wall of gin and most is local, so which one do you buy? Selecting a craft gin without a taste is not a good idea. The calendar solves this problem," Box says.
The Gintonica Advent calendar is available from Dan Murphy's, independent liquor stores or online from Gintonica for $275.
Snowy Mountains distillery, Wildbrumby, is also releasing a special 'Spirit of Christmas' gin with a limited-edition Black Label gin that is elegantly packaged and includes a festive cocktail recipe card.
The seasonal tipple is created from traditional botanicals and the organically home-grown raspberries used in its award-winning Rubus Patchgin, with added twists of festive fruit, elderflower and citrus notes balanced with juniper and native botanicals such as the mountain pepper berry that grows wild in the Snowy Mountains.
"The subtle addition of traditional Christmas fruit to our award-winning Rubus Patch is a celebration of the things we love best as we spend time with friends and family," says Wildbrumby founder, Brad Spalding.
"Add pristine Snowy Mountains water and organic citrus fruit from the family orchard, and you have a gin that truly embodies the spirit of an Australian Christmas."
Black Label gin is available until Christmas, or until stock runs out, $95 (700ml).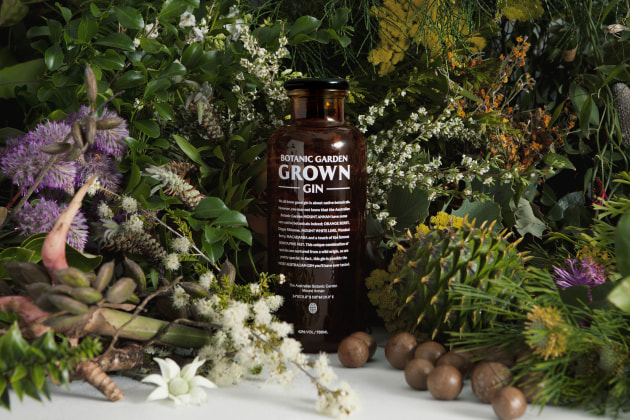 Garden Grown Gin (formerly Distillery Botanica Gin) has partnered with the Australian Botanic Garden Mount Annan to create a new limited-edition 'Botanic Garden Grown Gin'.
The 1000 bottles of the well-balanced gin are crafted using rare Australian botanicals from Australia's largest botanic garden.
The project coincides with the 30th Birthday of the Garden and was inspired by the award-winning success of  'A Rather Royal Gin' with its sister garden, the Royal Botanic Garden Sydney, in early 2017.
Proceeds from sales of the limited-edition gin will go towards the Garden's conservation initiatives, which preserve Australia's precious biodiversity through seed collection, seed banking, and conservation research and training.
Botanic Garden Grown Gin is available for RRP$129 from select retailers nationwide.
In an interesting twist, a new gin-infused KitKat creation developed in a partnership with the Melbourne Gin Company has been launched just in time for Christmas.
The handcrafted limited-edition treats are made with Australian native botanicals and are reportedly the world's first gin-infused KitKat.
The KitKat Chocolatory x Melbourne Gin Company collection features iconic KitKat batch-baked wafers smothered in gin-infused premium milk chocolate, paired with caramelised macadamia nut and juniper berries or candied citrus and rosemary.
"Using gin as an ingredient has allowed us to play with incredible new flavour combinations. The refreshing botanical notes of the gin perfectly complement the smooth milk chocolate for the ultimate taste sensation this Christmas," KitKat Chocolatory head chocolatier Connie Yuen says.
The new KitKat Chocolatory Candied Citrus and Rosemary and the Caramelised Macadamia with Juniper are available exclusively from KitKat Chocolatory, located in Melbourne Central.
Alcohol delivery service Jimmy Brings is making the most of the popularity of G&Ts by launching a gin and tonic service in Sydney that will home deliver Tanqueray G&Ts within 30 minutes through the alcohol delivery service Jimmy Brings.
The service is dubbed 'Ginny Brings' and customers can order delivery of a selection of "G&T bundles" curated by in-house Tanqueray gin experts and delivered with complimentary Fever Tree tonics and garnishes,
Ginny Brings launches across five weekends in December in all 185 Sydney suburbs where Jimmy Brings already operates.
With purchase of a G&T bundle, customers in selected postcodes will have the chance to enter a draw for Tanqueray's Cocktail Mixologist, Krystal Hart, "Ginny", to personally deliver the package before making the winner and guests a round of drinks on the house.