Master Distiller Eddie Russell visited Australia last week to give bourbon lovers a taste of his expertise and the newly-launched limited edition Masters Keep 1894, from the Wild Turkey Bourbon stable.
An ode to Russell's own discovery of the craft, Master's Keep 1894 honours Rickhouse A – the oldest rickhouse (warehouse) of the Wild Turkey estate and the place where the legendary Kentucky Bourbon Hall of Famer and Wild Turkey Master Distiller first fell in love with bourbon.
Commenting on the release, Russell said: "From the very first taste at Rickhouse A, I knew I wanted to dedicate my life to bourbon. Master's Keep 1894 captures that moment, the start of my journey to master distiller and the beginning of years of tradition."
The limited edition bourbon is described as having "layers of toffee and honey that give way to fruity notes of candied pear, stewed apples, spice, subtle oak and vanilla, before delivering a long, lingering and caramel finish".
Wild Turkey's point of difference is that its bourbon is distilled and put into barrels at a much lower alcohol volume than most other bourbons, according to the company, and this results in a much richer flavour, as less is cooked out during the production process.
The process involves ageing in high quality new American White Oak barrels with the deepest char available (the No. 4 "alligator" char) to impart a smooth flavour and deep amber colour to the whiskey.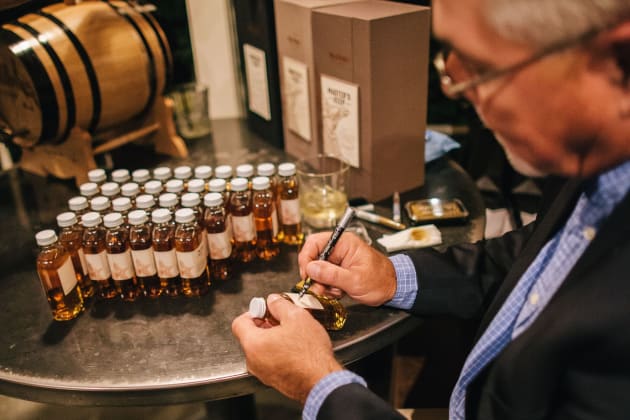 Russell was in Australia last week to unveil Master's Keep 1894 and to host the Masters of Conviction Tour – a series of masterclasses across Sydney and Melbourne to showcase Wild Turkey Bourbon's premium portfolio. Products featured during the masterclasses included Wild Turkey Rye, Rare Breed, Kentucky Spirit and both Master's Keep Decades and the new 1894.
Wild Turkey Bourbon's marketing director, Nicole Stanners, said: "Along with this highly anticipated new release in the Master's Keep series, we're excited to welcome Eddie Russell to Australia... Eddie is of unmatched pedigree in the bourbon industry, with skills that only come from a true expert and knowledge others aspire to learn."